Fintech Insights
Relaunching your commercial card offerings
Kris Carrera | Business Line Executive, Credit, FIS
February 22, 2021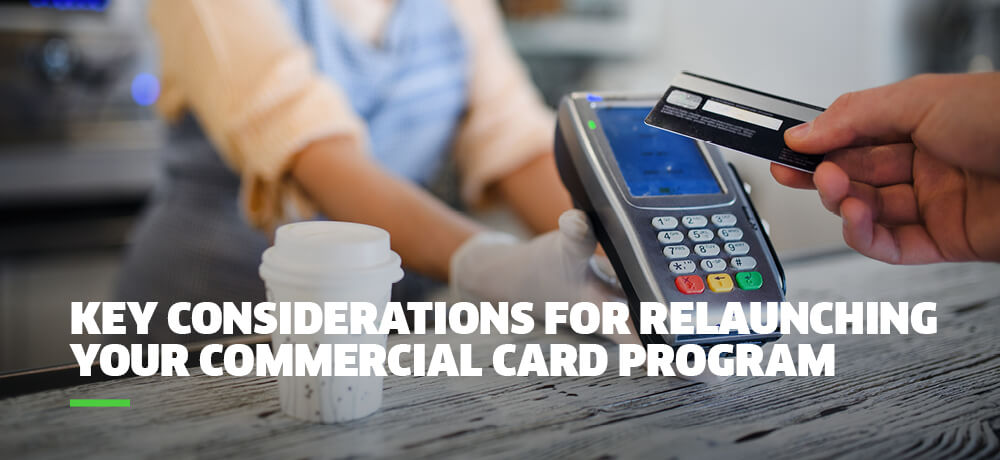 Financial Institutions have long prided themselves on providing a commercial card program that allows businesses of all sizes to operate as efficiently as possible. Regardless of whether the organization was a large corporation or a small business getting started, commercial card offerings have been used for travel, entertainment on the road, and to pay for meetings with key clients. Financial Institutions have provided these offerings to their commercial clients to help grow their business into what it is today.
However, due to the COVID-19 pandemic that has affected every industry, business, and individual, financial institutions have had to adapt what this offering looks like and what it can do for their business partners. That is why now is such a crucial time to "relaunch" your commercial card offerings with new features that can grow both your own and your client's business.
Adapting in order to stay afloat
Commercial cards have been the latest adopters of technologies such as mobile wallets and mobile apps that allow users to pay quickly and more securely than the standard card option. However, when these technologies do eventually become part of an organization's commercial card, usage increases. Take the restaurant industry for example. To counter the spread of COVID-19 most states have imposed temporary bans on indoor dining or have at least put limitations of how many people can be in the building at one time. This caused thousands of restaurants to now not only offer takeout options but to invest in delivery as well. This has led to a large increase in the demand of "Fleet" cards that can pay for the expenses of the automobile these restaurants are using in order to keep their business afloat.
If these restaurants, pharmacies, grocery stores, etc. that have all added delivery services do not hire a new delivery driver or use a car solely for delivery, they now have the option to turn to the gig-economy. The gig-economy has seen a large increase due to the new demand of delivery options. In fact, according to an article from MarketWatch, the popular apps of DoorDash, Uber, Grubhub, and Postmates "raked in roughly $5.5 billion in combined revenue from April through September, more than twice as much as their combined $2.5 billion in revenue during the same period last year." Banks and credit unions need to encourage and target these "gig-workers" by providing cards with special rewards that can benefit them when they buy necessities such as gas and automobile upkeep. Making these cards compatible with a mobile wallet will also help them receive payments faster.
How can I start my relaunch?
Financial institutions need to keep two things in mind when looking to relaunch their commercial card programs:
Use the data that you have in order to create a personalized experience for your clients. Fully utilizing the data that you have on hand will allow you to craft a card offering that can help specific industries that have a large presence in your area. Develop your card to provide benefits to these companies and give rewards that you know they will enjoy and use frequently.
Partner with a technology company that takes the burden off your shoulders. Technology providers, such as FIS, are truly 100%, full-service partners that can do everything for your card program, including issue a VIN number, design the card, personalize your loyalty program and so much more. These technology partners also assist with using the data at hand to guard both your organization and its customer's data from would be fraudsters.
Throughout the last year, so many businesses have had to adapt in order to stay relevant and capitalize on any opportunity in front of them. By providing a commercial card offering that helps them change their business, personalize their customer experience, and protect their data, a financial institution can build their brand as a client's trusted partner.
Hablemos
Juntos, podemos trabajar para resolver sus objetivos comerciales. Proporcione su dirección de correo electrónico a continuación y un representante se comunicará con usted pronto.