Fintech Insights
The infinite mindset meets the infinite modern banking platform
Andrew Beatty | SVP of Next Generation Banking
August 24, 2020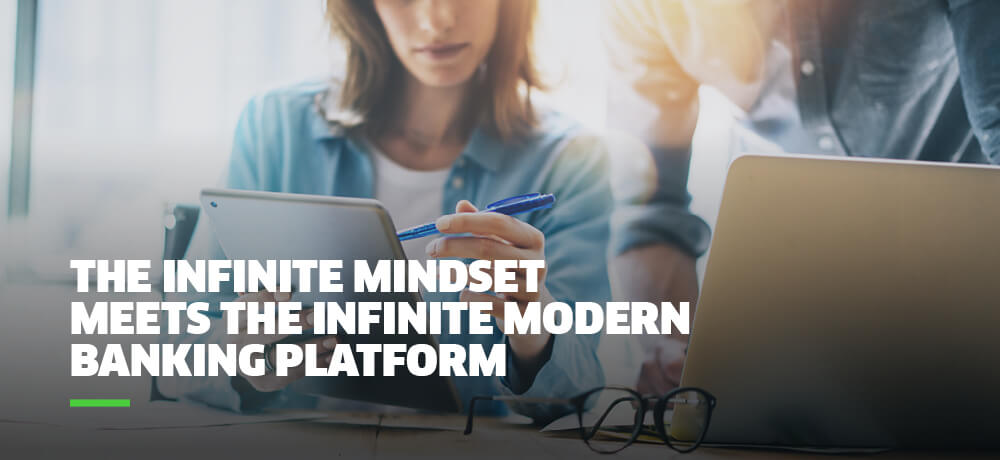 As part of FIS Insights 2020, I recently hosted a fireside chat with renowned leadership guru, Simon Sinek. As you would expect, the discussion focused on leadership rather than financial technology, but Simon's thinking is very relevant to the banking industry and FIS Modern Banking Platform. Here are a few of Simon's nuggets in the context of our business.
Leadership, conceptual selling and trust
At the outset, Sinek observes, "People don't buy what you do; they buy why you do it. And what you do simply proves what you believe." Although this is a general statement applicable to any commercial situation, it resounds heavily with FIS' Modern Banking Platform; given the time, energy investment and perseverance that was needed to bring this product to market.
To Sinek's point, no one buys our solution just for what it does now. It is a conceptual sale and a strategic purchase; the financial institutions (FIs) are really buying into the FIS vision and philosophy, as much as they are our solution. Viewed in this light, the investment can be quantified, but the trust bestowed in FIS to deliver cannot.
Once again, Sinek offers a helpful observation, "Trust is what happens between meetings."
Existential flexibility and the need to pivot
Another compelling theme of our discussion was the notion of existential flexibility. In essence, existential flexibility suggests that we adopt a broad vision of what we can do, rather than focus on what has worked in the past. In practice, we might head down one path and then need to pivot to another, often at short notice.
We experienced this when we created our modern banking platform; indeed, we expressed our own philosophy as bringing a solution certainty to an uncertain world. In practice, our robust architectural framework, based on future-proof technologies offers certainty; but there's more to the equation. We empower our clients to design, build and deliver customer experiences with the flexibility to pivot when necessary to meet any emerging need.
As Sinek suggests, "We need to work towards a vision of the world that does not yet exist."
Competitors or worthy rivals?
Throughout commerce, there is much talk about competition; some commentators consistently regard business as combat. Sinek encourages companies to think differently and look instead for worthy rivals. His thinking is that it's much healthier to look at other companies to see what they are doing well, rather than what they do badly. As well as building respect, he notes that rivals can also become friends. This has great relevance in the age of open banking and digitalization. Rival companies must occupy the same ecosystem and collaborate to deliver services that reflect the best of both. In this new age of competition and collaboration, the real winner is the consumer.
This confirms another of Sinek's home truths, "Successful companies always put customers at the center of the equation."
The last word…
Sinek concluded the discussion with a quote from Nelson Mandela, "Always be the last to speak." He adds that throughout history, great leaders take counsel and invite opinion to avoid adopting a reinforcement bias.
We believe FIS Modern Banking Platform will redefine banking; but the last word belongs to our customers.
Vamos conversar
Juntos, podemos trabalhar para atingir seus objetivos de negócios. Por favor forneça seu endereço de e-mail abaixo e um representante entrará em contato com você em breve.