Fintech Insights
Where are you in your cloud journey?
Maneesh Sharma, VP, IT Group Executive & Ratnakar Danne, Director, IT Systems
May 18, 2022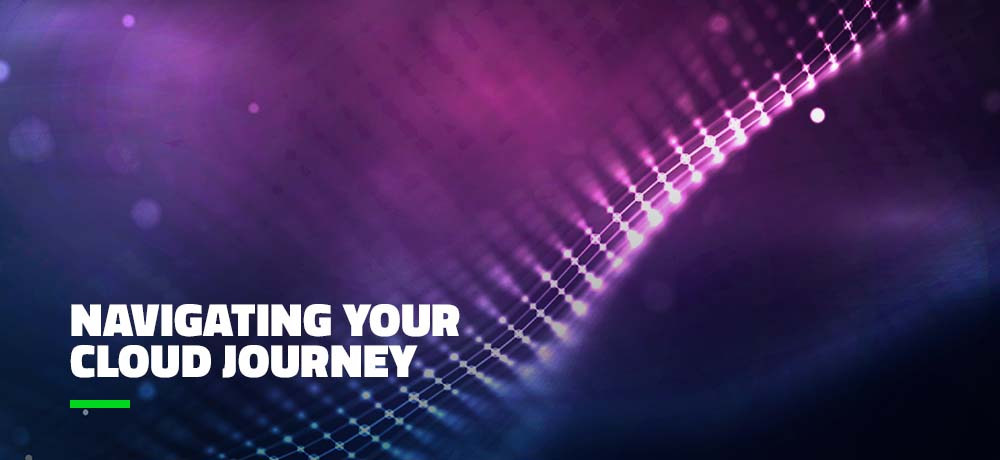 Adoption of the cloud, in some form and to some extent, is seen across 90% of enterprises today. As more and more organizations proceed on their cloud journey, they find that a one-size-fits-all approach does not work, leading them to a hybrid or multi-cloud strategy. With a large number of enterprises only having about 20-40% of their workloads in the cloud today, there is still plenty of room for better and more meaningful cloud adoption, which will in turn help optimize capital and operational expenses across the board.
Navigating your cloud journey
65% of banks face challenges in adopting cloud computing, according to a Deloitte report. Getting the right cloud services and solutions to meet the specific needs of your bank or financial institution is imperative for success. To achieve this, it is important to understand what the advantages are to getting on the cloud alongside the challenges and how to go about picking the right cloud service provider.
A cloud is an environment that has unlimited resources available to consumers, freeing them from needing to purchase hardware, spending capital or worrying about how to scale their infrastructure up and down to meet needs. Cloud environments provide the ability to drive digital transformation across an organization and to consume infrastructure as a service or platform as a service.
The three possible cloud deployment models are public, private and hybrid, each with their own set of advantages and disadvantages. Cloud can be deployed in a private setting, which means that it is protected within the walls of either the customer or a service provider, or it can be in the public cloud space with proper security controls and governance.
Public cloud environments allow organizations to reduce maintenance and operational expenses by having all their workload running in that environment. If everything cannot be migrated into the public cloud due to latency or proximity concerns, an organization may consider retaining a private cloud deployment while integrating that with the public cloud. This approach uses best-of-breed solutions and brings everything together with high-speed connectivity between locations to create a custom solution that fits specific business needs.
The importance of a cloud service/managed IT provider
It's hard for an organization that is focused on running and growing its business to also keep up with the latest in cloud and security technology. There are always new and improved processes and procedures and technologies that will help businesses grow faster. A cloud service provider is in the business of staying abreast of current technology and will ensure that they always have the right partnerships, ecosystem and services to meet the requirements of their customers.
In addition, acquiring, training and retaining the right talent to run the technology organization is key to success. By leveraging a service provider for managed IT, enterprises can more easily focus on growing and running their own businesses.
In a world where the bad guys are often one step ahead, ensuring the safety and security of sensitive data is another tangible benefit enterprises gain by working with a service provider partner. A service provider partner will bring best practices and successful support models that have been proven across multiple clients. With a service provider, you get a solution that is based on learnings and scenarios from other customers and the entire market at large.
What part does automation play in the cloud environment?
Automation drives efficiency and reduces the enterprise's dependency on human capital. It affords the ability to keep everything running smoothly while providing a quality of service where maintenance and operational processes are not prone to human error. Less outages and downtime equal greater productivity and quality of service. Automation helps to increase productivity, minimize errors, reduce cost, standardize processes and support audit functions. By identifying and automating processes, an organization can also improve the timeline for bringing new solutions to market, expediting ROI.
Be proactive instead of reactive with your organization's security
Security must be integrated – and cloud security is no different. An enterprise's ability to do business relies on how well it protects intellectual property and customer data. Security must be embedded across all processes and environments so that all possible attack vectors are covered.
To achieve this, security must be an integral aspect of application development, cloud adoption and ongoing maintenance and support. It cannot be an afterthought. A cloud service provider knows this and affords better visibility and more secure environments.
What FIS brings to the table as a cloud service provider
FIS has helped over 300 financial institutions along their cloud journeys – and rarely are two journeys the same. We bring premier, integrated cloud services to support our clients and have years of cloud experience with over 90,000 servers and 600+ of our applications running in hybrid cloud environments. FIS Security Council also participates in the US federal government's decisions on how best to secure their environment.
With FIS, financial institutions get a partner who has successfully migrated applications of all types and sizes into the public, private or hybrid cloud and delivered quality ongoing service to customers. At FIS, we treat cloud partnership the same way we treat security – as all important, and we have the investments and partnerships to prove it. We are a gold partner and tier-one service provider with Microsoft and have a significant relationship and investment in Amazon's AWS.
FIS is your complete cloud services partner, no matter where you are in your cloud journey.

Let's Talk
Together, we can work to solve your business goals. Please provide your email address below and a representative will reach out to you soon.