Fintech Insights
How real-time payments provide real value
Bernd Richter | Senior vice president for Growth Strategy, FIS
May 09, 2022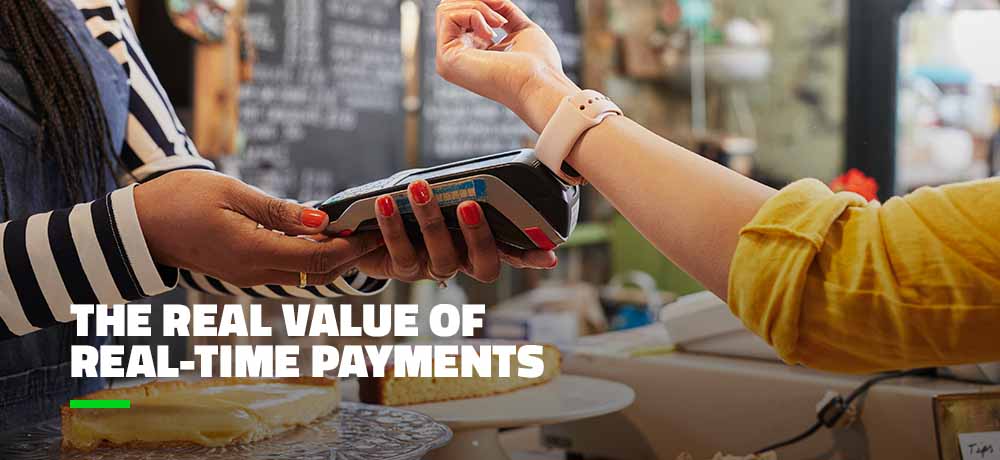 In the race to digitize payments, real-time payments are leading the way. But the speed of the payment is not the only consideration; what can be accomplished because of that speed is even more important. In the real-time economy we live in, there's a need for real-time information to help businesses reduce their risk, manage physical and financial supply chains and create and operate new customer experiences. That's why we added analysis of the real-time payments landscape to the 2022 edition of The Global Payments Report .
What are examples of how real-time payments provide value?
1. Real-time payments promote resiliency in the supply chain.
Consumers weren't the only ones inconvenienced by shortages during the early days of COVID-19. Many smaller corporates were and continue to be impacted by supply issues. In Q4 2021, 61% of US small businesses reported disruption in their supply chains due to the pandemic and 63% said they have had to alter their supply chains in the past six months.
Securing a supplier has been a main concern. Businesses accustomed to sourcing products from other countries such as Thailand and Vietnam had to find new supply places for their products. But without a financial presence in the countries where supplies could be found, small and medium-sized enterprises struggled with remitting funds to secure products in a timely manner.
Real-time payments change this story. Through an established real-time payments infrastructure, even the smallest enterprises can access a network of financial providers. They can change business partners and funding sources faster and on an ad-hoc basis to adapt more quickly to supply chain disruptions. Real-time payments enable the flexibility in payment transactions that make businesses more resilient.
2. Real-time payments empower businesses with more information.
The migration to ISO 20022 has far-reaching impacts affecting banking processes from KYC to reporting. And its adoption goes hand in hand with the implementation of real-time payments. The new standard is a business workflow that facilitates an understanding of payments between banks and corporates and how business is being conducted, and real-time payments provides the information flows that supports that understanding.
With real-time payments, businesses can add messages to the payments, keeping all parties in the loop about the specific payment terms. For example, both the seller and buyer can be informed when payment has been received and what it's for, then use this information to automate business processes.
With more information about each payment, businesses can make the most of their working capital. During leaner times, they can request payment term extensions with their suppliers. When revenue is good, they can make use of early payments discounts.
3. Real-time payments enable better risk management for commodities buyers and sellers.
With real-time payments, sellers can receive funds in real time, allowing them to track inventory and customer relationships and more accurately plan for future sales. Sellers can potentially sell more by extending lines of credit to customers based on information contained within the payments.
On the buyer side, real-time payments eliminate worries about remitting payments on time. Additionally, by providing payment details, buyers can potentially qualify for discounts on early or scheduled payments and access or extend lines of credit. By providing greater transparency in when and how payments will be delivered, real-time payments enable better risk management for all parties involved in commodities.
4. Real-time payments support the growing gig economy.
While the pandemic made remote work the new norm, it also expanded the gig economy, which is growing three times quicker than the US workforce. Up to 93 million people across Europe and the US are gig workers, and research shows that gig workers want digital payments . At least 70% prefer electronic payments and 84% said that they would work more if payments were processed more quickly.
By enabling direct payments in real time to shift workers in the gig economy, real-time payments creates new business models for companies. Companies have access to a pool of workers that are motivated by getting paid immediately after providing agreed-upon services. And by automating payments and tracking, real-time payments remove the obstacles to timely payroll in the gig economy.
To discover more about how real-time payments is driving the move toward a digital economy, download your free copy of the The 2022 Global Payments Report .

Let's Talk
Together, we can work to solve your business goals. Please provide your email address below and a representative will reach out to you soon.