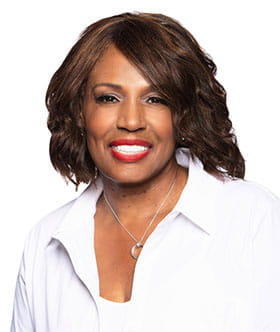 Denise Williams leads FIS' global people function. A seasoned human resources executive with more than extensive experience, she works with the executive team to drive the company's people agenda.

Prior to joining FIS in 2016, Denise spent 15 years leading global human resources teams at IBM. Before IBM, Denise held human resources roles at Alliance Bernstein, First Data, Avis and Coopers & Lybrand.

In 2023, Denise joined the Alight, Inc., Board of Directors.

In recognition of her professional achievements, Denise was named a 2022 HRO Today Superstar, a Top Innovator in HR 2021 by Business Insider Magazine and HRO Today's 2021 CHRO of the Year, Lifetime Achievement winner. Denise also recently penned the foreword of Chris Shipley's and Heather McGowen's new book, "The Empathy Advantage."

Denise earned her bachelor's degree from SUNY Albany and is a member of organizations including the Human Resources Policy Association, the Center on Executive Compensation and World 50 for CHROs.
Let's Talk
Together, we can work to solve your business goals. Please provide your email address below and a representative will reach out to you soon.