Fintech Insights
10 predictions for capital markets in 2020
Randy Guy | CTO, Capital Markets Solutions FIS and Tony Warren | head of strategy, Capital Markets Solutions, FIS
February 03, 2020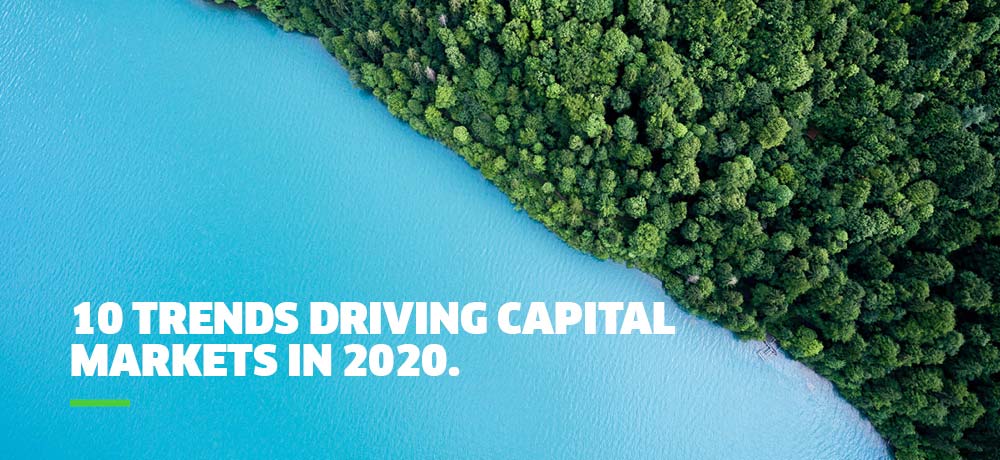 It's a new year – where will it take us? We have ten predictions about where the capital markets will go and how to set yourself up for growth.
1. Capital markets will settle into consistent growth, and mergers and acquisitions will surge.
Some of the concerns in 2019 that were caused largely by uncertainty, such as Brexit or a trade war with China, are calming down. Notwithstanding the forthcoming US election, to date, the market seems to be responding favorably to this new environment, settling into a steadier and more sustainable path to growth.
That will encourage more M&A activity as firms look for growth opportunities and consolidations to increase their footprint. That in turn drives areas of capital markets. For example, credit and CLO will grow faster.
2. Environmental, Social and Governance (ESG) investing will become increasingly popular.
Achieving the best return is no longer the only consideration for investors. We started the new year with Australia on fire, which has once again pushed climate change to the top of the headlines. Environmental sustainability is therefore on everyone's mind.
Whether you're looking at retirement, wealth management or asset management in general, there's a big opportunity for providers to make investment products more attractive with ESG credentials.
3. Technology will be even more critical to ensuring regulatory compliance and a superior customer experience, with many firms turning to the cloud, buttressed by robust cyber security.
We'll continue to see demand for regulation to safeguard us all. As more regulatory rules and standards are introduced, firms will depend more and more on modern technology to allow standardization, data transparency and automation. Technology is also enabling a more digital and real-time experience for the consumer, supported by artificial intelligence (AI).
But more and more, firms won't want to run the technology themselves. They'll rely on services in the public cloud, provided by megafirms that have the strongest cyber security.
4. Machine learning and AI will become competitive differentiators.
These technologies are changing the way financial services firms are operate. Now you have to modernize your technology to keep up. But you can't just add these newer technologies to legacy systems and expect to get the same advantages of a firm that's modernized their entire infrastructure. Otherwise it will be like a house of cards – eventually it will fall down.
5. Robotics will help firms survive as margins get even thinner.
As even companies like Schwab go to zero fees, efficiency will continue to be a priority. But with many firms having already streamlined processes or integrated systems, what else can you do? Robotics automation and automation in general slash costs and errors, so you can become much more efficient in processes like onboarding of clients.
6. "The cloud" will multiply and integrate with other clouds.
Cloud is really becoming more and more about multi-cloud – using multiple vendors, even across the same workflows. Vendors are making it easier to put your workload in one cloud and use the services from another cloud. In fact, you can use a hybrid or private cloud and still reach into other public clouds to take advantage of their services. That will happen more and more as firms choose the best services no matter where they reside.
7. Cyber security will remain a huge threat.
Cybercriminals are taking advantage of new technologies, so every company has to up its game. Firms must also be aware of the developments happening outside the industry. The wars of the future will be played out in the cyber world. It's been predicted before but it's becoming more and more true. When political tensions rise, even politicians talk about retaliation in the form of cyberattacks. Using newer techniques, especially those that take advantage of AI to detect threats, will be critical.
8. Firms will take a fresh look at their data management.
With the growth of machine learning, AI and robotics, data becomes more and more important. To get insights into clients and further increase efficiencies, you need a clear data strategy that allows you to keep data accessible and available.
9. Culture and people will share the spotlight with technology.
AI, robotics and cloud are becoming more critical to how companies operate. But that doesn't mean you can neglect people. Companies must upscale their own employees to understand, think about and deliver with these technologies. Encourage your employees to learn new technologies and think differently. If you don't do that, you'll get the same result that you had today and quickly fall behind. But that involves shifting from capital markets' traditionally risk-averse culture to one that embraces experimentation and innovation.
10. Millennials' expectations will begin to reshape what investment firms and their technology providers need to deliver.
As millennials start to succeed Baby Boomers and Gen Xers in senior roles, they're looking at technology differently because they've grown up with it and trust it. When it comes to investing, they will look for direct, real-time access to data plus automation via mobile tools; for example, algorithms could choose their investments. Investment firms and technology providers will need to orient themselves around those expectations with investments in areas such as robotics.
Where do you think capital markets will go in 2020?
Let's Talk
Together, we can work to solve your business goals. Please provide your email address below and a representative will reach out to you soon.