Fintech Insights
Community banks need technology to improve customers' experiences and increase efficiency
Keith Gilbert | VP and general manager, Community Banking, N.A. Americas Banking Solutions
March 02, 2020
Community banks thrive on building relationships and a sense of community in the markets they serve. They also need to continue implementing new technology to stay profitable and remain relevant to their customers. Community bankers need to let new solutions remove mundane tasks from their operations, while they improve their laser focus on their customers. With the appropriate technology partner, they can accomplish both objectives.
Research on bank customer satisfaction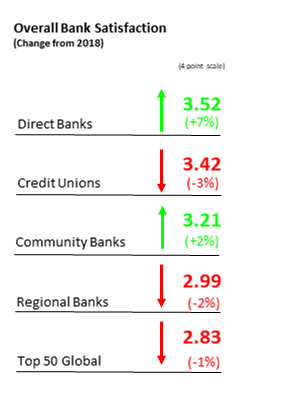 Recent research conducted by FIS reinforces the importance community banks place on relationship cultivation and customer service. According to the 2019 PACE findings, overall consumer satisfaction ratings for community banks rose – scoring 3.21 on a 4-point scale. This compares favorably to the scores for larger banks.
Customer service is of the utmost importance to community banks because they address needs in their local community with local decision making. Relationship banking can move this up another notch by maintaining a touch of personalization and customization when it comes to serving various community customers.
Community bankers seize the opportunity to become beacons of trust and strength for their small business and retail customers. One of the strongest advantages a community bank can leverage to increase customer satisfaction is their ability to create meaningful customer experiences.
Consider the Branch Experience
How can the intersection of technology and customer experience work within a community bank? Let's look at technology within the branch for a solid use case.
A small business owner comes into their bank's local branch to take care of some business. As a community bank, the teller recognizes her, but swipes her debit card to immediately locate and pull up her relevant information on a screen versus searching manually for that customer's background and recent history.
The business owner hands over a group of checks to deposit. Using teller capture technology, the teller then creates virtual tickets with no keying of information or asking the busy business owner to complete deposit tickets. Besides checks, the owner also has an unknown quantity of cash to count and deposit. The teller takes advantage of a cash recycler by the teller stand to count the currency, validate the amount with the customer, and then automatically credit their business account with the new funds.
The next order of business is the opening of a new personal savings account for the business owner because she wants to start saving for the holidays. The teller uses an electronic form to start the opening, gaining an e-signature approval at the end of an entirely paperless process.
The technology just highlighted streamlines bank operations and simultaneously saves the business owner precious time. Because of the time savings, the teller can engage this customer in conversation on HELOCs, as her household information indicates a college age student still in her home.
To look comparatively at the technologies supporting this experience, consider the following:
| Branch Technology | Bank Efficiency Impact | Customer Experience Impact |
| --- | --- | --- |
| Card swipe | Reduces time spent looking up customer details and background. | Customer appreciates not having to answer repetitive questions. |
| Teller capture | Speeds processing and increases accuracy. | Customer saves time. |
| Cash recycler | Increases accuracy and speed. | Customer confidence increases. |
| e-signature | Saves time, creates audit trail, and removes paper. | Customer saves time and increases their satisfaction. |
The Efficiency Difference
The customer experience implications are obvious, while the bank efficiency impacts of the above technologies in the use case add up quickly. And efficiency gains provide community bankers with advantages to help stay competitive versus their larger peers. Staying competitive is no small task as efficiency ratios by size of bank tend to favor the global giants.
Consider the following recent data from the FDIC indicating the gaps in efficiency performance that can favor larger institutions: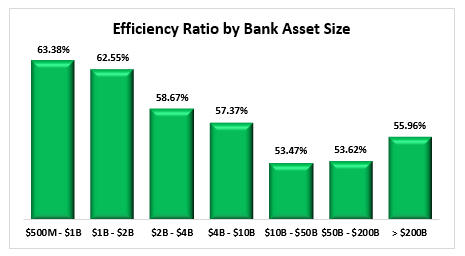 Banks across the performance spectrum should look carefully at innovation to increase their productivity as:
Underperformers can raise their performance and enhance survivability or become attractive acquisition candidates.
Performers can strive to attain "best-in-class" while catching up to industry leaders.
Industry leaders can retain their edge, preserving their front-runner position.
Community bankers' time today is as valuable as their small business customers. They must evaluate and implement the innovative technology that maximizes their efficiency while enhancing their customers' experiences.
We at FIS ensure community bankers can compete based on local service and relationship banking, while at the same time helping to close efficiency gaps with larger institutions—giving them the best of both worlds.
Let's Talk
Together, we can work to solve your business goals. Please provide your email address below and a representative will reach out to you soon.