Payments Leader
Cracking the eCommerce Checkout Code by Sri Kothur
August 10, 2018
Sri Kothur
Preference for online shopping is growing – particularly amongst younger consumers – and merchants must adapt.
The digital experience must be at least on par and in sync with the in-store experience or retailers risk losing sales.
Making those experiences equivalent, however, requires analyzing every aspect of the digital customer journey, including determining where the online customer experience goes awry.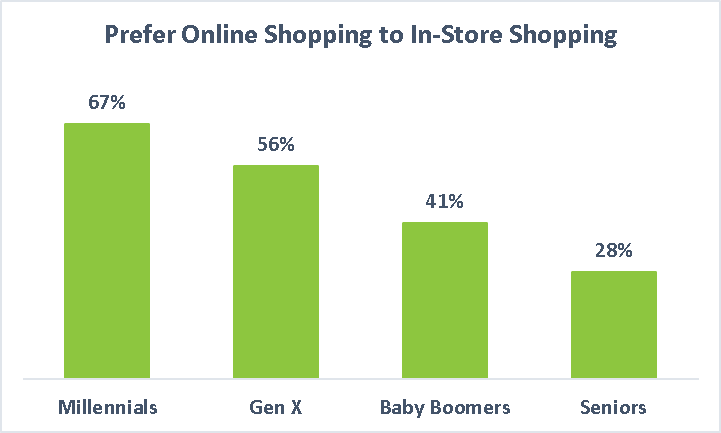 Source: Statistica, 2018
44 Percent of Sales Are Lost
Common obstacles that drive away consumers include: forced registration prior to shopping, inconvenient wayfinding and browsing through the site, and lack of a seamless checkout experience. It's estimated that such friction drives away as much as 44 percent of sales – $236 billion lost, according to the Checkout Conversion Index (CCI).
Worse yet, the most recent CCI report suggests that checkout friction is growing. In fact, the report said that the time it takes to checkout is rising along with the number of clicks required to complete a purchase. As a result, sales shift to competitors whose online experiences are optimized to ease navigation, where costs are transparent and where checkout can happen with one click.
Maximize Your User Experience
The goal of checkout should be to make the process fast, easy and secure. A well-designed checkout flow reduces friction in the transaction, thereby putting the focus on shopping, not paying. Here's how the most productive retail sites generally operate:
Allow guest checkouts without forcing registration. Think of it like a customer entering a retail store. Would you ask for a name, email address or password before selling them something?
Make the "shopping cart" prominent and contents easy to view.
Use suggestive selling (with photos) at the cart page to upsell and cross-sell.
Provide an easy way for consumers to return to their carts later.
Highlight security. BlueSnap reports that 100 percent of the best sites display trusted security logos at checkout to let their customers know they care about safeguarding financial information.
List total costs on the

payments pa

ge so as not to surprise customers with shipping charges and taxes. "Hidden charges at checkout" is the top reason for cart abandonment.
Give consumers multiple shipping options.
Provide an option for creating an account after payment.
Expectations Only Grow
As payment options expand in the physical world, consumers naturally expect more extensive payment choices in the digital world as well. Fifty-nine percent of online shoppers even said they will abandon their transaction if the retailer doesn't offer their preferred payment method, according to Smart Insights.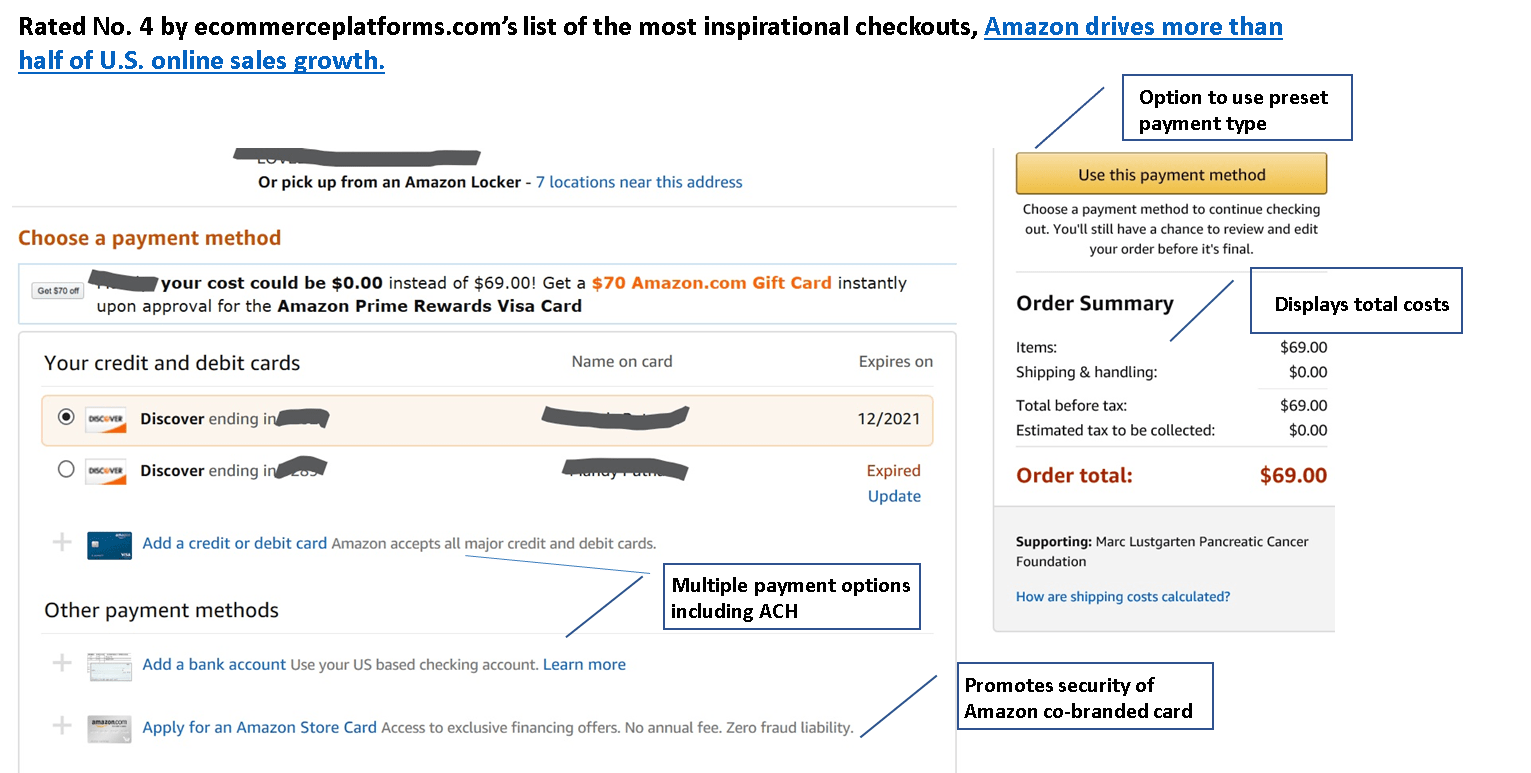 Source: Amazon.com
Innovation and globalization are further driving the issue. New payment types are growing and putting pressure on retailers to expand acceptance beyond the big issuers, ACH and gift cards. For example, those eyeing global markets must think about accommodating consumers who want to use the "pays" – Apple Pay and Samsung Pay, but also China Union Pay, WeChat Pay, Alipay, PayTM and others.
While continuous disruption of the payments ecosystem offers numerous challenges, it also provides opportunities for creativity and differentiation. If you're offering ACH as a payment choice, why not pass along savings from these transactions to consumers, for example?
Cashback redemption for full or partial payment is an increasingly popular option with consumers. Innovative applications of rewards points can drive additional sales, improve the CX and promote loyalty. For example, point redemption could help mitigate shipping costs of low-dollar items, which often rival prices of the goods themselves and thus discourage consumers from buying.
Interchange Analysis Can Help
While expanding payment choices increase complexity, there are options to help retailers reclaim the money they're spending. For example, better understanding the impact of interchange rates can help retailers make choices that best benefit themselves. Retailers lacking the resources to conduct an interchange analysis should enlist a payments consultant or look to their processors for help. Otherwise, they leave money on the table.
Let's Talk
Together, we can work to solve your business goals. Please provide your email address below and a representative will reach out to you soon.