Payments Leader
A Path to P2P Revenue by Mike Kresse
October 4, 2018
Mike Kresse
Person-to-person (P2P) payments are growing in popularity. While that's driving financial institutions to compete and offer it, P2P comes at a significant expense. Fortunately, the current landscape is ripe for financial institutions to reduce friction, take costs out of the Business-to-Consumer (B2C) disbursement process, grow revenue and improve the customer experience through P2P.
Disbursement market inefficiencies
B2C disbursements cover a wide range of activities ranging from paying freelancers to tax refunds.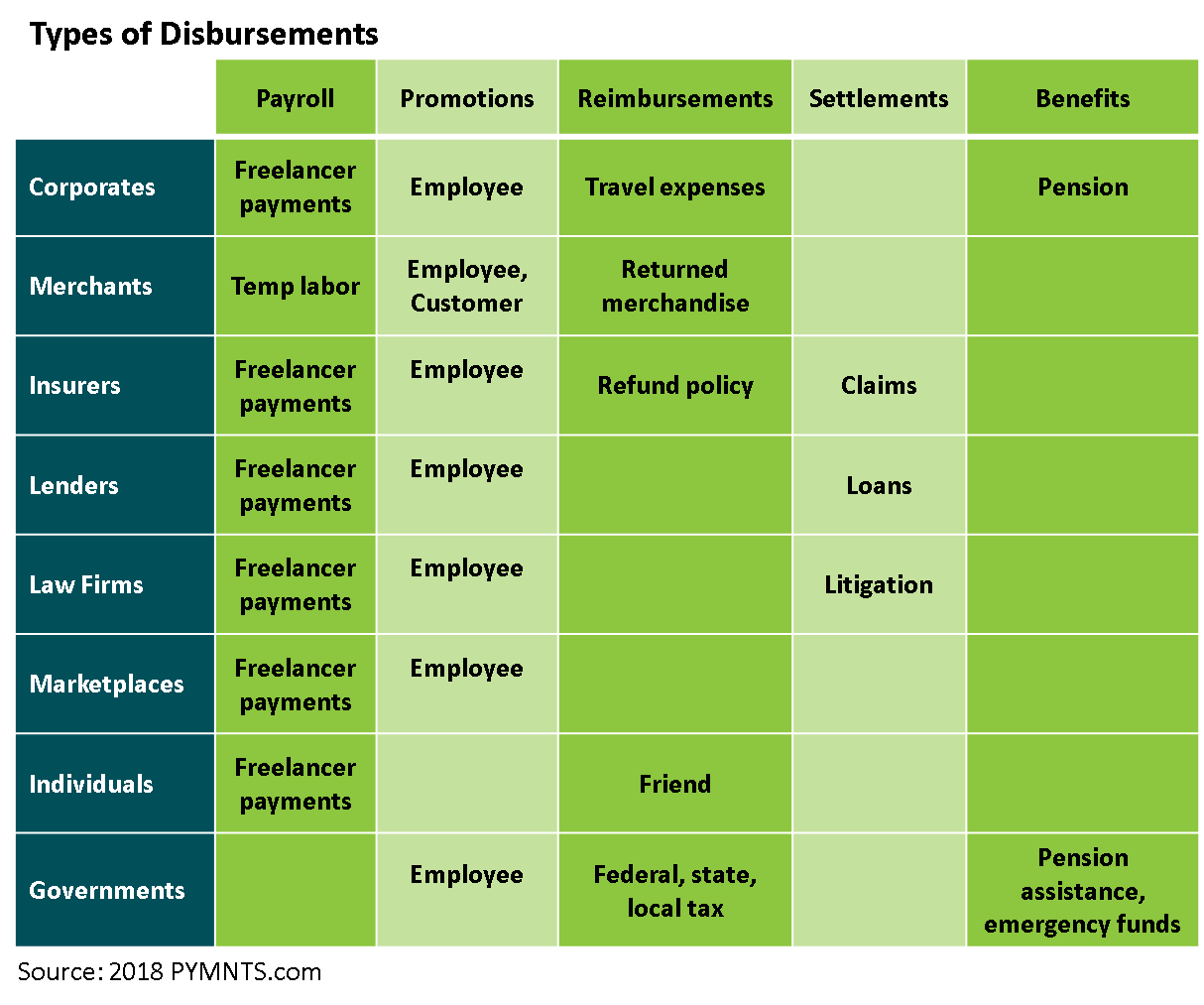 The PYMNTS Disbursement Satisfaction Index™ found paper checks to be the worst disbursement method, according to consumers. Yet checks remain a dominant form of B2C disbursements in the United States.
Part of the problem with checks is the expense. Analysts place the cost of printing, sending and processing a check between $4 and $20. These estimates may seem high, but think about all of the costs associated with handling paper checks: check and envelope supplies, printing, mailing preparation, lock-box service fees, postage, bank processing fees, check reconciliation, resolution of issues around lost checks and escheatment tracking for unclaimed checks.
Given the volume of disbursements, why not make direct deposits into consumers' bank accounts? The most common obstacle is lack of access to bank account and routing numbers of payees. Payers of one-time disbursements, in particular, lack the information or incentive to collect it. And, after all, why would consumers receiving rebates or reimbursements on merchandise, for example, offer their banking information?
A digital solution brings efficiencies to the market
Friction in disbursements creates opportunity for financial institutions to leverage their P2P capabilities and earn revenue. That's because entities disbursing funds need only mobile phone numbers or email addresses, which payers are likely to already have or acquire easily, to send payments via P2P.
Concurrently, usage of P2P by consumers is quickly becoming ubiquitous. A recent Zelle study found that adoption of digital P2P payments is high among all generations – 75 percent among millennials, 69 percent among Generation X and 51 percent among baby boomers.
Now, sending out 10,000 checks can be set up as a P2P payment and the cost for the payer falls from a minimum of four dollars to less than a dollar per payment. Furthermore, the payer is notified if the payment isn't claimed within a certain timeframe, which cuts down on the escheatment process.
Consumers will benefit from quick payment – important for seventy-four percent of disbursement recipients, according to the August 2018 Disbursements Tracker ̶ and reducing paper checks also will reduce the carbon footprint.
One caveat to keep in mind: Disbursers requiring payees to wave their rights to pursue legal action or pursue further payment must build in a capability, such as a website, for claimants to sign off on terms and conditions in order to receive payment. However, providers are already preparing solutions that will accommodate claimant sign offs.
A clear path to leverage P2P investment
The path to P2P revenue is clearing as the uptake by consumers grows and the business case becomes clearer: financial institutions win, entities disbursing funds win and consumers win.
It's time to have a conversation with your provider about how to harness the significant revenue potential around facilitating Business-to-Consumer disbursements.
Let's Talk
Together, we can work to solve your business goals. Please provide your email address below and a representative will reach out to you soon.