Fintech Insights
Corporate clients demand more from their banks
Brian R. McCumber | CPA Director, Product Line Manager Modern Banking Platform – Deposits and Commercial Express, FIS
November 08, 2021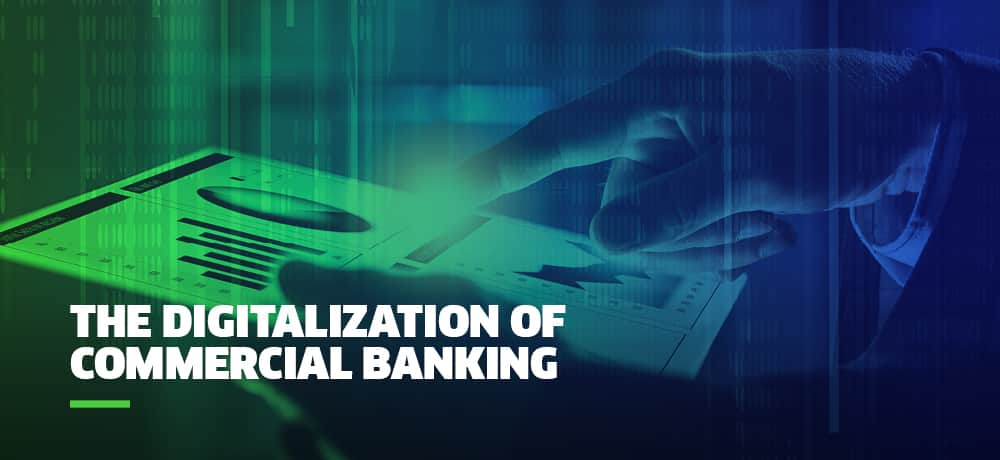 This Is an Opportunity
A great deal of the discussion around digital transformation has focused on retail banking. But commercial banking is just as important. In wake of the pandemic, many commercial banks are keen to accelerate progress to catch up. Here we consider how corporate banking can deliver customer value quickly and move towards a digital core.
An industry in transition
Global banking is transforming, and the pace is accelerating. Before the pandemic, the industry was already in a state of flux, but banks now face a stark choice: digitalize or lose market share to new, agile competitors. For several years, attention has focused on retail banks, but commercial banking has recently moved into the spotlight. So, what's driving change?
As with retail banking, user experience is a major driver. Big tech continually raises the bar and users know what a good experience feels like. They have rising expectations and demand services that meet their specific needs. With limited resources, small businesses are embracing digital tools to reduce costs, boost efficiency and manage money better.
Many businesses look to their banks to broaden their digital capabilities with fintech tools that drive efficiency, reduce friction, and offer a better user experience. This is good news for banks, because digital channels are a lot more efficient and less costly to provide and support. But it also creates new business opportunities to add more value. Banks can offer their commercial customers a transformation journey, driven by business benefits.
In the short term, adopting real-time and digital payments increase customer convenience and show that a bank is committed to digitalization. Longer term, a new core will be essential to capture all the benefits of the digital age. While this is of most benefit to customers, it also empowers a bank to elevate its position to partner.
Digital and real-time payments
Not surprisingly there has been a spike in digital payments since the beginning of the pandemic. As people adopt digital and real-time payments in their personal lives, they expect the same in their business transactions. Digital payments offer a step-change improvement in automation but moving to real-time also reduces the potential for errors and improves fraud detection.
According to Aite-Novarica, 74% of small businesses have use cases that they feel are better suited for electronic payments over checks, while the same is true for 83% of midsized and large businesses. Similarly, 40% of this population experienced a spike of more than 10% in digital transactions volume during the pandemic. The move to real-time payments has become a measure of bank success and is first step towards real-time banking.
Digital onboarding
A consistent customer frustration is providing the same information repeatedly, particularly for onboarding. In practice, customer onboarding can take weeks and involve multiple unstructured technical, procedural and regulatory processes. In many cases this leads to a sub-optimal customer experience and higher costs for banks. With the right digital tools, customer onboarding can be streamlined and automated. Investment in digital onboarding will be well rewarded.
The need to transform the core
Many core banking platforms have been in place for decades. The technology that drove success has become unwieldy, expensive to maintain and difficult to adapt. In parallel, modern technologies - such as cloud – are constantly redefining what's possible. Cloud ushers in a new era where banks can be free from the worry of running their own technology on premise and can seize the opportunity of new business models, such as software as a service (SaaS). A digital core on the cloud is quickly moving from leading edge to the baseline of a success bank. Why?
Migrating to the cloud empowers a bank to do things differently: cloud is about how computing is done, not where. With its unlimited scale and immense compute power, cloud empowers a bank to become truly data driven. A holistic view of data is essential to eliminate silos across channels, and to harness the power of data to become truly customer centric. According to Aite-Novarica, only 35% of corporate customers are happy with their bank portal capabilities so, if they don't respond, someone else will.
Cloud is also the gateway to modern technologies, such as artificial intelligence (AI) machine learning (ML) and advanced analytics. These technologies are essential to ramp-up personalization and to align bank services with customer workflows. By using customer data a bank can tap into a rich source of customer insight and uncover new ways to add value.
From banker to partner
As banks face increased competition from a growing number of sources, customer loyalty cannot be taken for granted. Commercial customers are more likely to shop around, not just for a bank but for individual services that meet their exact needs and ambitions. So, banks must offer services that increase customer engagement and build loyalty. However, digitalization also provides the opportunity for banks to add more value through additional services, for example in liquidity management, payroll, or business forecasting.
Banks can also help commercial customers participate in the burgeoning financial ecosystem and to integrate seamlessly with third parties using APIs. As the banking industry moves way from a monolithic, vertically integrated structure to a more horizontal, collaborative structure, banks have the potential to provide services along the entire commercial banking value chain. By harnessing the power of new technology and data, banks can elevate their position from banker to partner.
*The content was shared during a webinar/fireside chat with Christine Barry of Aite-Novarica Group
Let's Talk
Together, we can work to solve your business goals. Please provide your email address below and a representative will reach out to you soon.