Fintech Insights
A guaranteed path to business transformation in your customer service operations
Jaspreet Kondal | SVP, Back Office Services, FIS
November 16, 2020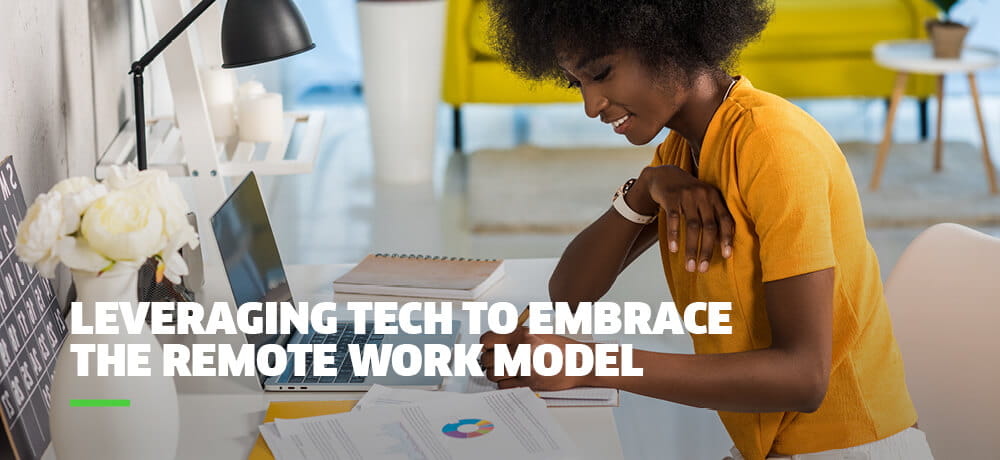 How will COVID-19 affect the way we handle future strategic decisions, across myriad organizations and industries as a whole?
Unquestionably, we are at a crossroads when it comes to how we are operating and how we should expect to operate in the new normal. Old business models will have to evolve into new ways of working to thrive in the new normal. Across the globe, 47 percent of employees will never return to their offices and will work in a remote capacity permanently, while nearly 82 percent will work from home at least some of the time. This represents a sea change for most organizations, especially in the financial industry, where the WFH (work from home) model was not considered ideal given the nature of work, and utilized only if necessary, never as part of an overall day to day strategy. But given the successful transitioning to WFH, we can expect that organizations will pursue a hybrid approach (combining work from home with work from office) for its workforce in order to cut down brick and mortar costs, at the least.
There are challenges that need to be addressed in this scenario. Infrastructure is lagging, with few organizations collecting data on their remote workforce and the management of disparate teams. There must be stronger investment in this space to help optimize costs and be compliant. According to a recent Gartner survey, 25 percent of finance executives anticipate more spending on digital and automation technology. Such technologies will drive the ability to have better oversight over a disparate, remote workforce and the ability to glean the important data points necessary to develop a go forward strategy around performance and productivity and the budgets associated with managing that work.
How FIS can help organizations manage the various factors in delivering in the new normal
At FIS, we have been leading the charge on WFH and ramping up technology for our clients. We are doing away with the old outsourcing models and offering a new take on how to manage customer cost and risk and investment, focusing on:
Compliance tracking, resource management across multiple geos in CRM, WFM, Telephony systems and the ability to get the data our clients need from these disparate systems and put it together to get a holistic view of what is happening in their customer care centres.
Real time KPI tracking of what customers need and want, as well as how client teams are able to deliver those customer needs – understanding effectiveness of delivery against budget and the impact on customer satisfaction and loyalty and the ability to not only maintain but then build on it, harnessing predictive analysis.
Better employee performance coaching using actual data points rather than subjective feedback to assess employee capability/performance.
Reassessing existing systems and processes (core and non-core) to see how and where cost can be managed, leveraging our relationships and buying power with our partners. This will transform a customer's internal model and help control the costs in delivering a better customer experience and employee experience.
FIS has developed a model that makes it our responsibility to deliver and maintain a better cost to serve, as well as better customer service.
The FIS framework in action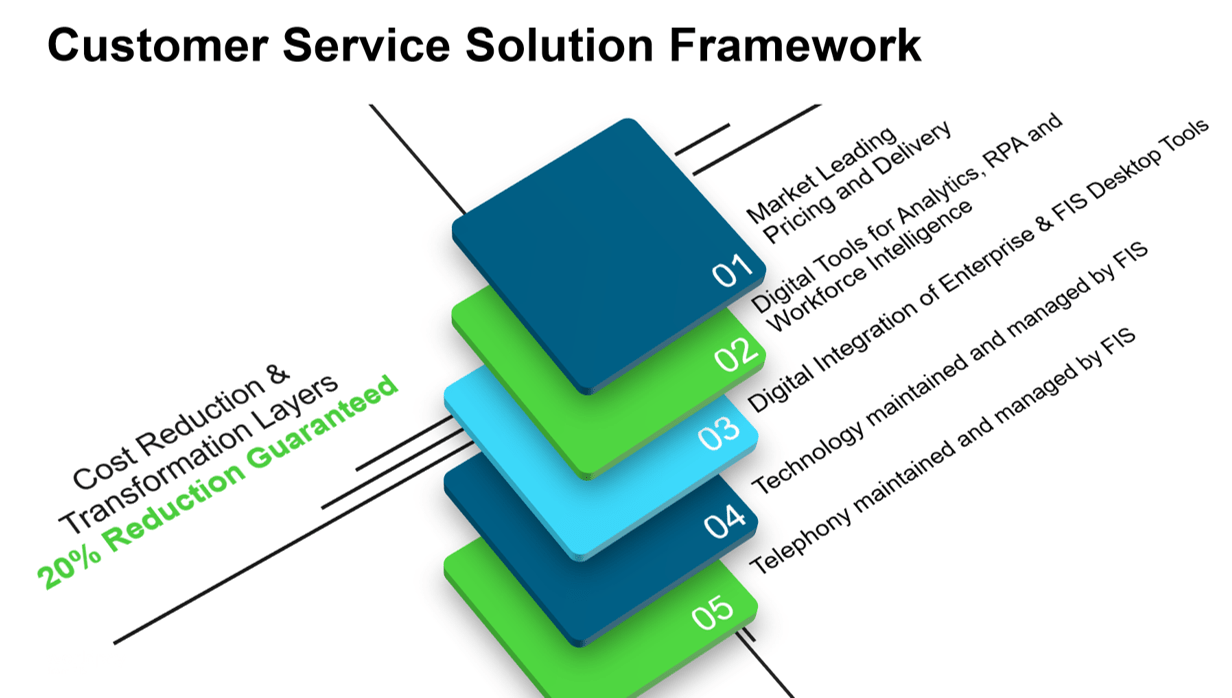 Level 1: Market leading pricing and delivery
The focus is on optimizing staffing and right sizing the organization, while continuing day to day operations and identifying how to more effectively and aggressively use remote operations. Our new model addresses this by targeting each concern individually as well as in a hybrid model. We can focus on the same tech levers and optimization processes that would be needed for an in office environment, alongside the flexibility of WFH; while providing the same comfort of control and oversight and creating a fully remote environment where the infrastructure costs associated with an office environment are removed. We will create the right delivery model work for a customer based on their specific needs, to optimize processes and help contain costs in a new and compelling cost management model.
Level 2: Digital tools for analytics, RPA, Workforce Intelligence
FIS' EPIC platform is a multi-modular solution that not only delivers desktop analytics (data gathering) but also has process mining, efficiency, automation and compliance/oversight modules. EPIC Core is the base module that provides remote workforce (time spend, efficiency of time spent based on output) and applications utilization (by agent/support staff) intelligence.
Level 3: Digital Integration of tools (Enterprise + FIS Desktop tools)
Agent desktops are the most vital source of information around product and performance. With the right tools, businesses will get data on log in hours, apps logged into, for how long, contact type, etc. Such information is critical to understanding how productive the team is against the budget for the tasks. Integrated with the broader telephony systems, it provides a wider picture, leading to better strategic decisions. Managers no longer have to gather and analyse the data points and can rather focus on strategic planning and bringing the business up to industry best levels.
Levels 4 and 5 Tech and telephony networks managed by FIS
These are the game changers. Change will be through the FIS network and technology partners that we have access to. FIS will manage and maintain these infrastructures (tech, digital assets, people, services) at lower cost, driving more operational efficiencies as we integrate the tech and day to day services. This will allow our customers to deliver the best CX possible and improve customer loyalty – a goal for every business today.
No risk, high reward business outcome
We have already seen the potential of this model, where we integrate existing and new tools to get more transparency across the operation's ecosystem while removing the costly infrastructure required to deliver it daily. Our team analyses the overall operations through a human and technology lens and brings in a layer of digital tools to gather all the necessary data points to glean actionable insights. We will illuminate where there is an opportunity to optimize processes and make the right technologies available to our clients to help them achieve significant cost savings while getting the same benefits. While reducing manual effort and TCO, clients will also improve overall performance and customer experience.
Let's Talk
Together, we can work to solve your business goals. Please provide your email address below and a representative will reach out to you soon.