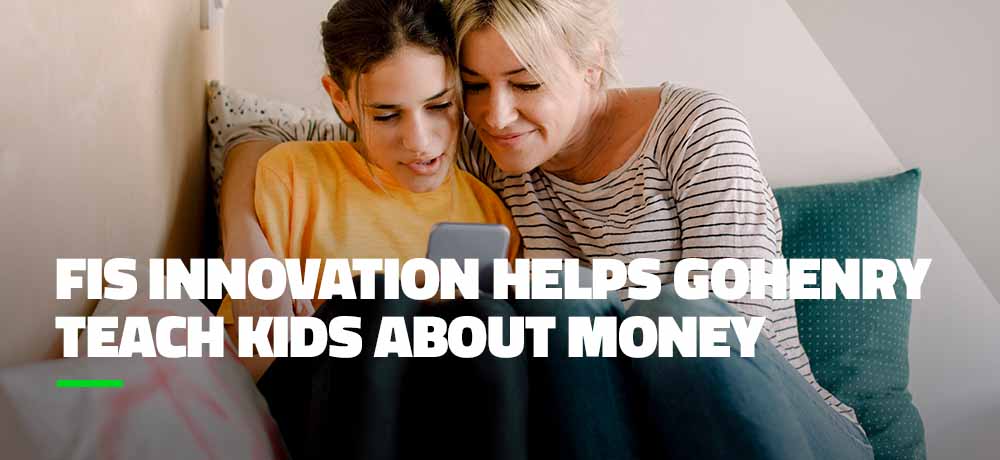 Banks and credit unions often include financial literacy education for kids in their marketing and financial inclusion efforts, but prepaid debit card provider and FIS client GoHenry's sole mission is to teach kids about money management.
A pioneer in its category, GoHenry was co-founded in the United Kingdom in 2012 by Louise Hill and a group of friends who realized there was nothing in the market at the time that was teaching children about money management and the value of money as it becomes increasingly digitalized and intangible.
Today, GoHenry has grown to a community of over 2 million members by teaching kids (ages 6-18) about safely managing their pocket money in a practical and fun way through digital payment tools and content that helps them build their financial confidence and knowledge. For example, they can decide to budget a regular amount to give to charity and learn how to make wise investments.
The added beauty of GoHenry is that parents can now never miss a pocket money payment, and they can add spending controls and track where their kids are spending their money giving greater reassurance and control.
Finding the right partner is key
GoHenry knew it needed an innovative card processor partner that could support the unique prepaid product that was critical to its business model. After exploring several options, they found that FIS outranked other sources in terms of support and the range of services offered. GoHenry's leadership required a partner they could trust and who had the know-how to launch them into a new world of finance and technology.
"As a technology innovator in the space, FIS offered us not only card processing services but also risk monitoring, customer service solutions and back-office systems," states Hill, co-founder and chief operating officer at GoHenry. "We didn't elect to use all of the services they offer on day one, but it made the process of setting up all of our systems and supply chain a whole lot easier."
Over the past decade, FIS has worked alongside GoHenry to support its growth by offering a range of services that has allowed the company to tap into those solutions as needed. This includes launching in the United States in 2018 and offering 3DSecure to its customers in 2020.
A brilliant future
GoHenry's relationship with FIS ensures that it is always equipped to bring its young audience the latest payments technology, while guaranteeing it delivers the security that is so critical to its mission.
GoHenry has become so popular that it recently won a British Bank Award as "Best Children's Financial Provider," a recognition voted on by the public that highlights the success of providers in banking and how they've responded to their customer needs in the last 12 months.
To learn how FIS can help your institution bring innovative debit, credit and prepaid offerings to market visit FIS' Payments One cards site or watch our virtual panel discussion where you will also learn more about the importance of diversity in leadership and financial inclusion .
Let's Talk
Together, we can work to solve your business goals. Please provide your email address below and a representative will reach out to you soon.