Fintech Insights
Financial Inclusion Requires More Than Being Banked - Rise with FIS

Dondi Black, Senior Strategic Planning Manager, FIS
July 01, 2019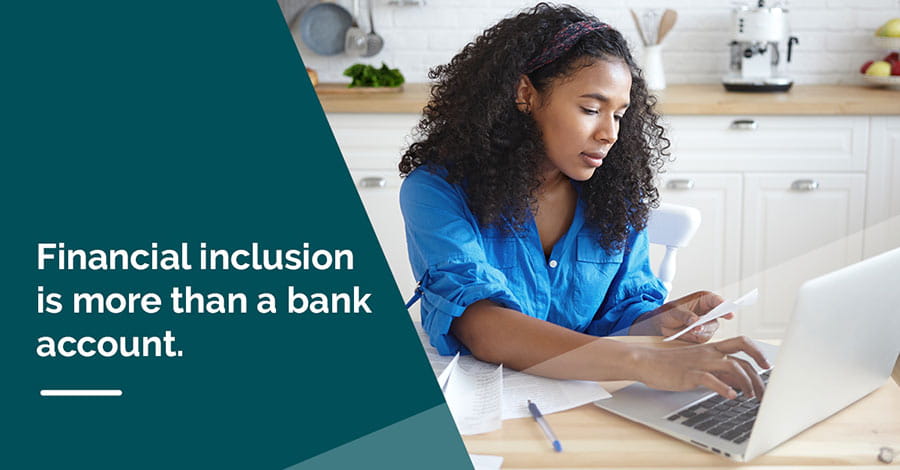 The good news about financial inclusion is the steady decline in unbanked adults in the United States (U.S.) to only 6.5 percent of households in 2017, according to the FDIC. Still, an additional 18.7 percent were underbanked, meaning the banked household obtained financial products outside of the banking system, commonly expensive payday loans.
The alarming news about financial inclusion is the lack of personal finance knowledge among most U.S. adults – not just low-income consumers. The 2019 TIAA P-Fin Index indicates that, on average, Americans answered only half (51 percent) of financial literacy questions correctly.
Requirements of financial inclusion go beyond being banked
Financial inclusion is more than having a bank account. It's having enough financial savvy not to fall prey to a cycle of debt, to have enough savings to cover an unexpected expense, and to have the know-how to build a credit score that opens the door to credit when needed to reach important goals.
A broad spectrum of consumers needs to change their financial behaviors but current efforts by some banks and fintechs are falling short of helping consumers achieve financial health, according to Alex Jiménez a senior strategist at Zions Bancorp.
The current efforts by banks and fintech firms addressing financial literacy with general advice and unhelpful tools like "save the money you would spend on a cup of coffee" are doomed. The focus should be on easy-to-use tools that can help change behavior.
Education, regulation and technology support evolution to financial inclusion
Technology, financial education and even regulation working together are supporting the evolution to financial inclusion and health. Technology expands access and offers great potential to play an important role in influencing financial decisions.
Nearly ubiquitous mobile phone ownership in the U.S. enables access to digital banking.
Artificial intelligence (AI) reduces financial invisibility of the unbanked and solves ongoing challenges of "Know Your Customer" rules.
Digital identity technologies screen consumers cost effectively and with greater predictive accuracy to determine whether consumers qualify for credit.
How financial education and counseling are delivered makes all the difference between success and "so what." For example, programs focusing on uplifting whole communities are changing millions of lives
Over a thousand community development financial institutions (CDFIs) provide literacy education and technical assistance to small business owners and first-time home buyers for whom they provide access to financing.
Investment in opportunity zones through a Qualified Opportunity Fund can assist more than 7,000 underserved communities in the U.S. while providing tax benefits to investors.
Since its inception in 1992, Operation HOPE's award-winning model of community uplift has helped millions of individuals with financial counseling. At the heart of HOPE is commitment by leading experts to confront and solve issues around poverty and financial wellbeing. As a result of counseling programs, clients measurably boost their credit scores and financial literacy, lower their debt and increase their savings. In 2018, the percentage of unbanked or underbanked clients fell from 29 to 9 percent.
In the regulatory arena, the CRA modernization initiative focuses on three goals: changing the definition of assessment areas to include digital banks that do business in an area, pushing back against predatory lenders and increasing the supply of affordable housing in communities.
Huge opportunities for organic growth
Beyond "doing good" for communities they serve, financial institutions can serve markets they've traditionally viewed as too risky through the use of innovative onboarding technologies and tools that improve financial behaviors and help customers become creditworthy. The return on investment is worth billions – according to the OCC, $90 billion in short-term, small-dollar loans annually, for starters.
Jumpstart your day in a matter of seconds with quick snapshots of industry trends and leading perspectives delivered straight to you. Sign up for RISE here.
Tags: Consumer Segments, Innovation
Let's Talk
Together, we can work to solve your business goals. Please provide your email address below and a representative will reach out to you soon.