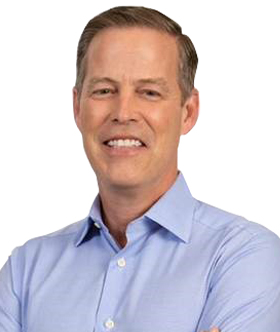 As chairman and chief executive officer of FIS, Gary Norcross is highly focused on driving FIS' global business. FIS is a Fortune 500® company and holds leadership positions in payment processing, financial software and banking solutions.

Highly respected throughout the industry, Gary has experience serving financial institutions large and small, domestic and global. He started his career with FIS more than 30 years ago when he joined Systematics Inc. in 1988 as an entry-level programmer. He went on to serve in a variety of leadership roles prior to being named president and chief operating officer in 2012, president and chief executive officer in 2015, and chairman, president and chief executive officer in 2018. In March 2021, Gary appointed a new president of FIS and has transitioned to chairman and CEO.

Using a client-focused approach, Gary has overseen significant growth of FIS' product portfolio and global footprint. He was critical to the company's acquisition and integration of Metavante Technologies, Inc. and SunGard and was heavily involved in its acquisitions of a large number of companies, including Certegy and eFunds. More recently, he drove the company's 2019 acquisition of Worldpay, one of the world's leading global e-commerce and payment technology companies, and largest ever in the financial technology industry.

Under Gary's leadership, FIS has grown to more than 55,000 employees worldwide, serving over 20,000 clients in more than 130 countries. FIS also ranks consistently among the industry's leading financial technology providers, including topping the FinTech 100 six times within the last 10 years. FIS was named one of Fortune's Most Admired Companies in 2021, won the Chartis RiskTech100 award and was named a Best Place to Work for LGBTQ Equality by the Human Rights Campaign Foundation. FIS also came in first in the IDC FinTech rankings for 2020.

Gary also holds a variety of leadership and board of directors roles. He serves on the dean's executive advisory board for the Sam M. Walton School of Business at the University of Arkansas, and he is a board member of Guardian Life Insurance Company of America, the YMCA of Florida's First Coast and the Knowledge Is Power Program's (KIPP) Impact School in Jacksonville, Fla.

In 2018, Gary was named by the Jacksonville Business Journal as one of their "Ultimate CEOs." Gary also received the Corporate Citizenship Award from the Conference Board Committee for Economic Development in 2020.

Gary holds a bachelor's degree in business administration from the University of Arkansas.
Let's Talk
Together, we can work to solve your business goals. Please provide your email address below and a representative will reach out to you soon.