Press Release
Best Tech Brand: FIS Recognized as Leader in India
January 14, 2016
Key facts
FIS was named the Best Tech Brand in Banking & Financial Services Solutions by India's Economic Times.
This is FIS' first time on the list, which is based on a survey of 300 brands across eight Indian cities.
This recognition highlights the value FIS provides clients across India, including several major efforts to assist financial institutions in bringing banking services to India's underserved.
MUMBAI and JACKSONVILLE, Fla., 14 Jan. 2016 – India's Economic Times, one of the world's most widely read English-language business newspapers, has named FIS™ (NYSE: FIS), a global leader in financial services technology, the Best Tech Brand in Banking & Financial Services Solutions 2015.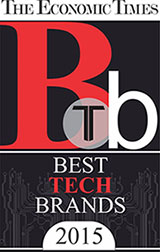 This represents FIS' first time receiving the recognition; it came as a result of a survey and study of 300 brands across eight Indian cities by MRSS, India's largest independent market research company.
"We're extremely honored to be named the Best Tech Brand in Banking & Financial Services amongst an impressive field of strong companies," said Shrihari Bhat, group managing director, APAC, FIS. "More importantly, we're proud that the work of our 55,000 employees is empowering our clients to move their business forward and make a difference in the lives of the customers they serve. That's the mission behind the FIS brand."
The quick empowerment of clients – particularly in India as it focuses on financial inclusion – led FIS' recent launch of Banking on Demand, an innovative, hosted solution that enables small banks, payment banks and microfinance institutions to deliver banking capabilities to their customers without the expense and time associated with building out traditional banking infrastructure.
Late last year, FIS also opened India's first financial inclusion lab in Bengaluru. The lab is designed to provide a working, collaborative environment for FIS to cooperate with business leaders, government organizations and NGOs across the country to create and test solutions that will increase financial literacy for India's 1.2 billion citizens. Its interactive data tools also will help identify roadblocks to greater financial inclusion.
About FIS
FIS is a global leader in financial services technology, with a focus on retail and institutional banking, payments, asset and wealth management, risk and compliance, consulting, and outsourcing solutions. Through the depth and breadth of our solutions portfolio, global capabilities and domain expertise, FIS serves more than 20,000 clients in over 130 countries. Headquartered in Jacksonville, Fla., FIS employs more than 55,000 people worldwide and holds leadership positions in payment processing, financial software and banking solutions. Providing software, services and outsourcing of the technology that empowers the financial world, FIS is a Fortune 500 company and is a member of Standard & Poor's 500® Index. For more information about FIS, visit www.fisglobal.com.
Follow us on Facebook (facebook.com/FIStoday) and Twitter (@FISGlobal).
For More Information
Kim Snider, +1 904.438.6278 Senior Vice President FIS Global Marketing and Communications kim.snider@fisglobal.com
Let's Talk
Together, we can work to solve your business goals. Please provide your email address below and a representative will reach out to you soon.