The Future of Payments in Five Charts
Fintech2030
Earlier this year, FIS released our annual Global Payments Report. Described as the payments industry Bible by merchants around the world, the report showed the extent to which the adoption of digital payments has accelerated over the past year. Not only has this acceleration caused merchants to rethink how they engage with customers now, it has radically changed our view of the future of payments and the speed of change we can expect in the next decade.
As they say, a picture tells a thousand words. Here are the five most important charts from this year's FIS Global Payments Report, and what we think they mean for the future of the payments industry.
1. E-commerce skyrockets
The global e-commerce market grew 19% to $4.6 trillion last year, the highest growth in the past five years. That equates to almost three years of typical acceleration in a single year. Our modeling shows that by 2024, e-commerce will grow a further 60%, principally driven by mobile commerce through apps and social channels, reaching an estimated $7.3 trillion globally.
We expect this trajectory to only increase beyond 2024 as consumers become more comfortable with making purchases online and via mobile. As e-commerce and mobile commerce continue to gain ground in the next decade, retailers will need to strategize for online and mobile devices as the number one point of purchase and implement compelling, channel-agnostic and unified experiences for all consumers.
2. Mobile wallets are no longer an alternative option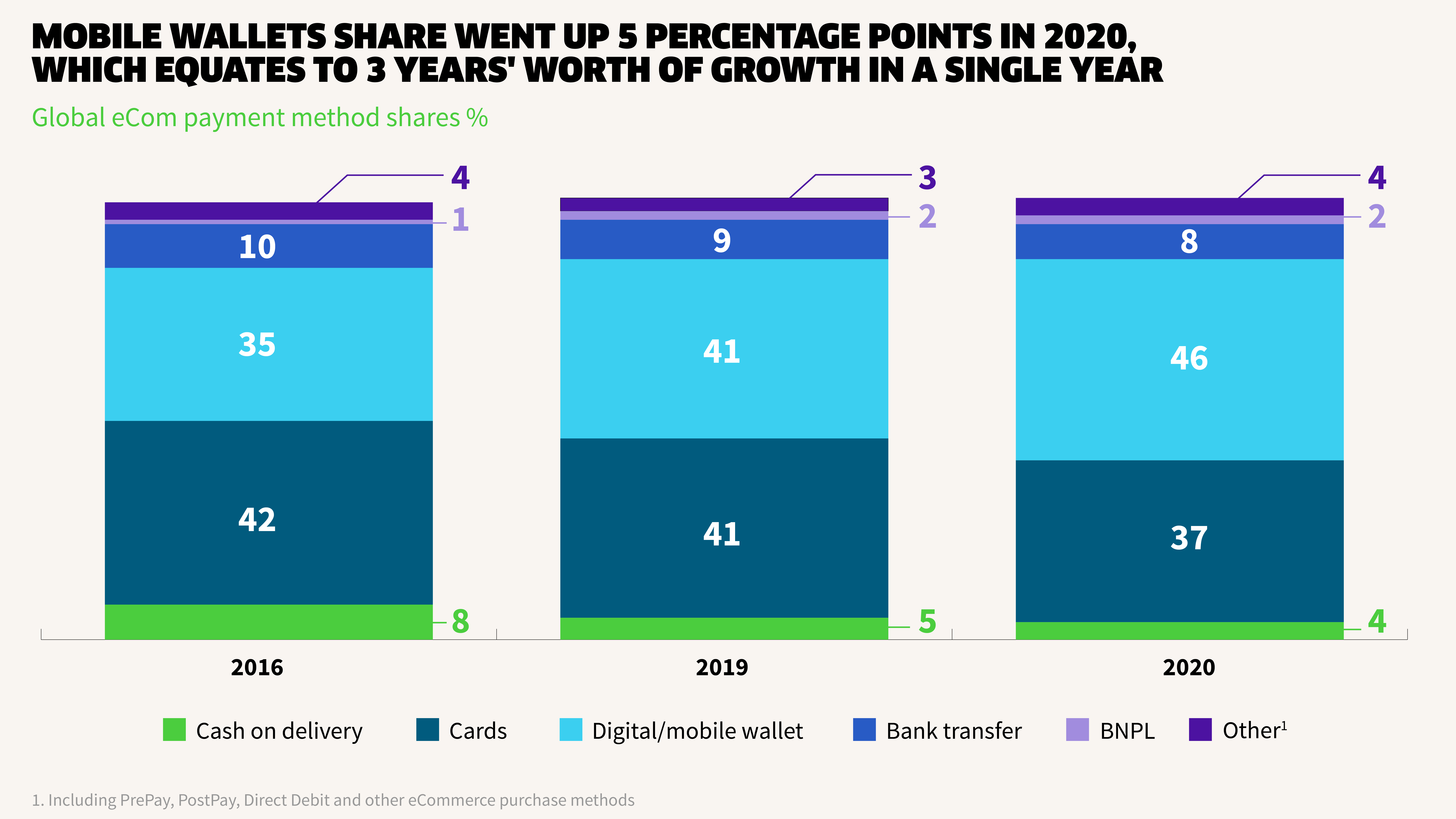 Driven by mobile commerce, mobile wallets will become the most popular online payment method by 2024 globally, accounting for over a third of all payments in that time. In the U.S. alone, mobile wallets are predicted to overtake physical cards as the most popular online payment method in the next three years.
If this trend continues, we anticipate that digital wallets could make credit cards fully digital within the next decade. Interestingly, we are already seeing merchants catch on to this trend, with online marketplaces scaling to an unprecedented level.
Within the next five years, we expect cash will account for less than 13% of payments worldwide.
3. The cashless society of the future is now a reality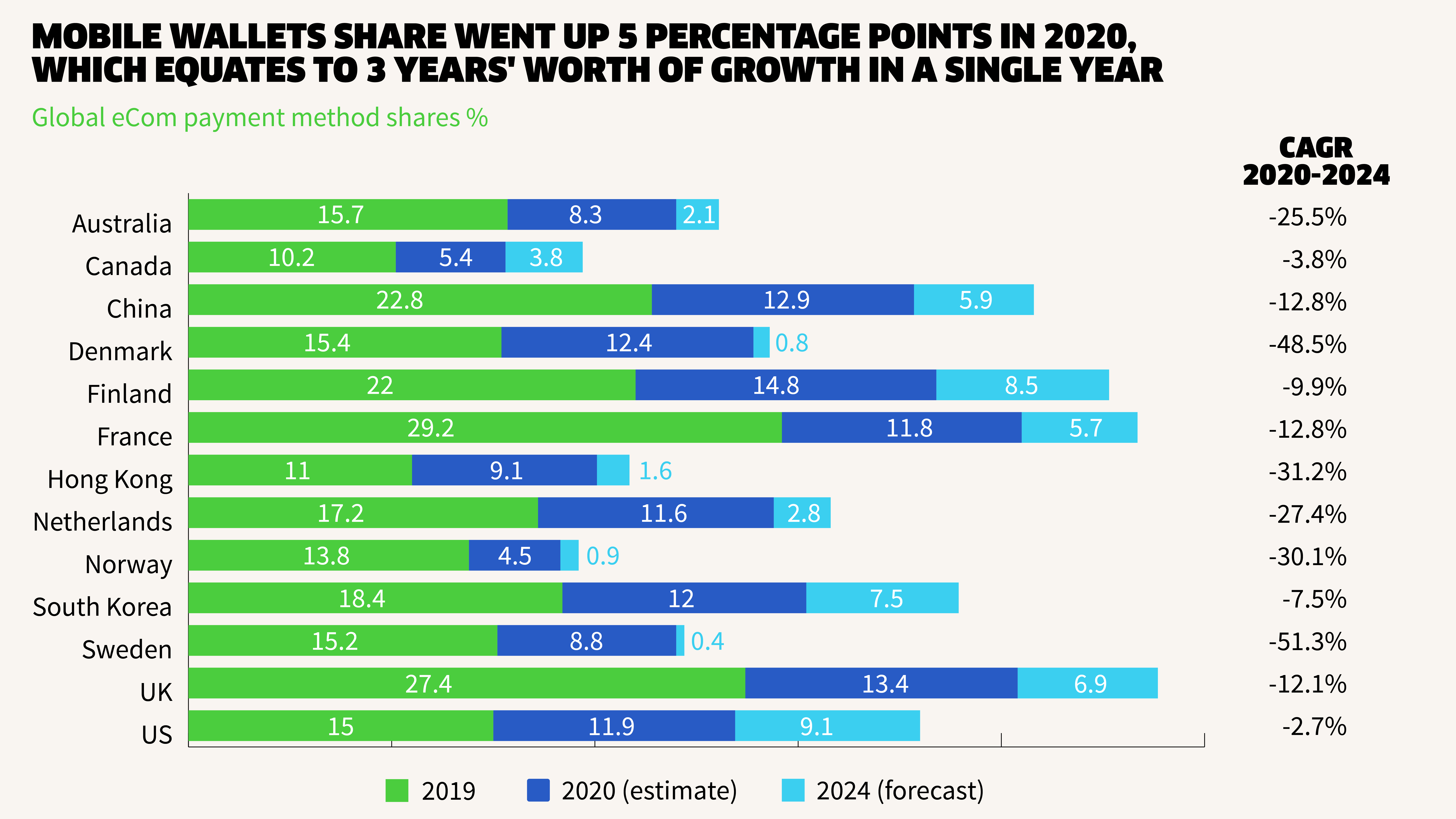 In 2020, cash accounted for just one-fifth of all in-store payments globally, trailing significantly behind credit cards (50% of in-store payments) and mobile wallets (26%). Within the next five years, we expect cash will account for less than 13% of payments worldwide.
While we don't expect the world to be fully cashless by 2030, it's highly likely that several countries – including Australia, Denmark, Norway and Sweden – will have a negligible amount of cash in circulation by the end of the decade and that cash usage will be limited largely to person-to-person payments and tipping.
4. Buy now, pay later (BNPL) is now the fastest-growing payment method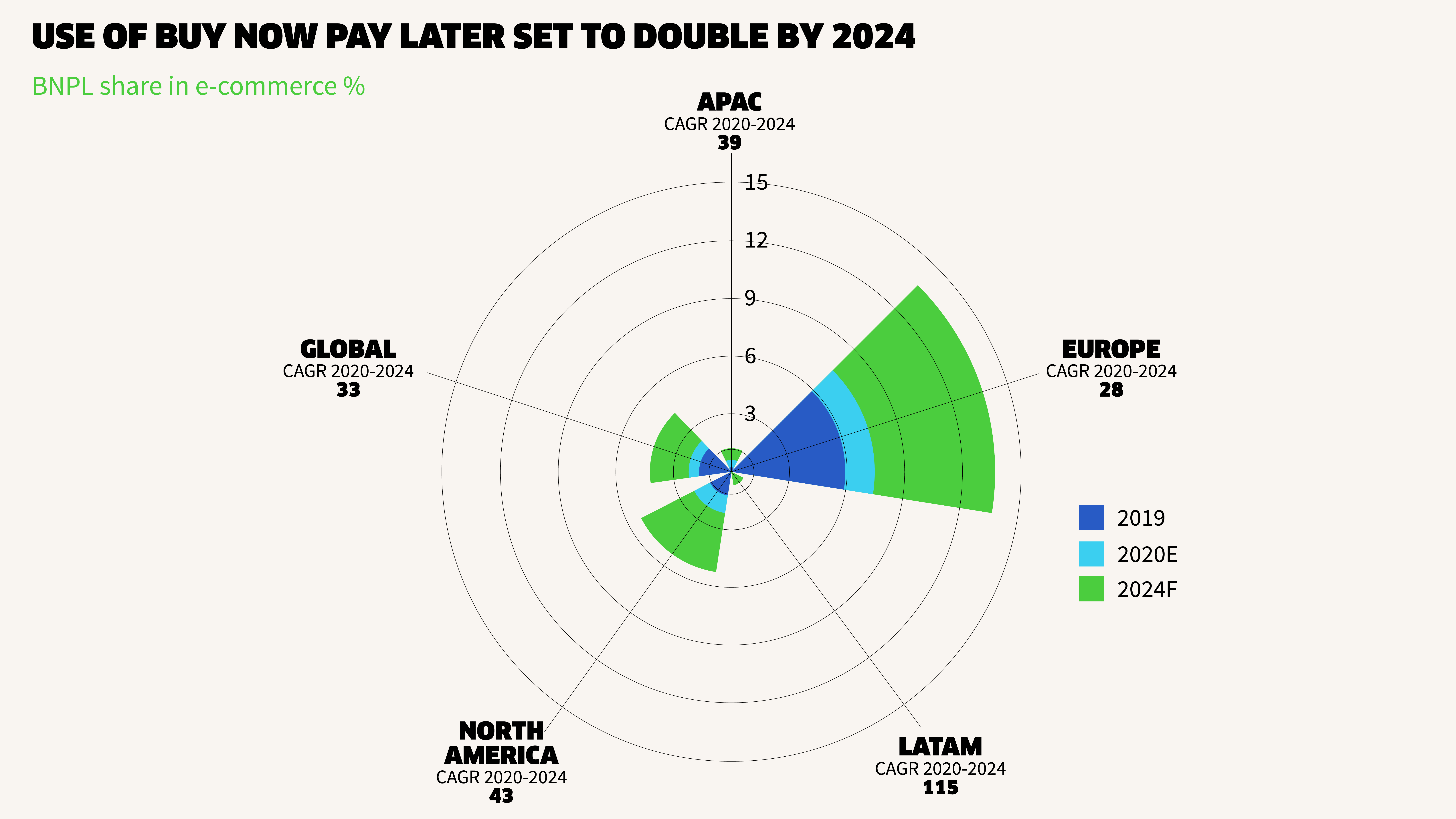 By 2024, an estimated $306.8 bn of e-commerce purchases will be made via BNPL, increasing from $97.2bn in 2020. The reason: More consumers are choosing BNPL as a way to budget and control finances, managing the cost purchases directly at the point of sale.
Within the next decade, depending on the impact of various regulations, the BNPL trend will continue to expand into other verticals. We also predict BNPL brands will use their brand equity and strong customer loyalty to expand into other areas of financial services, such as Klarna's recent move into retail banking in Germany.
5. Digital wallets go from bank card to bank account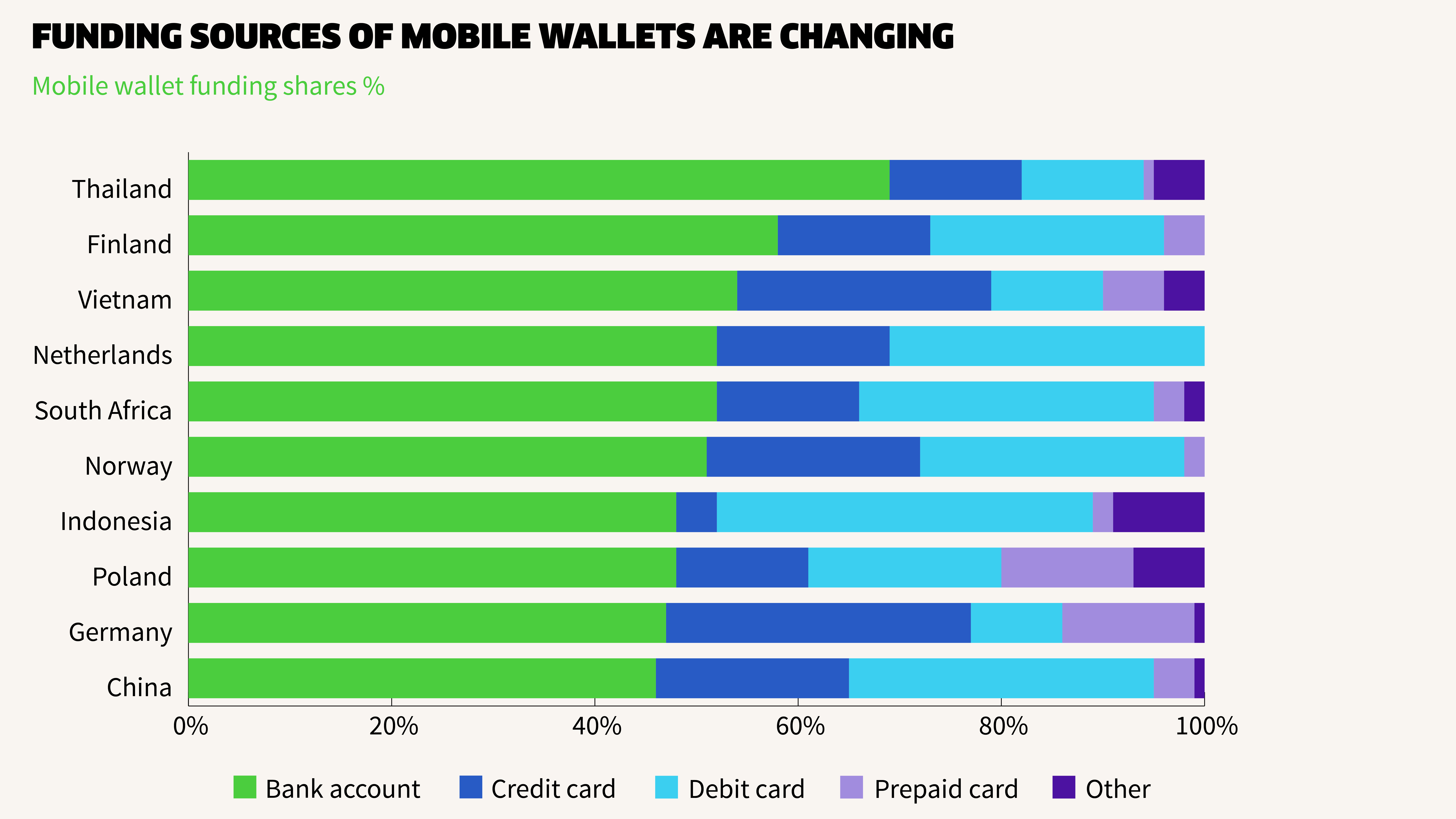 Driven by regulatory changes and increased adoption of open banking, a growing number of mobile wallets are being funded directly from bank accounts. Already in Thailand, Finland, Vietnam, the Netherlands, South Africa and Norway, more than half of users fund their digital wallets directly from their bank account. In the U.K., U.S. and Australia, fewer than a third of users directly fund their digital wallet from their bank account as physical debit and credit cards continue to fund more than half of all digital wallets globally. We expect those percentages to flip by the end of the decade as consumers in the West become more comfortable with account-to-account based wallets.
To read more about the payments trends of the future, visit our dedicated Global Payments Report site.
All third-party trademarks are the property of their respective owners and not affiliated with FIS.
© FIS 2021
Read Next
Load more posts