Grocery Shopping
unpredictable schedules translate into quick trips
Luis' and Emilia's unpredictable schedules translate into quick trips for only a few items to fill near-term needs. In contrast, Ethan shops for the week when it's his turn to buy. Sofia still lives at home, where parents pay for family groceries. Let's see how this plays out.
GEN Z VALUES DISCOUNTS AND DEALS
After class, Luis dashes through the grocery aisles to resupply his fridge with pop, frozen pizza and snacks to motivate his "build-a-startup" teammates. He types in his phone number on the keypad to get discounts and dips his debit card.
35%
prefer to pay for groceries in cash
Interested in learning how COVID impacted consumer behavior? Learn more.
Did you know?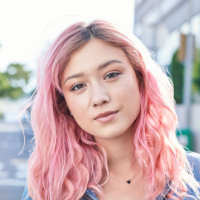 In Argentina, where Sophia lives
64%
of Gen Z members prefer to pay in cash
Gen Z members are more likely to pay for groceries in cash in contrast to all other generations. If not cash, debit cards vie with credit cards, but combined, they don't quite equal the percentage of cash payments.
Gen Z members and millennials lead the digital payment charge. Older generations – Gen X, baby boomers and beyond boomers – continue to dip cards at checkout.
Close