Fintech Insights
Contactless payments in a contactless world
Pinar Alpay | SVP Global Payment Solutions, FIS
July 06, 2020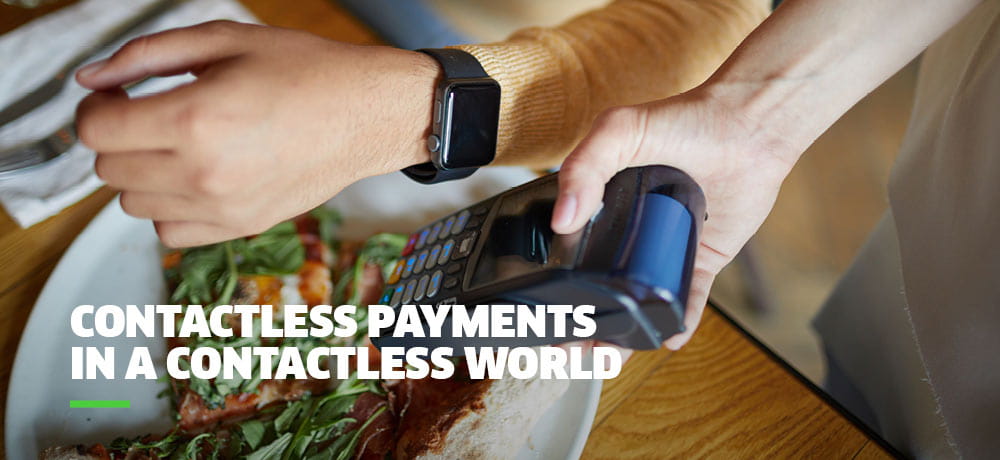 The COVID-19 pandemic brought changes to our daily lives in ways we never could have imagined. Perhaps the biggest change is that we've had to learn to eliminate direct and indirect contact during all our interactions– including how we shop and pay.
One immediate result of the effort to reduce contact has been an increase in shopping online and ordering ahead for pickup or delivery. Another has been higher use of contactless payments via contactless-enabled cards and mobile wallets.
With the pandemic accelerating consumer adoption of these modern methods of payment, business owners large and small are wondering if these new behaviors will stick. What can merchants expect as the economy reopens? What steps do they need to take to prepare?
Changes in Consumer Preferences
While younger, tech-savvy consumers have been the biggest adopters of newer payment methods like mobile wallets, that's changing– and the pandemic is a contributing factor. The FIS Performance Against Consumer Expectations (PACE) 2020 survey revealed that 16% of respondents are using cash and check less often, and 31% plan to use contactless payments or mobile wallets instead of cash in the aftermath of COVID-19.
It appears that consumers of all generations are realizing the convenience of contactless payments, not the least of which is alignment with new physical distancing practices. Both cash payments and card payments that require a PIN or signature simply require more contact than necessary in today's environment.
Still, contactless payments aren't the perfect solution because they are also subject to double authentication (PIN and/or signature) requirements on purchases exceeding a set limit. While these limits vary by card brand and by country, we're seeing a trend toward increasing the limits so that more purchases qualify for the exemption. In the UK, the average increase has been approximately 125%, with a typical maximum amount of around €50 or the local equivalent. Mastercard also recently increased the limit for contactless transactions in 29 countries.
Growth in Contactless Payments– and Fraud
The upside of higher limits for contactless transactions is reduced friction at checkout. The downside is without a secondary authentication factor, we're seeing higher instances of fraud. Although contactless transactions are fast and convenient, merchants and consumers need to understand the security risks involved and take steps to address these risks.
For merchants, it's more important than ever to implement fraud prevention and mitigation solutions. This includes technology like encryption, tokenization and address verification services (AVS) for online purchases. Following best practices and using tools that help increase approval rates and minimize false positives is also important, as well as putting processes in place to dispute and resolve chargebacks.
Consumers are increasingly aware of the importance of payment security and more willing to take a proactive role in protecting their contactless transactions. They're doing this by paying with their smartphones, watches or other personal devices that have built-in biometric authentication measures.
Reducing Friction at Checkout
In addition to meeting consumer demand by enabling contactless payment capability across all devices, here are five things businesses should do to help reduce friction at checkout:
Enable remote ordering options including buy online, pick up in-store, and reserve online, pick up and pay in-store
Accept online payment in-store via websites, kiosks or mobile applications
Deploy modern terminals where the consumer is the one inserting the card, removing the requirement of passing plastic back and forth
Employ an omnicommerce payment solution that connects card-present and card-not-present transactions
Check contactless payment limits frequently and make adjustments as needed
Looking Ahead
While it's too early to tell what commerce will look like post-COVID-19, one thing is certain. Consumers' payment preferences are changing to incorporate contactless options. Businesses that adopt the necessary technology to accept contactless payments across all channels will be in the best position to meet consumer expectations for a seamless journey.
Let's Talk
Together, we can work to solve your business goals. Please provide your email address below and a representative will reach out to you soon.