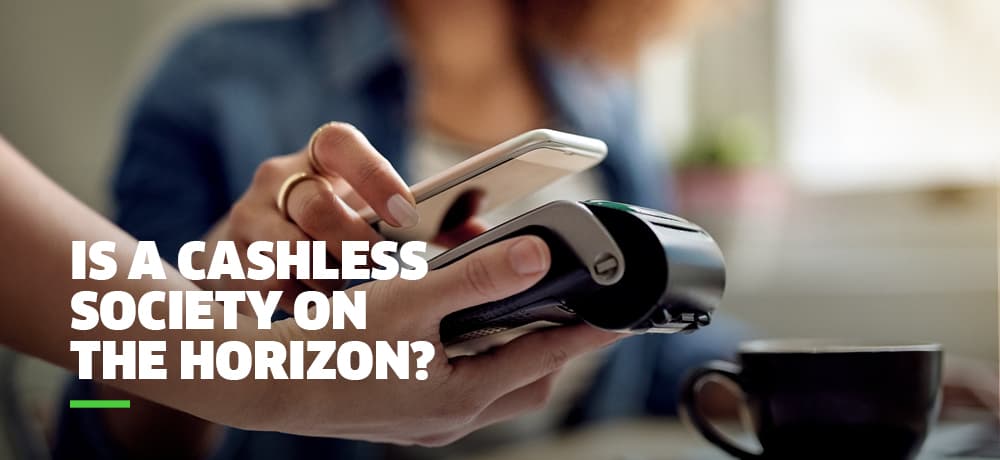 After the events of 2020, it's fair to ask if we're on the verge of a cashless society. The short answer is "no" or at least "not yet."
Cash is down but it's far from out. As the payment most dependent on face-to-face transactions, COVID-19 forced cash aside in favor of payment methods that minimized human contact.
The complex and rapidly evolving story of cash is explored in depth in two Worldpay from FIS® studies: The Global Payments Report 2021 , the annual definitive report on how consumers pay, and Generation Pay, a study that takes a closer look at payment preferences among each generation around the world.
The pandemic and cash's historic disruption
Cash took a big hit in 2020, with COVID-19 accelerating the pace of cash's decline faster than even the most bullish projections. As commerce shifted from physical stores to e-commerce, payments flowed from the physical to the digital as contactless commerce was often the only commerce possible.
Already in retreat, the pandemic accelerated the decline of cash by over three years, exceeding in 2020 our previous projection for 2023. The Global Payments Report 2021 research shows cash was used for just over 20% of global point of sale transaction volume in 2020, a dramatic 32% reduction from 2019.
For those looking for evidence a cashless future, 2020 provided ample support. The use of cash fell steeply everywhere: by 21.9% in North America, 33.6% in Europe, 34.7% in Latin America and 36.6% in Asia and the Pacific.
Some countries are far closer to a cashless future than others: cash represents only 5.4% of point of sale volume in Canada, 4.5% in Norway, and 11.9% in the U.S. Cash at the point of sale has fallen below 10% in markets as diverse as Australia, Hong Kong and Sweden.
The influence of age on cash and payment preferences
In addition to geography, age is a significant influencer of how consumers chose to pay. Lifestyle factors, spending habits and financial attitudes are important factors in determining how generations pay.
Worldpay from FIS' Generation Pay outlines many of these similarities and differences in how generations pay. Take Brazil, where Gen Z is more than twice as likely (37%) to use cash to pay for groceries as is Gen X (16%), with the older cohort much more reliant on credit cards for everyday purchases.
In some countries, factors other than age play a more prominent role in guiding payment choices. In China, generational differences in attitudes toward cash are minimal compared to the overwhelming support across generations for digital and mobile wallets that dominate the local payment landscape.
In Germany, consumers have a strong attachment to cash that transcends generations, with cash remaining the leading payment method for in-store shopping among each German age cohort. Cash remains the majority payment method for eating out, though this dominance is beginning to show signs of cracking, with Gen Z and Millennials becoming slightly less dependent on cash than Gen X and Baby Boomers.
Cash's long and healthy retirement
Cash has had a hard year, but it isn't in any short-term danger of dying. Though not working nearly as hard as it has throughout its life, cash will still be quite useful even as it nears a possible end down the road.
A cashless society may one day arrive, but cash continues to serve an essential function wherever it is used. Consumers make their own decisions about using cash every day. Merchants, however, have to plan for the use of cash.
Local conditions, customs and consumer preferences are primary drivers in how people pay, and that planning involves comparably high rates of cash use continuing through and beyond the pandemic.
According to The Global Payments Report 2021, cash remains the most used point of sale payment method in diverse economies throughout the world, from Argentina (37%) to India (34%), and from Indonesia (53%) to Japan (59%). Cash still retains relevance for Gen Z, who are often underbanked and unbanked and thus are more reliant on cash. Baby Boomers are more likely to cling to traditional payment methods such as cash.
Despite the dramatic decline in the use of cash, any truly cashless society is probably a long way off. Cash is still very much useful and in many economies it remains essential. Historical, cultural and economic factors will see cash retain strength across Latin America and in countries as diverse as India and Poland.
Yet in economies where immersion in digital technologies has grown more complete, the sunset of cash can indeed be seen on the horizon. China is making the leap to a digital and cashless future, while countries in every global region are independently moving away from cash toward the safety, ease and convenience of digital payments.
To learn more, visit the Global Payments Report 2021 and Generation Pay to explore the present and future of the ways people pay.
Let's Talk
Together, we can work to solve your business goals. Please provide your email address below and a representative will reach out to you soon.