Article
Five reasons endless aisle is the future of retail
Holly Worst | Director of Retail, Worldpay from FIS
August 27, 2020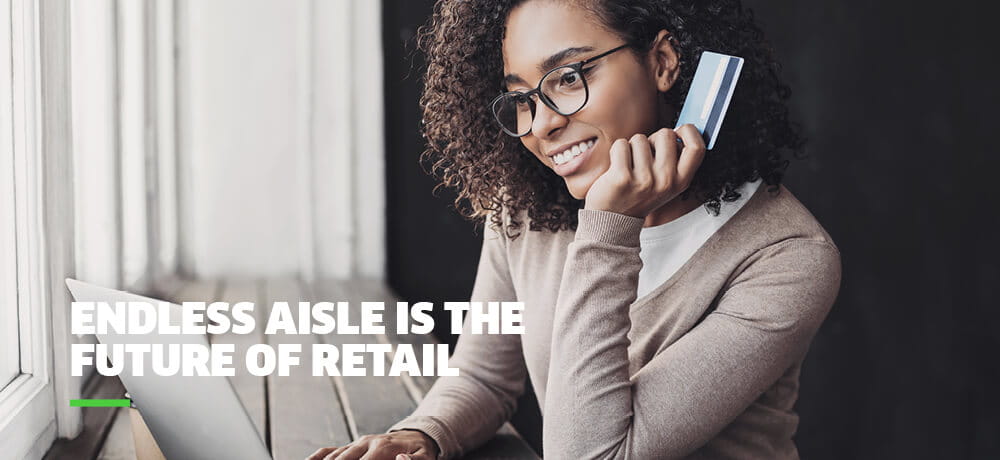 Today's customers are interacting with your brand through multiple channels, with up to 70 percent of the sales you make in-store influenced by an online search.
1

And they have high expectations for consistency across all channels. If they can't find what they want, and quickly, they'll move to another brand. That means prioritizing customer experience is more important than ever.

To start becoming a more connected business and deliver the frictionless experience that customers expect, retailers need to look to solutions that can blend in-store and online inventory. This will bring all your available products to customers in stores, allowing them easier access to the products they want.

And that's where endless aisle comes in.
Blurring the lines between in-store and online with endless aisle
Endless aisle allows retail employees to order products from both in-store and online inventories – which can then be shipped directly to the customer's delivery address or to a selected store. This means your customers aren't leaving your store empty handed should the product they want not be on the shelves.
Blending your e-commerce product selection with the brick-and-mortar shop environment helps to make your online and in-store channels feel connected, bringing all your available products to your in-store customers.
In our fast and connected world, delivering a consistent, convenient experience across all channels is essential to retaining customers and winning sales. Here are five of the top benefits endless aisle can bring retailers:
1. Say yes to more customers
Today's customers aren't just checking out your product line once they're through your doors. Almost 40 percent of shoppers have used a mobile device to view inventory available while on the way to the store, and over a third are researching products on a smartphone while actually in the store.1 They know your products and expect to find them in-store.
With endless aisle, retailers can extend their digital storefront into the physical. So, if a customer wants a specific item they've seen online, a sales agent can order it from the shop floor on a mobile device and get it delivered to a customer's chosen location.
It means that you're able to make the sale, even if those particular items aren't available in your store. And with 40 percent of customers being driven away from brands because products aren't always available,2 this can help ensure you keep your customers by cutting down wasted trips.
2. Cross-sell products
Making your full product inventory available for in-store customers means customers are more likely to visit your brick-and-mortar shop. Once they're there, you have the chance to make additional sales and push past your sales targets.
Plus, by implementing an omnichannel solution, retailers can gain a single, aggregated view of the customer to give more personalized recommendations for that added strength to your sales pitch.
3. Save on inventory
Endless aisle can bring savings to retailers. Because it reduces the need to hold excess stock in the in-store environment, storage and replenishment costs can be lowered. This opens new opportunities to transform the in-store environment – as shops can become showrooms for a more high-end, high-touch experiential shop.
Plus, with real-time inventory and payment information, you have greater oversight of stock levels and customer preferences.
4. Build loyalty with convenient processes
If you want your customers to love you, then you have to keep the shopping journey simple, fast and personalized, with an easy checkout process – whatever the channel and whatever the payment method.
Endless aisle allows customers to order products quickly and simply, and ensuring the payment experience is equally as convenient will be a huge benefit for customers.
With Worldpay from FIS, you can enable the best payment channel and payment method for the customer, and your business. For example, a shopper could choose a QR code or pay by link as a card not present payment.
And because we offer mobile payment options that integrate into your fixed or mobile point of sale device, you can take contactless or card payment right from the shop floor – reducing queue waits and adding flexibility.
This all supports improving the customer's experience, as easy payment is in the top four most important factors for customer experience.2
5. Take steps forward in your omnichannel journey
When all your commerce systems communicate with each other, customers feel the benefit. Seamlessly connecting shopping channels and customer touchpoints is a key element to the endless aisle offering and can create new opportunities to deliver on customer experience to set you apart from the competition. This requires an omnichannel strategy.
Worldpay's omnichannel payments platform integrates your systems and processes to unify your sales channels, so shoppers get the journey they want with no bumps or gaps along the way. And this can help to attract more customers – 73 percent of all people point to customer experience as an important factor in their purchasing decisions.2
Working with Worldpay from FIS means accessing a simple solution – integrating payment channels with unified reporting and reconciliation to track your store's performance. It makes user journeys simplified and helps retailers take their next step on their omnichannel journey.
It's time to turn customer transactions into smarter connected experiences.
We know that it has become essential to provide shoppers with a convenient, connected experience across all the channels they use. That's why Worldpay from FIS is here to help you move forward with a smarter omnichannel experience.
With a true omnichannel payments platform from the global experts, you can fulfil every customer expectation across any channel – and translate that into greater spend and satisfied customers.
See how we can support your omnichannel payments journey. Visit us here.
Sources
Let's Talk
Together, we can work to solve your business goals. Please provide your email address below and a representative will reach out to you soon.