Fintech Insights
Generation Pay: Millennial payment trends
January 19, 2021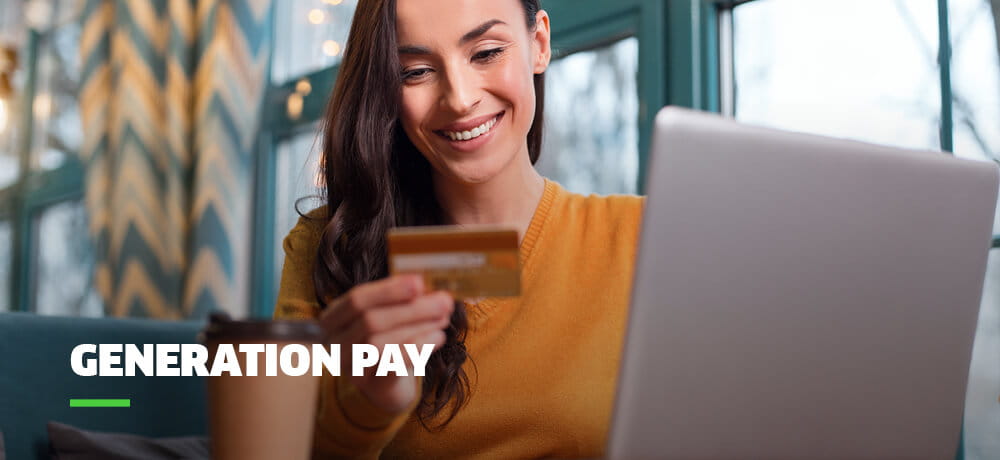 Millennials – the generation born roughly between 1980 and 1995 – are entering the prime of their careers. They're beyond college, moving up ladders of their own definition and making their mark in the workplace. They're young enough to be in on the latest trends, while old enough to exert a massive influence on society, technology and commerce. Millennials are entering their key earning years, meaning they're also in their prime as consumers.
Millennials have their own unique ways of interacting with the world – including how they pay. They're savvy users of technology, early adopters who gravitate to new technologies like mobile and digital wallets to make life just a little easier. Millennials are open to new ideas and experiences, like making purchases through social media channels.
These are just some of the findings in a new Worldpay from FIS® report, Generation Pay, that explores generational payment trends around the globe.
Millennials lead the way in adoption of mobile wallets
Mobile and digital wallets are transforming the way people pay. Ideal for online, mobile and in-store payments, digital wallets safely store payment credentials like credit and debit cards.
Mobile wallets
are used at the point of sale via devices like smartphones, smart watches and even voice recognition. These next-generation wallets make payments fast, safe and easy for merchants and consumers alike.
Millennial payment preferences indicate they are the biggest users of mobile wallets among all the generations. Globally, 44% of the Millennials in our survey indicated they use mobile wallets, while an additional 34% are interested in doing so. Among those users, 64% agreed that mobile wallets makes purchasing easier.
In addition to offering a safe and convenient payment method, mobile wallets make accumulating and redeeming loyalty points easier than ever. New tech and rewards are a perfect combo for Millennials: 32% already use mobile wallets to manage loyalty cards, while an additional 41% are interested in doing so. Rewards are important to this generation: 64% of Millennials prefer to use certain payment methods (e.g. card or mobile wallet) in order to receive rewards from their provider.
This disposition to the latest in tech has been even more important during COVID-19. Safety-conscious as well as tech-savvy, 39% of Millennials in our survey prefer to use contactless cards or digital wallets when paying in-store during the pandemic.
These preferences have direct implications for merchants who want to earn a slice of Millennials' large (and growing) disposable income. Contact less payment methods are a must. Digital wallet acceptance should be a given. Loyalty programs that are effortless for the consumer are essential.
Millennials are early adopters and social shoppers
Mobile and digital wallets are just the tip of the iceberg. When it comes to satisfying Millennials, merchants need to be ahead of the technology curve. Millennial spending habits lean heavily toward the combination of tech and social.
Millennials are on the cutting edge of technology, eager to be the earliest adopters of the latest tech. When asked about their attitudes toward technology, 29% of Millennials indicated they wanted the latest tech as soon as it was available. Millennials are the most likely among all generations to already use
mobile banking
(66%), use chatbots to help while shopping (26%), and store their bank details on a web browser to enable quicker and easier payment when shopping online (32%).
Millennials are the most likely generation to make purchases through social media. Two-thirds (67%) of Millennials surveyed have purchased something that was advertised to them on a social media platform.
Using social media platforms for shopping isn't just a passing fad, with 29% of Millennials reporting having made multiple purchases. Social shopping has a strong correlation with consumer satisfaction: 92% of Millennials in our survey reported that purchases made through social recommendations either met or exceeding their expectations.
Understanding Millennial payment preferences is essential for merchants who seek to gain their business, earn their trust and establish long-standing relationships. Developing tech-forward solutions and establishing meaningful shopping opportunities through social media are essential building blocks for building a relationship with these consumers.
There's much more to learn about the purchasing power of Millennials and how they prefer to pay while they shop online and in-store, book travel, grocery shop and run errands. To learn more about the evolving spending and payment habits of Millennials and the rest of the generational cohorts, visit Generation Pay . Come explore generational payment trends through unique stories around the globe and gain the insights you need to create smarter consumer experiences.
Let's Talk
Together, we can work to solve your business goals. Please provide your email address below and a representative will reach out to you soon.