Fintech Insights
Payment acceptance changes and the accelerating decline of cash in the US
Christina Wagner, head of Global Payment Products
June 21, 2021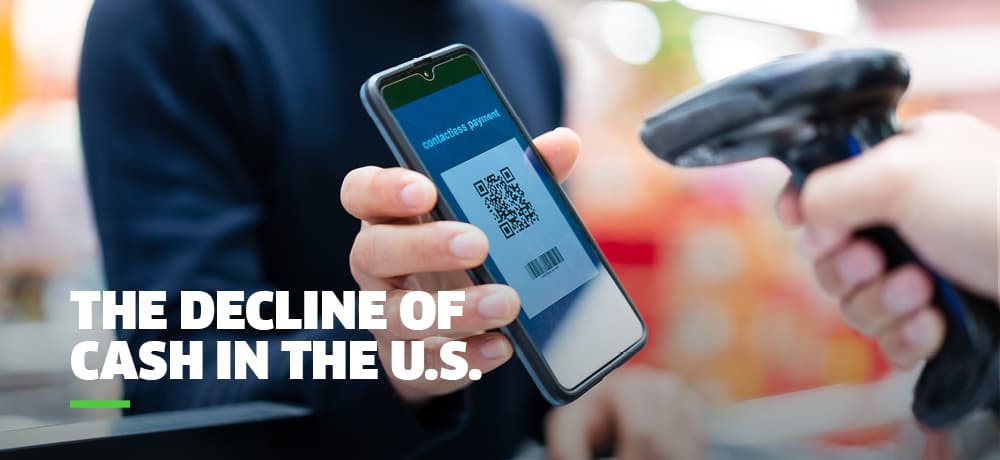 Among COVID-19's many disruptions are the dramatic reduction in consumers' use of cash. In The Global Payments Report 2021, Worldpay found that the use of cash in the U.S. declined by over 20% from 2018 to 2020. Even as the pandemic recedes, the decline of cash is projected to accelerate – cash will account for less than 10% of point-of-sale transactions in the U.S. by 2024.
We sat down with Christina Wagner, head of Global Payment Products for FIS®, to explore some of the implications of cash's decline for U.S. merchants.
Cash is falling fast in the U.S. What has that meant for merchants in the wake of COVID-19?
For merchants, the pandemic greatly increased demand for digital payments acceptance and a move away from manual means of exchange. The surge in demand for contactless, distanced payment methods like e-commerce and digital wallets forced merchants to re-evaluate and shift their payments acceptance mix.
The accelerated decline of cash elevates the long-term shift to digital payments from nice to have to a must-have. During COVID-19, digital payments became a must-have now. Merchants who viewed alternative payment methods and digital transformation as optional had to re-evaluate. Beyond the pandemic, the real driver forcing merchants to evolve their payments strategy is the overwhelming consumer demand for easy, elegant and secure digital solutions.
Prior to COVID-19, many merchants hadn't felt the urgency to take the steps necessary to evolve their payment acceptance profile.
When it comes to digital payments, merchants are responding to consumer demand.
How did that play out for merchants playing catch-up with contactless payments and digital wallet acceptance?
An important point is that, in some ways, all merchants are playing catch up. Consumer expectations and the technical solutions to satisfy them are a moving target. Some merchants needed to upgrade to contactless terminal acceptance, though with EMV having a mature presence in the marketplace, millions of merchants already had terminals for contactless acceptance in place if not already enabled.
Merchants had the tools, but they didn't have the demand. The pandemic stimulated demand that only projects to grow.
Are there any short-term challenges for consumers using less cash?
Cash is often the payment method for underbanked and unbanked consumers due to necessity and, sometimes, lack of other options. Lower-income consumers and merchants that serve them didn't have the same options as other consumers.
FIS worked with merchants, governments and social service providers in 2020 to address some of these challenges by introducing digital innovations to electronic benefit transfer (EBT) programs. EBT programs are strongly regulated: A select few issuers offer the service that require advanced security and authentication protocols, but merchants weren't enabled to accept EBT online.
FIS stepped in with a program to provide prepaid cards and processing services in 16 states that have been approved to participate in the Pandemic Electronic Benefits Transfer (P-EBT) program. We also enabled a large national grocery chain to participate with many others also following.
How should merchants best evaluate their payment needs in a digital-first world?
A cashless future is appealing to merchants looking to reduce operational costs. Merchants spend a lot of resources to store, circulate and secure cash. Cash requires manual labor to be counted, transported and deposited, and the costs associated with these manual processes add up fast.
Grocery is one example of an industry that will benefit from a future that uses less cash. Take the example of cash balancing. Making sure cash is balanced to make proper change across multiple registers is a costly, manual-intensive process. A cashless future will free grocery merchants to reimagine the checkout space while reducing operational costs that can tip the scales toward profitability.
A future of less cash means more streamlined operations, lower costs and potentially higher margins. That's true for both B2C and B2B. Smaller businesses that would benefit most from payment digitization still struggle with manual processes around paper checks. In addition to disrupting cash for consumers, COVID-19 ground manual accounts payable and receivables to a halt.
Beyond the pandemic, what's driving merchant payments priorities for the near-term?
Consumers are in the driver's seat. When consumers want it and your competitors offer it, merchants will do what needs to be done to compete. From the smallest micro-merchant to the largest global brand, merchants are saying "I need to be able to accept payments however my customers want to pay."
Merchant priorities start with customer experience and that simple principle is important to grasp first. Beyond that, individual merchant priorities reflect the intersection of the needs of their customers, their own payment environment and the capabilities of their payment provider.
Priorities span the spectrum from adding a new alternative payment method or payment acceptance terminal to adding the omnichannel capabilities that consumers crave. Adding contactless payments, mobile payments, tying payments to loyalty programs and keeping customer data secure are just a few of the leading payment priorities. What I'm hearing in the market in the wake of 2020 is that, now more than ever, merchants are appropriately looking at all of this more holistically.
What should merchants look for in a payment partner going forward?
Especially in the wake of COVID-19, U.S. merchants are looking for much more from their payment provider than commodity payment processing. Forward-thinking merchants are looking at issues around payments much more comprehensively. In the last year, we've turned a corner with acceptance of contactless and digital wallets. This year it may be expanding omnichannel capacity. Next year, it may be regulatory or security issues that rise to the forefront. From the smallest businesses to the largest enterprise and every size and type of business in between, managing payment strategy and payment priorities demands a strong payment partner.
Merchants understand that payments are central to the customer experience and a whole range of issues beyond transaction processing. Those experiences and the context they take place in are constantly changing. One thing I hear from merchants every day is that they're being much more diligent about payment partner selection.
Small business owners know they need a payment acceptance solution that goes beyond the plumbing of payment acceptance. They want comprehensive solutions that help that run and manage their business more effectively.
Beyond these operational components, small business owners are looking for partners that can do more, like provide loyalty programs that are easy for them and their customers. They're looking for help driving business growth.
Smart small businesses are thinking about operations and growth programs as an integrated whole. They're looking for that in a partner and, frankly, it's not something that all—or nearly all—payment providers offer. Those payment providers that do offer those value-added services are winning the day.
The Worldpay from FIS® Global Payments Report 2021 dives deep into U.S. payments with a detailed breakdown of payment methods, provocative thought leadership and extensive country analysis of payments in the U.S. and around the world.
Let's Talk
Together, we can work to solve your business goals. Please provide your email address below and a representative will reach out to you soon.