Article
Three mistakes retailers make with 'buy online, return in store'
Holly Worst | Director of Retail, Worldpay from FIS
September 03, 2020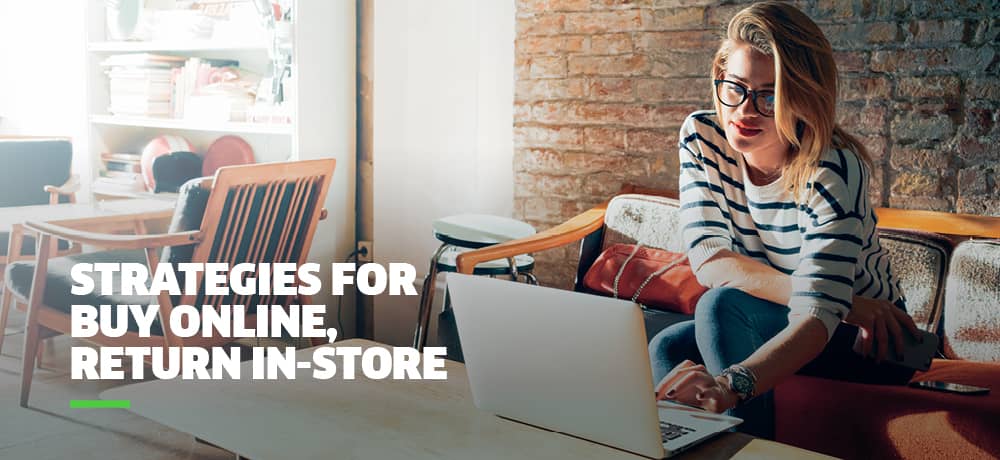 Isn't it frustrating when you buy a jacket online and it doesn't fit in the way you expected it to? Returning it in store isn't always an option, and when it is offered you need to make sure you have your purchase card with you – which only adds to the inconvenience.
We understand that, for retailers, the expectations of today's savvy, cross-channel shoppers can be complicated. Retailers operating across multiple channels are expected to deliver a joined up, consistent experience, regardless of where a customer is interacting with them.
The returns process is no exception. 17 percent of shoppers say they wouldn't even make a purchase without the option to return to a store1 and offering a quick, simple experience can drive sales and repeat business.2
This is where "buy online, return in store" comes in. This process allows customers to order and pay for a product online, and if they decide they no longer want it, the customer takes it to a physical store to initiate a return and refund.
Enabling cross-channel returns
A restrictive returns experience can prevent buyers from choosing your brand. So, it's important that shoppers have the option of going to the store to return a product as an alternative to the inconvenience of organizing return shipping. A significant number (40 percent) of customers say it's easier to return to a store.3
For a frictionless experience, retailers need to look to solutions that can connect in store payments with online systems – creating a consistent experience of the brand and enabling greater flexibility for returns.
Although "buy online, return in store" models are becoming more common among merchants, it can be easy to get things wrong. And these are three of the common mistakes.
1. Disconnected legacy systems
Disparate processes and legacy systems can stop retailers from having a single view of the customer. This adds obstacles to delivering an effective "buy online, return in store" experience.
Retailers with complex, manual systems and processes often have no choice but to manually issue refunds. This is time-consuming, and frustrating for omnichannel customers – requiring them to have their original payment card on hand.
You need a solution that can connect to your online system, consolidating all online and offline data to solve this disconnect. By connecting customer data across channels, retailers can safely store credentials when the shopper's card is not present.
This allows each transaction to be given a reference ID, which enables cross-channel refunds. It's frictionless for the customer because there's no need to give card details – improving the customer experience and helping to make sure your customers leave your store happy.
2. Susceptibility to fraud
Offering returns can open retailers up to a variety of fraud, whether it's accidental, or organized. For example, if a customer enters the store wanting to receive a cash refund, despite the item having been paid for via a digital wallet.
By implementing an omnichannel solution, you can reduce the risk of fraud. You should look to a solution where every transaction is assigned an ID, so the refund can go directly to the original payment method, without needing the customer to have it with them.
3. Missed sales opportunities
Every time a customer enters your store, you have the opportunity to make a sale. You will encourage more customers through your doors by offering "buy online, return in store," and can benefit from incremental sales. More customers will be browsing your products, giving you the chance to cross sell.
Implementing an omnichannel solution enhances the ability to gain a single view of the customer, by being able to record and retrieve buying history – so your sales assistants can give additional personalized recommendations.
Find out more about single customer view
The omnichannel opportunity
It's more important than ever to create a consistent customer journey across channels.
Achieving this requires connecting each touchpoint – in- store, mobile, e-commerce and social – and the simplest way of doing this is to integrate an omnichannel payments platform.
With an omnichannel payments platform from Worldpay from FIS, you can solve the disconnect and unify customer experiences. By connecting shopping channels and customer touchpoints, retailers gain true visibility of individual transactions and interactions, which all work towards improving the customer journey. The top retailers are three-and-a-half times more likely to use in store technology to integrate online and offline experience.4
Working with Worldpay from FIS can also reduce your risk of fraud. As every transaction has an ID, the refund returns to the original payment method, even when the card is not present.
You can find out more about omnichannel payments platforms in our blog.
It's time to turn customer transactions into smarter connected experiences.
Worldpay from FIS can help you to solve your omnichannel challenges. We know that it has become essential to provide shoppers with a convenient experience across all the channels they use.
Worldpay from FIS will help you to develop your omnichannel offering. Our platform offers:
Payment processing that consolidates all channels
Data-driven insights for shopper benchmarking and personalized customer experiences
Security – protecting the retailer's interests, brand and customer data
The ability to offer the latest, most popular payment methods
With a true omnichannel payments platform from the global experts, you can fulfil every customer expectation across any channel.
See how we can support your omnichannel payments journey. Visit us here.
Sources:
Let's Talk
Together, we can work to solve your business goals. Please provide your email address below and a representative will reach out to you soon.