Article
Why financial institutions benefit from merchant services
June 15, 2020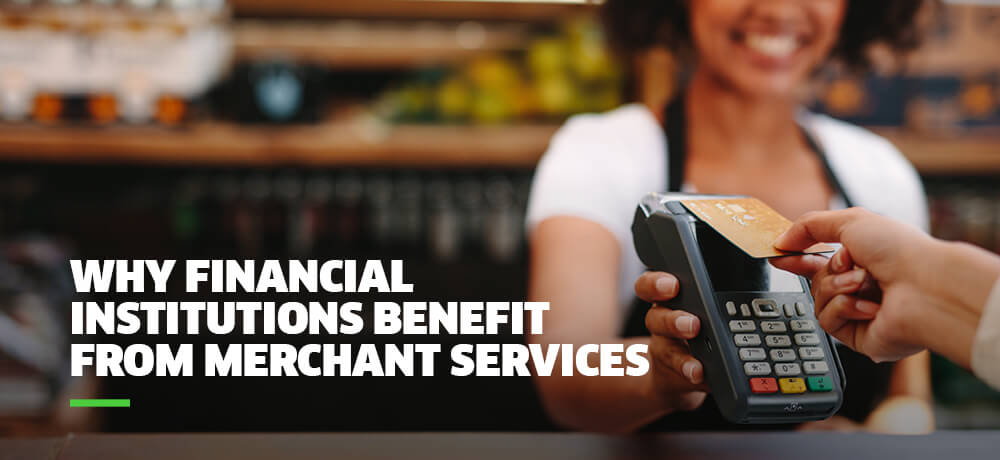 Competition in the financial services industry is unrelenting. Digital transformation, shifting regulations and fintech upstarts are just the beginning. Disruptions arising from COVID-19 only compound existing pressures. These challenges weigh heavily on the bottom line.
Now more than ever, financial institutions need every advantage possible.
A new report from The Strawhecker Group (TSG) identifies crucial advantages found by financial institutions that embrace merchant services.
The merchant services advantage
TSG's research found education a challenge, with a third of small business bankers reporting lacking an understanding of merchant services.
Merchant services help businesses accept and process electronic payments like debit and credit cards. Merchant services include point of sale terminals, omnichannel payments online and in-app, security and fraud protection, regulatory compliance, and fast, convenient, reliable payment processing.
The advantages are clear: TSG's research suggests merchant services account for 17% of SMB revenue for participating financial institutions.
Strengthened bonds, measured in the bottom line
TSG's research also reveals three indirect benefits of offering merchant services: longer business relationships, increased product adoption and higher DDA balances.
Longer business relationships. Financial institutions that offer merchants services maintain comprehensive, lasting relationships with their SMB customers: approximately 10% longer for merchant service customers.
Increased product adoption. Merchant service customers are more open to cross-selling, accounting for an 8% increase in adoption of other services. Business deposits, treasury services, commercial loans, and business credit cards products all benefit.
Higher DDA balances. Merchant service customers maintain DDA balances that average 11% higher than non-merchant service customers. Institutions that offer merchant services experience 10% to 50% increases in customer account balances.
A bright future for merchant services
It's imperative for financial institutions to invest in, and take the initiative to, build out, provide, and maintain a merchant services solution.
To learn how more about how and why your financial institution can benefit, download TSG's report, "Recognizing the Advantages of Merchant Services for Financial Institutions."
Let's Talk
Together, we can work to solve your business goals. Please provide your email address below and a representative will reach out to you soon.