Fintech Insights
Data analytics tools form the heart of the new data ecosystem
Trevor Mast | Data Solutions Group, FIS
February 03, 2020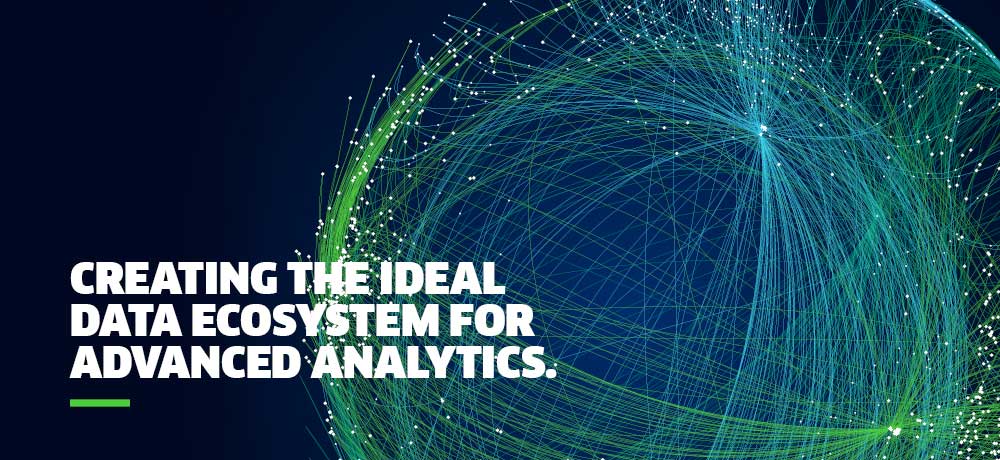 As data takes on increasing importance for financial institutions, a lot of people are talking about connected data, i.e. out with the old (silos) and in with the new (integrations). Financial institutions especially need to see across all their data sets and even augment their data by appending it with third party data. That's exactly where FIS is headed with our new Ethos data ecosystem. It will transform how your institution works with data and make you more competitive as you transition to more predictive and prescriptive analytics. Let me explain.
When you're talking about creating an integrated data platform across the vast amount of data FIS stores it takes more that just a new platform of solution set sitting on top. It requires building an entire data ecosystem. That starts with good governance to ensure the integrity and security of the data so that what gets used is the right data and leads to the desired outcomes. Governance tames the vast data lake, and analytics tames an endless array of data tools and data sets.
When you begin to look at working within a comprehensive data ecosystem, there's a lot to think about. Our approach puts powerful analytics tools at the center of the Ethos ecosystem in order to simplify the rest of the technologies deployed in this user-friendly environment. What determines your ability to access, control, manipulate and move data is through visualization and reporting. Background technologies being employed today, like AI and machine learning, are driving deep insights into a rapidly expanding universe of data available to our clients.
Analytics is the backbone for all the capabilities and structural groupings within the ecosystem. Think of the ecosystem as a collection of building blocks. Analytics is one of those building blocks, and one of the most critical, because it connects many of the other building blocks.
Until recently, the analytics tools and visualizations available to financial institutions have been more one dimensional. Today, data creation is increasing at rapid rates. Technology, tools, processing, speed and automation have changed the game for analytics in dramatic ways. This new generation of tools brings your institution unprecedented power to compete in an increasingly competitive data-driven world. Whether your actions are, or are not, powered by these new technologies can mean the difference between success and failure.
Consider the underlying flow of analytics. The sophistication of analytics normally progresses from understanding descriptive analytics (what happened and why) to predictive analytics (what will happen next) and finally to prescriptive analytics and data optimization. Ethos is meant to make this journey easier for a by supplying all the next generation tools and capabilities available in the market today, while allowing multiple sets of data to be merged and analyzed together.
The key takeaway is to understand that analytics is moving well beyond helping you see what happened. It's now critical to also understand why it happened and even more important to understand what you can expect next. Success now depends on reaching the prescriptive realm, where using current technology and tools to recognize patterns, clarify past events, create predictions and recommend actions towards a desired goal.
Basic functionality is still important. You need standard reports, ad-hoc reports, query and drill down functionality as well as monitoring and alerts. You just can't stop there. Today's analytics layers on all kinds of advanced capabilities, such as statistical analysis, predictive modeling and optimization. Things that help you move in real-time to better mitigate fraud losses, win new customers, wow existing customers, increase adoption and usage of products, and make operations more efficient, automated and seamless.
How you and your team work and use data is also changing, so it's important to enable them with business intelligence tools that are feeding off today's technologies, making it easier for people without a technology background to access and understand their data. Capabilities like drag and drop, mobile analytics on the go, embedded AI for easy predictive modeling, and NLP (natural language processing) for simple Google-like searches for specific questions and analysis.
If your staff is not working like this today, they ought to be soon, because competitors are either there already or quickly headed into this new reality.
Let's Talk
Together, we can work to solve your business goals. Please provide your email address below and a representative will reach out to you soon.