Fintech Insights
Three reasons why empowering cardholders can't wait
Shelley Lefler | head Digital Products, FIS
December 20, 2021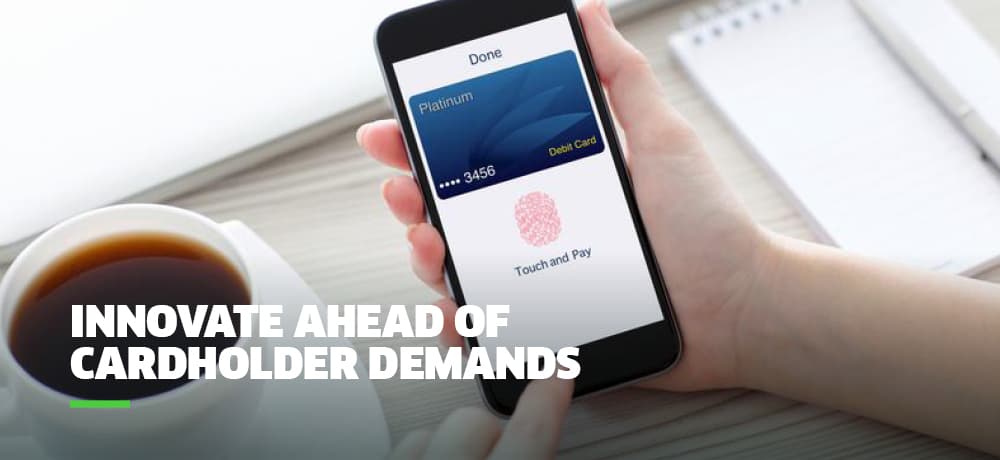 The acceleration of digital solutions and shifting consumer banking and payment behaviors are changing the rules of the game. That's why financial institutions want to be able to offer seamless, digital experiences to meet their cardholder's demands and innovate with agile and flexible technology that's future-proof.
The shift to digital is happening at a pace faster than anyone would have guessed 24 months ago. According to Accenture, 68% of banking executives said the pace of digital transformation is accelerating faster in banking than other industries and 50% of banking consumers worldwide use a mobile app or website to connect at least weekly with their financial institution.
As the world continues to move to the digital age, cardholders want solutions that will allow them to control everything from the palm of their hand. Is your institution prepared to provide a digital-first, card management experience that will keep you and your cardholders safe while delivering the experience they expect? Here are three reasons why you shouldn't delay empowering your cardholders today.
Decrease cost of risk
Self-service capabilities in mobile and digital banking channels are now table stakes. Today's customers expect immediate access to information and a fast resolution when there is a problem. In a recent Pace Pulse report from FIS, survey participants reported the top two measures credit card companies need to consider when earning their trust:
Take strong data security measures to prevent cyber-fraud, hacking and identity theft
Take strong personal data privacy measures like encryption to prevent access to their data
Each year, financial institutions see a substantial increase in losses due to fraud. According to Forbes, banks spend roughly $40 billion in fraud. The FTC reported 2.2 million fraud reports in 2020, and 1.4 million identify theft cases. Of the nearly 2.2 million fraud reports, people reported losing more than $3.3 billion.
Reduce expenses in the risk column for your financial institutions when you provide innovative features to enable cardholders to proactively take control of their security and privacy through a mobile card app with features that include freezing payments cards, controls to lock their card, mobile alerts and location controls.
Retain and attract cardholders
The appetite for digital banking and payments vastly increased over the last 24 months while people avoided visiting their local banking locations to conduct transactions. Instead, they adopted digital banking, contactless payments and pivoted to institutions that had the most seamless experiences.
The banking and payments playing field continues to widen with the competition escalating and changing in nature. Non-bank players are moving into the space and expanding their businesses to include financial services.
To keep your existing cardholders and to attract new one, it's more important than ever to adopt digital card management tools to ensure you stay ahead of your competitors. In a recent interview with PYMNTS.com, Neha Wattas, head of strategic insights, innovation and corporate development for J.P. Morgan Payments, explained, "Consumers are really looking for a one-stop shop…That's super apps, where the sum of the individual services is greater than the whole."
By supplying cardholders with a mobile app that allows them to easily manage all card activity with a single glance and an easy log-in, you can ensure your institution will become a trailblazer with digital transformation in the banking and payments space.
Innovate ahead of cardholder demands
Advanced tools and functionality allow cardholders to know exactly how, when and where their cards are used, ultimately influencing their spending and interactions. And the latest market features like geo location and digital wallet provisioning ensure they won't want to use anything else.
A technology partner that has availability in channels that can quickly pivot to meet a variety of your needs is critical. Based on your financial institution's digital strategy, you should be able to choose a delivery channel (Stand Alone Application, APIs, and SDKs) that keeps your institution connected and allows for quick integrations and solution updates.
How can a technology company like FIS help financial institutions with their digital first experience?
FIS Card Suite self-service credit and debit card payment experiences are designed to seamlessly blend into the daily life of your cardholders. The clean and simple UI allows for a quick login where your cardholders can view their spending analytics and transactions across multiple cards. This card management app features a set of capabilities that allow your cardholders to manage, acquire, protect, enrich, and pay through their card portfolio.
For more information on FIS' Card Suite and to see how it will deliver the digital experience your cardholders are seeking, email getinfo@fisglobal.com or call 877.776.3706.

Let's Talk
Together, we can work to solve your business goals. Please provide your email address below and a representative will reach out to you soon.