Fintech Insights
Actions speak louder: Five factors that build (or break) cardholder trust
Anita LeMaire | Product Executive, Global Cards and Payments, FIS
November 01, 2021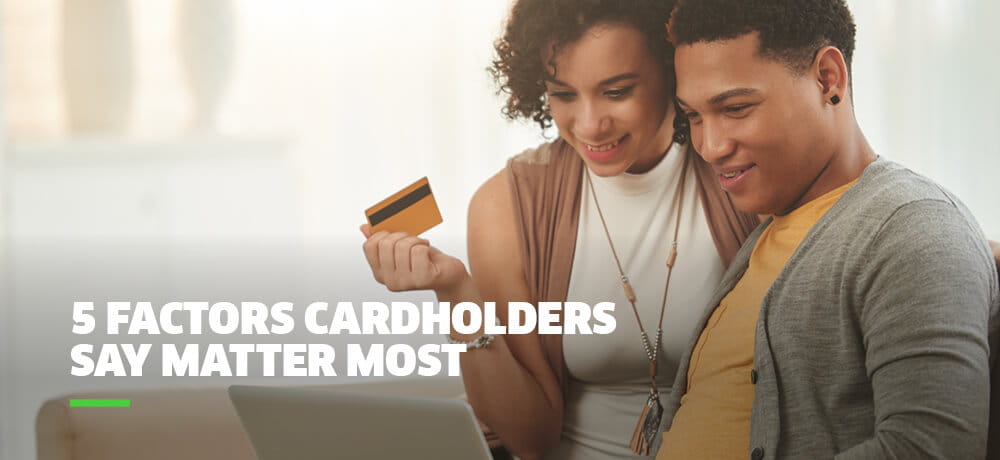 Valuable and seamless rewards programs. Features that make it easy for cardholders to pay securely in any channel. Tools that give cardholders always on access and control of their finances. These all play a role in your ability to win over cardholders. But how exactly do you build trust? Based on the responses to three separate FIS PACE Pulse surveys conducted between April 2020 and February 2021, your data management plays a critical role in whether cardholders regard your institution as worthy of their trust. Here are the five key factors cardholders said mattered most when deciding if they can trust their financial institution.
1. Invest in security measures that keep pace with changes in payments
As more cardholders become comfortable making payments in all kinds of channels, whether at the point of sale, online, on mobile devices or using apps, they expect that their financial institution is equipped to stay on top of their security.
In April 2020, 76% of respondents said their financial institution's commitment to using strong security measures that prevent cyber fraud, hacking and identity theft was the most critical element in winning their trust. By February 2021, 80% of respondents said the same.
2. Use encryption to safeguard data
Now that security breaches and card-related fraud attempts have become so common, consumers know there's always someone trying to infiltrate their sensitive information. That's driving 71% of February 2021 respondents to name their financial institution's encryption capabilities as the second most important element critical to winning trust in.
3. Prioritize cardholder privacy
Data privacy laws that give consumers more control over how their data is used are becoming increasingly common. But cardholders still value a financial institution that vows not to share their information without permission regardless of what law is in place. In April 2020, 60% of cardholders said that vow played a role in winning their trust, and the number grew to 66% by February 2021.
Likewise, 63% of cardholders said their financial institution's commitment to asking for explicit consent to share or use data when it's provided or updated also played an important role in trust.
4. Communicate transparently and proactively
In April 2020, 58% of cardholders said their financial institution's transparent and clear communication about how their data was used impacted their trust. By July 2020, the number of cardholders who said the same jumped to 63%.
5. Give cardholders control
Cardholder data helps financial institutions start to understand customer behaviors and preferences so they can deliver tools they want and better prevent fraud. But cardholders still want to be able to control how their data is used by their financial institution. In April 2020, 57% of cardholders felt that having control over the information collected about them was important, and by July 2020 that number increased to 63%.
Most financial institutions know that keeping cardholders' personally identifiable information (PII) protected is a critical element of the relationship. But clearly and proactively communicating how customer data is used, staying current with security measures as payments evolve and giving cardholders some control and insight into data management processes are equally key to building trust.
To learn more about how FIS Payments One can help your card reach the top of every type of wallet, mobile device, and app (and stay there!), click here.
Let's Talk
Together, we can work to solve your business goals. Please provide your email address below and a representative will reach out to you soon.