Fintech Insights
Why an RPA-enabled automated solution is the answer to AML challenges faced by banks today
Jaspreet Kondal | Senior Vice President, Back Office Services and Anant Keskar, Vice President, Back Office Services
October 04, 2021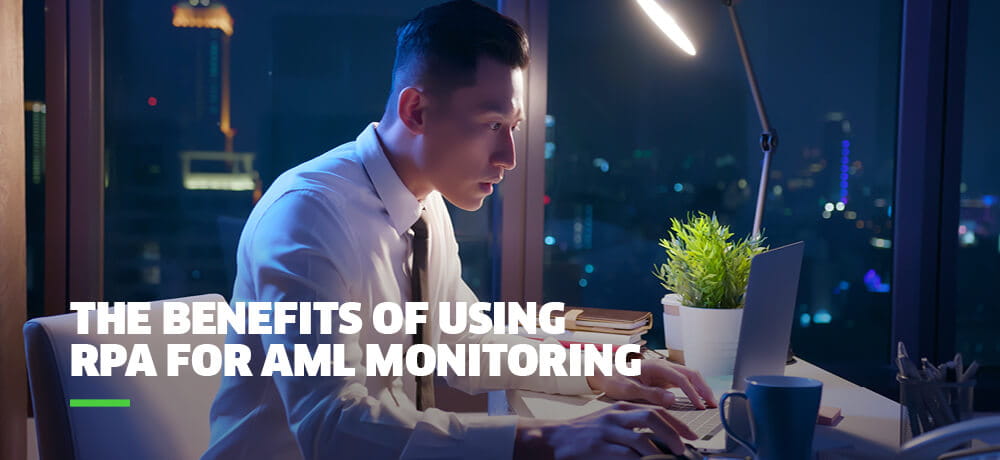 There's never been a riskier time to be a banker, given the environment we are banking in today, with more fraud, money laundering, and cyber criminals to be mindful of. And the pandemic just accelerated these trends. Did you know that between 2-5%, or anywhere from $800 billion to $2 trillion of the global GDP is attributed to money laundering? The passing of the Anti-Money Laundering Act in 2020 increased the burden of vigilance and compliance for financial institutions, adding further pressure. One of the ways in which many institutions have chosen to address the challenges is through automation. Robotic process automation (RPA) provides the ability to process routine tasks that are high volume and repetitive and removes all human error since it can do these tasks much faster and with far more accuracy than manual processing. Financial firms are spending big bucks on software solutions to keep up with the regulations because when you make a mistake or didn't verify thoroughly, the penalties are severe - $10 billion was handed out in penalties just in 2020. Banks are increasingly relying on tech-based solutions to handle AML in the organization, including for EDD reviews, AML alert management, CTR reports, and more.
Easing the compliance burden with RPA
Complex regulations requirements, inadequate staffing, increasing costs and burdensome, time consuming, repetitive effort all plague banks. When there are hundreds of accounts to review within a single relationship that was deemed high risk, analysts and investigators can't focus their efforts on the highest risk alerts, instead spending the bulk of their time (60-80%) on routine tasks. Many organizations today are solving these challenges using RPA:
It is completely infrastructure agnostic and can be handled on any application
It is also non-invasive and can be applied, removed, or stopped at any time
It requires minimal investment as compared to many tech solutions and labor (bots handle 60-80% of the manual labor associated with AML activities)
RPA does not replace existing applications, but instead works with those systems just as a human would - fetching, loading, and manually entering data, and thus unlocking value for a wide variety of back-office workforce functions to improve efficiency across the enterprise.
Where are the opportunities within AML to kickstart the automation journey?
There are numerous ways in which AML automation can help reduce the burden on compliance teams, so that they can instead spend their time efficiently, on more high-risk areas. This encompasses adherence to KYC norms, sanctions and screening involving transactions monitoring, and AML transactional and regulatory reporting:
KYC: New Customer - opening a new account, getting a new loan request, credit terms
KYC: Data Mining - gather and load all data for analysts to review, handling the screening process (sort into low/med/high risk buckets)
Sanctions & Screening – enhanced due diligence (EDD), blacklist screening
AML monitoring – case management, alert management, suspicious activity monitoring, watchlist monitoring
AML transactional reporting – suspicious activity monitoring, report of foreign bank and financial accounts, blocked properties and OFAC
AML regulatory reporting – suspicious transactions report, currency transactions report
How FIS can help you ace AML rules with RPA
Our solutions are entirely unique - prebuild bots and scripts are rare to find in the market and we bring our extensive experience, using trusted FIS 3rd gen infrastructure that banking and payments customers depend on. We will host and maintain the prebots for you, for one price. We handle any updates without any downtime, minimizing the risk usually associated with automation. FIS's intuitive dashboard provides a consolidated data view for analysts, the ability to customize forms, and an action BOT to commit data to core systems. We won't present a bill until we implement the bot on premises and it is successfully handling live cases in the production environment. With FIS PREBOT, you can be assured of:
Reduction in overall cost of automation journey by 50% since we have pre-built functionalities across AML systems
Automation of AML operations 60% faster utilizing pre-built functionalities
Leveraging FIS AML process experts for your implementation needs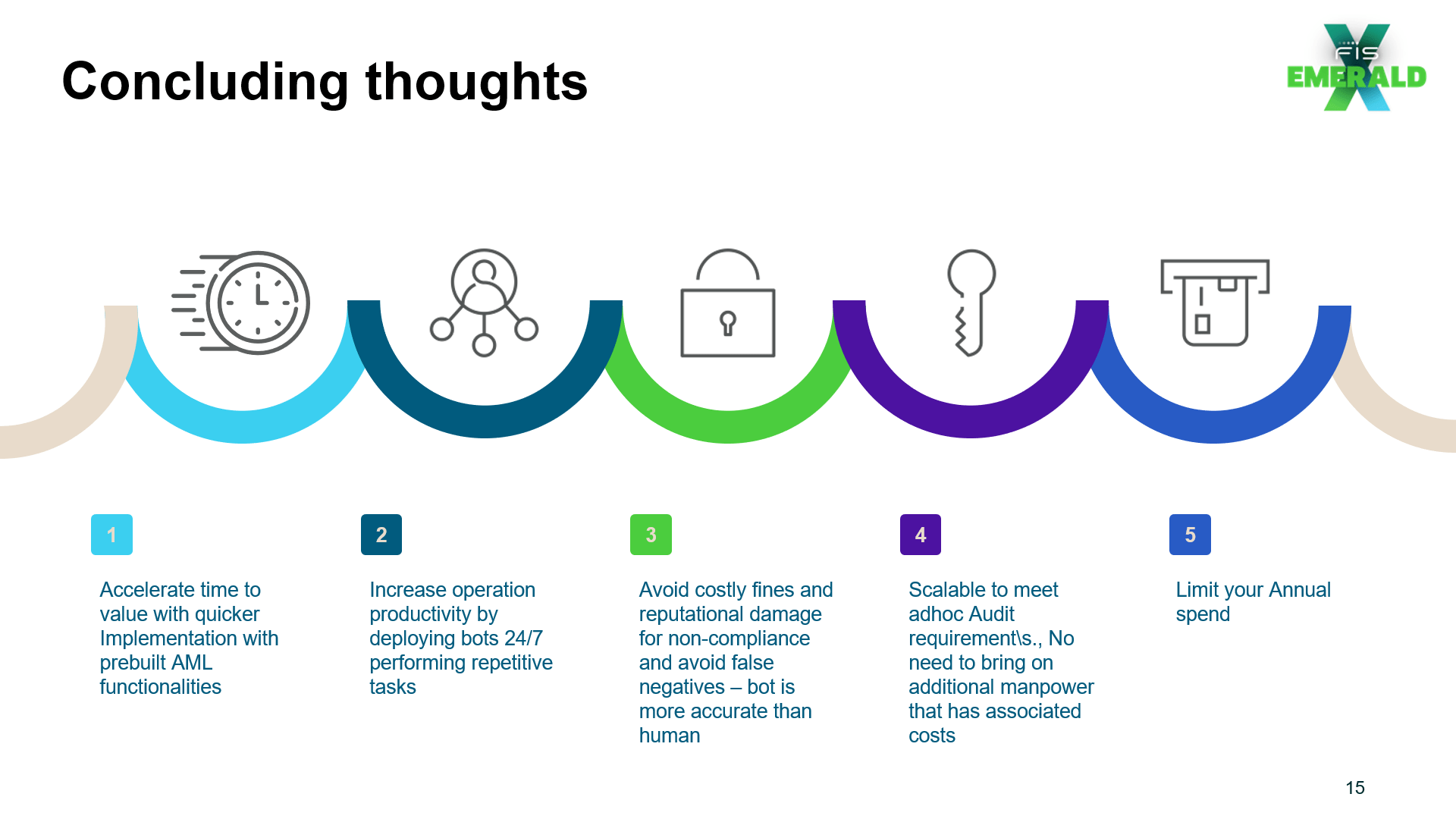 The advantages to employing RPA for your AML monitoring include reduction in manual labor costs by around 70%, never having to increase headcount since the bot takes over manual tasks, increased staff productivity and service levels, elimination of manual regulatory monitoring and data collection, and having an audit trail with complete and accurate information. And all this means banks can avoid costly fines and reputational damage for non-compliance and avoid false negative reports.
Let's Talk
Together, we can work to solve your business goals. Please provide your email address below and a representative will reach out to you soon.