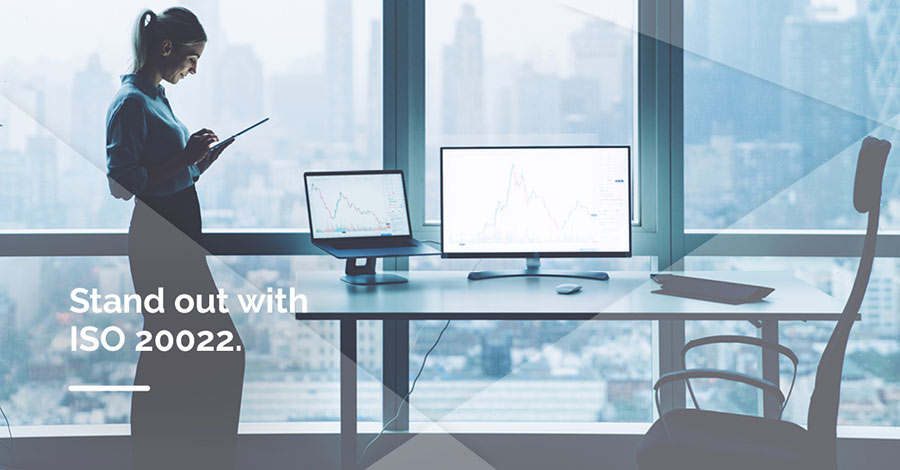 Changes to financial market infrastructures for high-value payments and real-time gross settlement systems (RTGS) have already taken place in Switzerland, Japan, China and India; similar deadlines to adopt ISO 20022 as the new standard for exchanging payments in the United States, Europe, United Kingdom, Australia, Hong Kong and Canada are fast approaching. Though ISO 20022 is an international messaging standard in the broadest sense, it can be so much more than that for those who invest in the right tools. Here's a closer look at what moves toward ISO 20022 really mean.
What Is ISO 20022?
ISO 20022 is an international messaging standard that will facilitate electronic data exchange between financial institutions, and with customers, users, market infrastructures and regulatory bodies. This global common language for all financial communication across various financial industry domains spans payments, securities, trade services, cards and FX, and describes financial business processes and transactions in a business way. All ISO messages follow a similar construct and share a common lexicon of data. Whether it's a card payment or a securities transaction, the data field is consistent. This enables the exchange of richer data including longer references, a detailed name and address descriptor and extensive remittance information. A common standard also simplifies message exchange between international and domestic payments.
Benefits a Global Standard Offers Banks:
Enhanced data quality
Improved regulatory compliance
Optimized payment reconciliation by the beneficiary
Increased straight-through processing
Easier/simpler cross-border payments
Improved efficiency
Lower costs
Despite all these advantages, the global adoption of ISO 200022 also ushers in a new era of data handling for which banks must prepare. Well in advance of the approaching deadlines, banks will need to consider how they'll manage, use, process and store data they've not previously had to handle and determine what demands it will place on current processes and systems. Banks must respond to their region's specific ISO 20022 deadline, but the can choose what the move means for their business:
Will you simply adapt a legacy system to cope with the change and hope for the best?
Will you strategically plan a response that ensures a seamless transition, embraces new data opportunities and moves your payments business forward?
To learn how and when various parts of the world and their respective infrastructures are moving towards ISO 20022, and identify the detailed questions you need to consider to strategically prepare your adoption plans, visit our ISO 20022 website.
Jumpstart your day in a matter of seconds with quick snapshots of industry trends and leading perspectives delivered straight to you. Sign up for RISE here.
Tags: Payments, Digital Innovation, Technology
Let's Talk
Together, we can work to solve your business goals. Please provide your email address below and a representative will reach out to you soon.