Fintech Insights
Engage banking customers-wherever they are
Nick Woodcock | SVP, Group Executive, FIS
June 08, 2020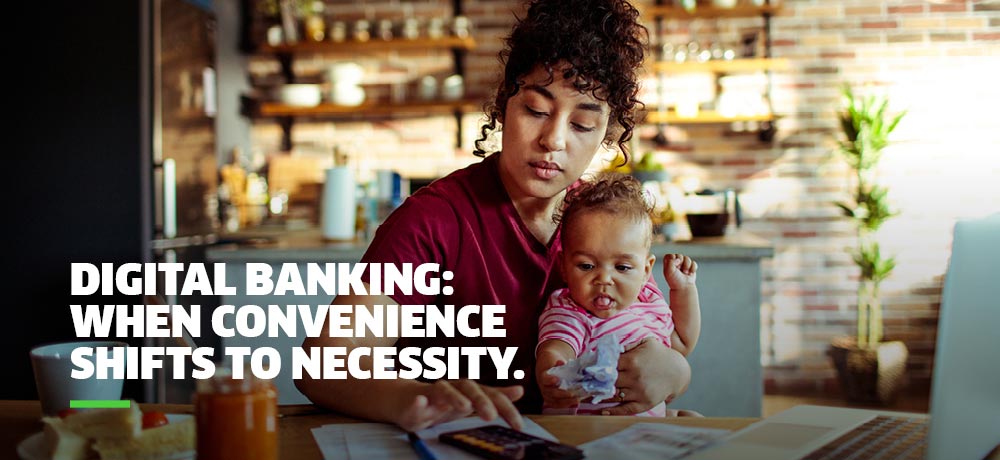 Consumers were flocking to digital banking long before 2020, drawn by the convenience, safety and speed of new digital tools designed around customer experience. Meanwhile, digitization offered financial institutions cost efficiencies, operational flexibility and greater scalability.
COVID-19 moves virtual banking from convenience to necessity. Financial institutions need to engage their customers with a broad range of banking services, wherever those customers are. Connecting customers to your services means an increasing reliance on virtual engagement.
Financial Wellness: The New Digital Engagement Strategy, a new report by FIS™ and Aite Group, explores how financial institutions can win with consumers by broadening their digital offerings.
Banking services where they're needed most
Providing banking customers exceptional experiences means crafting services that are laser focused on their needs. Simply, seamlessly, wherever and whenever they want to engage.
Consumers unsurprisingly choose digital over branch visits and call centers for many common banking services. In Aite Group's Q1 2020 survey of 2,413 U.S. consumers, 89% of respondents said they used mobile or online banking to pay bills, while 84% used digital channels to track finances.
Yet our report revealed consistent customer experience pain points. Not having the time to visit a branch was repeatedly cited by respondents as an obstacle to better overall banking experiences. U.S. consumers also reported frustration with getting needed information without a call or branch visit.
Branches and call centers remain essential to resolve complex issues or to obtain advice. Among our respondents, 38% used a branch to make a deposit in the last year, while call centers were used most often to dispute fraudulent transactions and to report a lost or stolen card.
Exceptional customer experiences start with a focus on each customer's center of gravity—wherever they may be.
Gaining traction through consumer education
Broader customer awareness is an entrenched challenge to greater adoption of digital banking services. Financial institutions can educate consumers, reinforcing the value proposition and convenience afforded to them by the digital channel.
Consumers crave digital services, yet patterns persist.
Banking customers wanted to speak with a representative for customer service and security concerns like disputing fraud (72%) or stopping a payment (61%). They're also more inclined to seek a personal touch for higher value-added services, like increasing understanding of financial topics (61%) and setting up and managing savings goals (59%).
Depending on the activity, between 9% and 20% of respondents indicated they would have accessed the service digitally if they had known about it prior. Financial institutions should seize the opportunity to convert these customers who explicitly want to use your services in a way that's more efficient and cost-effective.
The digital banking advantage
Earning consumer loyalty requires engaging digital experiences that serve customer needs for safety, reliability, service and overall experience. That means meeting customers and engaging them on their terms, where they are, when they need you.
COVID-19 is accelerating challenges for financial institutions. Social distancing makes many traditional branch activities impractical. Consumers may be more reluctant to visit branches long after the current crisis subsides. Omnichannel banking solutions of the future will need to be built for maximum flexibility within existing channels, with an emphasis on digital-first and, when needed, digital-only.
Meeting customers where they are means expanding your digital presence, creating engaging customer experiences and educating consumers on the benefits on offer. That's a tall task at any time, but it's one that financial institutions must strive for, to provide essential services to your customers and to provide for your institution's success.
Let's Talk
Together, we can work to solve your business goals. Please provide your email address below and a representative will reach out to you soon.