Fintech Insights
Putting together the IFRS 17 puzzle – a piece-by-piece guide
Donna Bembnister | accounting solutions manager, Insurance, FIS
October 05, 2020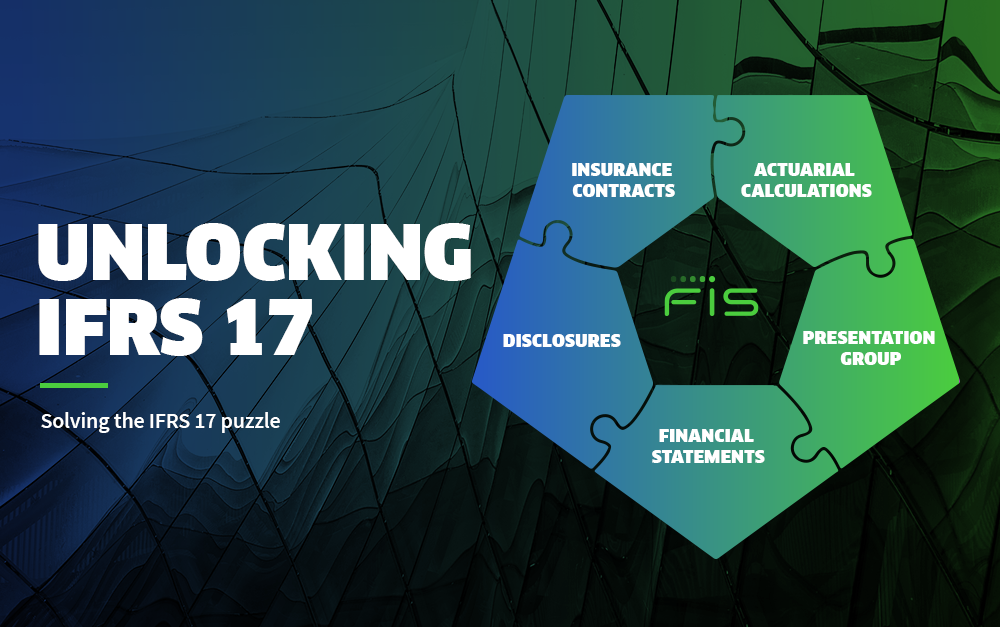 Do you ever think of IFRS 17 and feel like you've entered an escape room? Where do you begin and what must you do next? Will you be able to complete your financial reporting before the clock runs out?
If so, you're not alone.
As an accountant, you're responsible for making sense of the detailed information calculated by your actuarial teammates. If it looks like a puzzle, that's exactly how you should see it – an interlocking five-piece puzzle to be precise.

If you start by learning about each of these five pieces, you can put together your IFRS 17 jigsaw more easily. So, let's take each piece in turn.
1. Insurance contracts
Under IFRS 17, you need to group your insurance contracts by their attributes, such as the way you measure them, portfolio type, cohort (e.g., year) and profitability. The IFRS contract group is the intersection of these attributes.
2. Actuarial calculations
For every group of insurance contracts, IFRS 17 requires you to not only calculate cash flows, risk adjustment and contractual service margin, but also determine the portion of these new liability classifications that relate to forecasted losses.
3. Presentation group
To determine this third piece of the puzzle, you must run your first piece – insurance contracts – through your second, actuarial calculations. In turn, the presentation group is split into four categories: insurance contract asset, reinsurance contract asset, insurance contract liability and reinsurance contract liability. These effectively define where the accounting for the contracts sits on the balance sheet.
4. Financial statements
Balance sheet and income statements have a different structure than normal under IFRS 17. Your balance sheet statement will contain the third puzzle piece, the presentation group – and no longer allows you to aggregate all insurance contracts. To determine profit or loss, the income statement should have separate sections for insurance service results and net financial results.
5. Disclosures
Compared to financial statements, these additional reports provide a more detailed view of any movement within the insurance contract groups. Through disclosures, you can therefore reconcile any changes in your liabilities in terms of cash flow, risk adjustment and contractual service margin, as well as the excluding loss and including loss components of your actuarial calculations. This fifth and final puzzle piece will help you improve the timeliness, transparency, comparability and quality of your financial information.
A fitting partner
As the countdown continues to the 2023 compliance deadline, taking a piece-by-piece approach to these five reporting requirements will make the IFRS 17 puzzle easier to solve.
Some may like to put their jigsaws together starting with the outside. And others like the challenge of not referring to the picture on the box. No matter your preference, FIS is here to help you fit the pieces together perfectly.
Let's Talk
Together, we can work to solve your business goals. Please provide your email address below and a representative will reach out to you soon.