Fintech Insights
Why transform commercial banking?
Brian R. McCumber | C.P.A., director, Next Generation Banking, FIS
February 15, 2021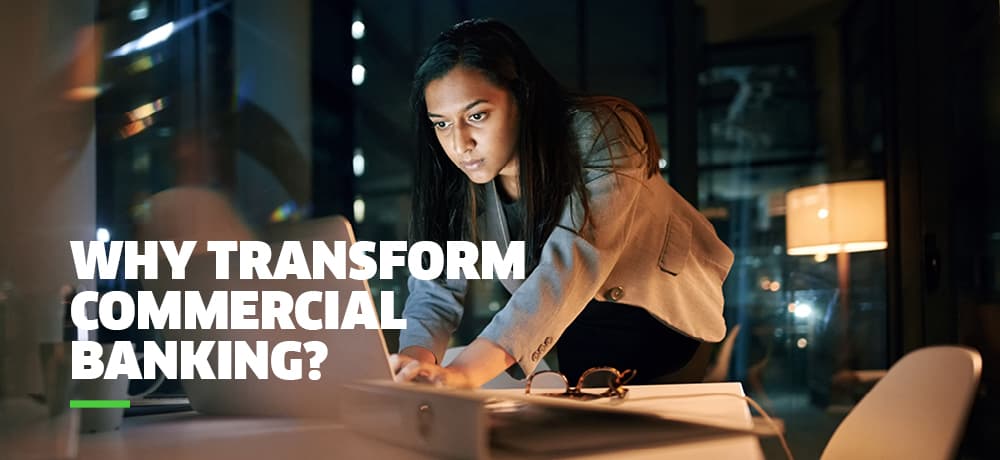 Most of the conversation about bank transformation, challenger banks and digitalization has been dominated by retail. Perhaps that's because retail banking is more familiar. Almost everyone knows something about retail banking, and it is easy to compare a digital banking experience with other services, such as online shopping or ecommerce. With Big Tech constantly redefining retail service standards, digital retail banking has remained in the limelight. But commercial banking is just as important. Here we consider why.
Market trends and dynamics
Commercial banks are caught in the eye of the storm of the global pandemic. Many are working at full tilt to help businesses stay afloat and to ensure their own continuity. While the pandemic may change short-term priorities, commercial banks face similar strategic challenges to retail banks.
Digital technologies are a key driver of change, as disruptive forces are creating new threats and opportunities in the marketplace. Businesses, like retail customers, are constantly demanding more. In response, 41% of commercial banks are increasing technology budgets and 29% are even accelerating project under way (Source: Celent Corporate Digital Channels Survey, July 2020). The stakes are high for commercial banks, which drives the necessity to add value to retain and gain more customers. Where can banks deliver value?
Here we start with the fundamentals of commercial banking. Like all banks, commercial banks wish to grow revenue by delivering solutions to meet a business' five basic daily needs: make payments, receive payments, obtain actionable information, borrow funds and invest funds. And, just like their retail counterparts, commercial banks must provide customers with easy-to-use services that add real value.
As a financial partner to businesses of all sizes, a bank must deliver solutions that address the fundamentals while eliminating customer friction by delivering new, innovative services. This requires a deep understanding of the customer lifecycle, which is comprised of a series of interrelated engagements between the bank and the customer, including:
Onboarding – opening accounts and implementing products for customers
Processing – Receiving and clearing transactions from customers
Servicing – maintaining, supporting, and closing accounts for customers
Reporting – alerting and notifying customers about transactions and balances
Ultimately, customers will deem the bank's solutions as worthy if they deliver on their critical needs, such as ease of use, lower cost, risk mitigation and data security.
In an ideal situation, everything that a business needs to manage its cash would be enabled with just a few clicks, bespoke for their company and cost effective. So how does a commercial bank make that happen? It starts by understanding the customer journey and providing an optimized customer experience. To deliver this, commercial banks must shift from a bank perspective to a customer view of what they need daily to run their business.
From bank perspective to customer view
Historically, commercial banks have viewed the customer from a bank's perception of their needs. Under this arrangement, financial products have been "pushed" into the market and, over time, many solutions simply automated processes replicating the manual processes they replaced. But in the digital age, customers expect uniquely tailored financial products that meet their exact business needs and strategic objectives. How should banks proceed?
Banks need to build a constructive dialog with their commercial customers across multiple lines of business, technology and treasury groups. They need to understand not only who is using their services, but how. This may require a different mindset that considers commercial customers as business partners, who can influence and shape product development. Eighty-four percent of banks surveyed agreed that to compete in a post-digital world, banks need to elevate their relationships with customers as partners. Many commercial banks have been slower to adopt new digital technologies. In many cases, there is a need to reinvent the customer journey to address customer pain points and help them overcome internal challenges, such as reducing friction in transaction processing and lack of real time data. What does that look like for a bank?
Embracing digital to deliver more with less
Most commercial banks have begun to transform, but few can offer end-to-end digital processing. A bank's successful digital modernization initiative must:
Provide services that offer a customer experience as good as those offered by retail banks, focused on real time payments and real time information reporting
Support application program interface (API) connectivity with the bank and third parties to participate in the Open Banking marketplace
Transform legacy core banking systems to boost agility, reduce costs and align spending with business benefits
Enable customer self-service for onboarding and support
Embrace modern technologies, such as robotic process automation, artificial intelligence, and machine learning to boost automation and integration
Adopt new ways of working, including Agile methods and DevOps to deliver new functionality quicker and with no interruption to business as usual
As cash management and commercial lending have been very lucrative businesses for commercial banks, incumbent banks have everything to play for as fintechs and challenger banks are eyeing those customer segments are their next targets. Now is the time to act.
Commercial banks have the inside track against new competitors – their existing customer relationships. They cannot rest on their laurels though. They need to leverage those relationships and beat the competitors to the punch. Digital transformation should be the centrepiece of retaining and gaining customers and driving growth in commercial banking.
Let's Talk
Together, we can work to solve your business goals. Please provide your email address below and a representative will reach out to you soon.