Fintech Insights
How to choose the right BPaaS partner
Tara Winters | Global Head of Capital Markets Managed Services, FIS
May 03, 2021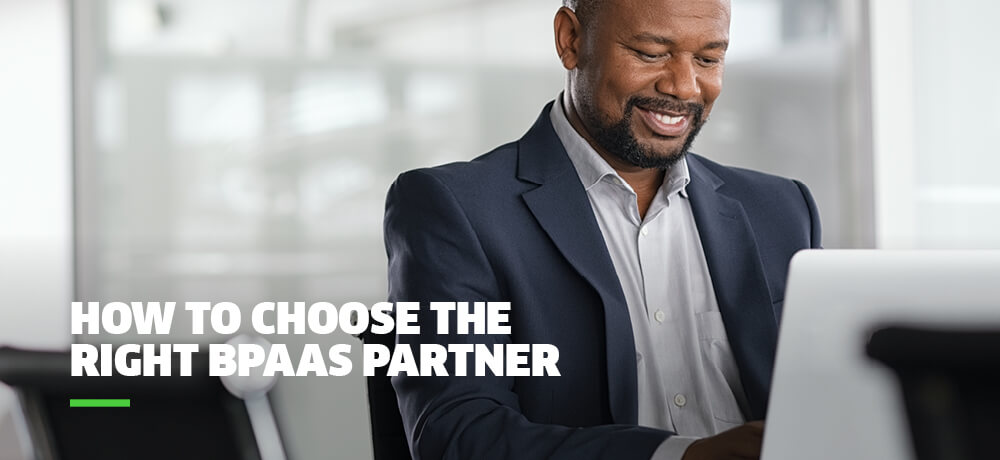 More and more capital markets firms are embracing all forms of managed services, but particularly Business Process as a Service (BPaaS). With BPaaS, the service provider takes responsibility for the business processes, delivering integrated business and platform operations that would otherwise be handled by either internal teams or outsourced vendors.
The most obvious benefits of BPaaS and other managed services is cost efficiencies. But there's much more to BPaaS, and the right approach can improve your customer satisfaction for a better NPS, deliver higher digital adoption, drive growth, increase your resilience and reduce friction across your ecosystem.
That's because, unlike other types of managed services, BPaaS combines business operations, application management and infrastructure support. So, you can hand off the entirety of any process or function that no longer provides a competitive differentiator, such as derivatives processing, trust and custody services, retirement record keeping, reconciliations, corporate actions processing and transfer agency.
The case for BPaaS is clear. But how do you execute it successfully?
Many firms start by looking at their own operating model in silos. Which area is creating costs or inefficiencies? That leads to a strategy of "componentized" outsourcing. This model is based on outsourcing different components of BPO, and often those components are further segmented into different business services, such as call center, payments, finance operations, KYC, client onboarding, etc., and technology services, such as application development, digital, infrastructure, data center, etc). Naturally, the next question becomes, which provider specializes in these "segmented" services?
However, that only replicates the problem that you're trying to eliminate. It doesn't resolve it, and it won't deliver the business outcomes you desire.
The better approach is to start with your desired outcome. How do you get to that vision of cheaper, faster, better – and even mutualise cost in a shared services platform? How do you transform your business for the future? You'll need to reimagine your current operating model as an integrated operating model, where business operations efficiency and end client satisfaction is dependent on how robust the technology platform and technology operations are.
That requires a partner with expertise in delivering transformational outcome as well as an integrated delivery approach that covers both the underlying technology platform and business operations.
Only a fintech company that has a robust platform and strategic commitment to the BPaaS model can offer a convincing delivery outcome. They have the intellectual property of the platform itself, so they understand it inside and out and can transform, implement and maintain it more effectively than anyone else. That ensures that you get all the desired transformational outcomes in operational efficiency metrics, platform functionality, digital capabilities and customer satisfaction, while minimizing the operational and regulatory risk of current operating model.
Engagement with a fintech company in an integrated BPaaS service also ensures a shared or mutualized cost model for mandatory and regulatory compliance changes.
But you also need a fintech company that has a well-established BPaaS operating model within its own operating model, because a lot of the principles of BPaaS are different from selling software. The BPaaS operating model is built on partnership that ensures business outcomes in terms of cost, revenue and customer satisfaction. A successful BPaaS engagement is built of the principles of continuous improvements and sustained Year-On-Year improvements in benefit realization. This will necessitate a well-established and matured approach for initial engagement and sustained delivery.
With the right partner, you can go beyond cost reduction to transform your business and deliver:
better client satisfaction for a better NPS
better agility with a faster time to market for new products and compliance needs
better overall operational efficiencies and a cheaper cost base for better price competitiveness
Let's Talk
Together, we can work to solve your business goals. Please provide your email address below and a representative will reach out to you soon.