Fintech Insights
Accelerate the automation journey with Prebots
Jaspreet Kondal | Senior Vice President, Back Office Services and Anant Keskar, Vice President, Back Office Services
December 07, 2020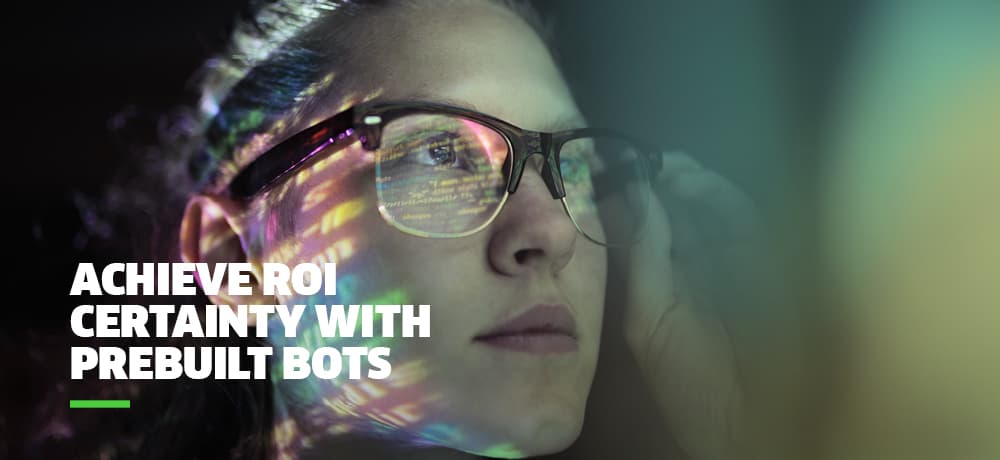 In a report released just last quarter, Gartner predicts that despite the pandemic, the Robotic Process Automation (RPA) market will see double digit growth through 2024, and RPA software revenue will reach $1.89 billion by the end of 2021, an almost 20% rise from 2020. However, despite spending in the RPA industry to the tune of around $1.5B, very few organizations are actually able to achieve ROI at present. Only 8% of organizations have less or equal to 50 bots, which shows that not many bots are being created with those dollars.
One of the biggest obstacles in the automation journey is the identification of automation candidates. Finding the right automation candidate requires proper due diligence based on transaction volume, system interactions, etc. What is needed is a solution suite to define the financial institution's automation roadmap and to create and implement the bots, as well as manage them once they are up and running.
The complete automation journey can be time consuming and there is an associated risk of ROI uncertainty, which does not come to light until the end of the journey. This is where having prebuilt bots helps – reducing lead time significantly, as well as offering confirmed ROI, leading to accelerated realization of automation goals. FIS offers a library of over 100 prebots on FIS Core.
Challenges that banks can address through RPA
Banks need a substantial framework to collect and analyze data and remain compliant with regulatory requirements.
Regulatory requirements: must be included in the actual bot for efficacy and to help shrink penalties. A good example is AML (Anti Money Laundering) penalties, which have been steadily rising since 2015.
Cost of operations: The requirements for compliance are constantly changing and there are steep fines for noncompliance. Increasing headcount is not cost effective, and the best way is to automate (with RPA and other tools) wherever possible.
Technology challenges: Data across disparate and sometimes antiquated systems must be analyzed to find out how to be cost effective and understand where the opportunities for ROI exist. A bot with these capabilities can provide accurate and timely information.
FIS prebuilt bots offer the solution
FIS' prebots are specific to the banking industry, based on our many years of experience handling back office banking applications. Our bots enable the automation of the processes involved to create a better, cost effective way of running back offices. And how we achieve this is through our prebot integration with FIS cores through FIS code connect API gateway. This allows us to create a prebuilt bot for the specific needs and environment.
We can also host the bots, from on premise to cloud (plug and play usage). Banks can shop for prebots that will work in their environment and see how they operate, from our content engine which shows all the bots that have already been created, from a gamut of potential RPA and RDA solutions.
FIS' customized prebuilt bots create the correct processes and we will maintain and manage them over a multiyear period so there are no cost overruns or additional fixed cost. FIS has created a prebot marketplace with over 100 pre-identified use cases, which assures, at minimum, 60% faster automation of back office operations. The prebuilt bot is specific to the given process in back office operations, which means there is no need to create a bot from scratch, and we also take care of the use case delivery aspect, leveraging FIS experts for particular processes that are not readily available in the marketplace.
Our operations excellence suite EPIC has efficiency as well as automation modules – the two most relevant modules we offer when it comes to prebots. Our BigEye management tool will manage all the bots from a single point, not just the FIS prebots, but from any function in the bank. With BigEye, banks gain centralized bot visibility, monitoring and control.
ROI certainty with FIS prebuilt bots
Our marketplace of prebuilt bots assures lower technology cost, no cost overruns with our fixed cost, thus lowering TCO (versus creating the bot from scratch). The bank gets a bot built to exact specifications, we undertake maintenance and do any fixes and changes - all for one annual cost. And our preidentified use case repository means that there is minimal discovery cost for the prebuilt bot.
We offer a success-based payment model, which means that banks won't have to start paying for the bot until it is up and running and working in the production environment. Our packaged approach to digital transformation guarantees risk free implementation, unlimited user access to content, and hosted/managed RPA services.
Hablemos
Juntos, podemos trabajar para resolver sus objetivos comerciales. Proporcione su dirección de correo electrónico a continuación y un representante se comunicará con usted pronto.