Fintech Insights
What's next for Buy Now, Pay Later?
Dave Fura | SVP, Head of Card Solutions, FIS
December 20, 2021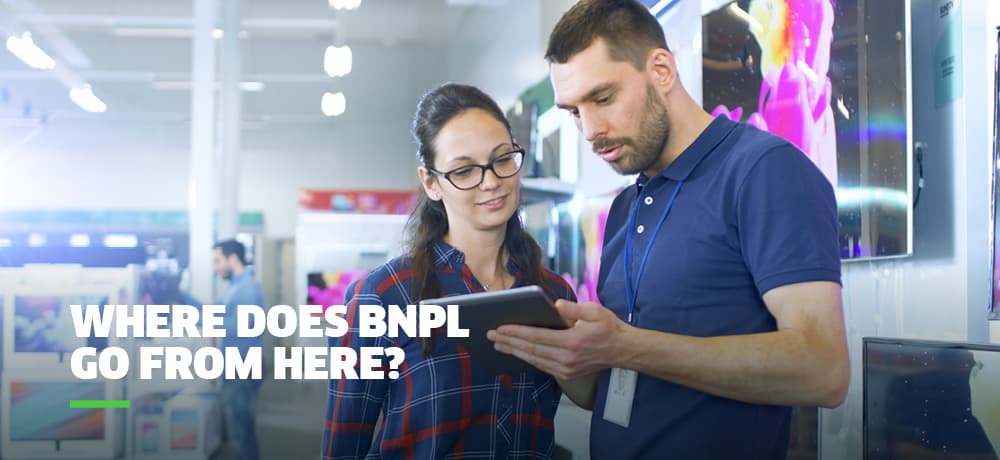 Buy now, pay later (BNPL) is one of the many technological innovations that caught popularity over the past several years, especially during the hard economic times brought on by the pandemic. Though the idea of this technology is not particularly new, its rise in popularity among financial institutions, merchants and consumers is quite noteworthy. In fact, according to the Buy Now Pay Later Market Size and Trends Report by Grandview Research, BNPL payments schemes are set to more than double in payment market share growth by 2024, making it the fastest growing payment option.
The simple concept of being able to buy larger ticket items and pay for them over time is one that benefits everyone in the payments ecosystem. This has led to cardholders making more expensive purchases, increasing the average order value while capturing fees and interest revenue for the issuers. Merchants also benefit from BNPL as the technology helps increase sales volume and conversion rates by providing payment flexibility for high priced items that may get left in a shopper's online cart. Finally, consumers receive the largest benefit because they now have options at the point-of-sale that will allow them to make the most informed financial decision when it comes to buying a high-priced item or filling a large grocery bill.
Where does BNPL go from here?
New regulations: Currently there are very few, if any, U.S. regulations that deal specifically with BNPL. However, there has been a push for the Consumer Financial Protection Bureau (CFPB) to closely examine BNPL ahead of potential regulations meaning that change may soon be coming. This is where financial institutions and merchants can leverage technology providers to help in numerous ways, including fully managing their BNPL product regardless of if it is on the front end or back end.
Individualized experience: Merchants are making it easier and easier for consumers to shop where and when they want, whether that be in-store or online, on a computer or on a phone. This idea of making the consumer experience omni-channel also applies to how these individuals want to pay for their purchases. BNPL gives cardholders the flexibility to make larger purchases and can increase card use and preference by offering cardholders more choice and control. Organizations can use this technology to add additional functionality to differentiate their offering and increase consumer loyalty to their brand. In addition, using a BNPL card can centralize all of these transactions, making it much more manageable and organized for the cardholder.
Stock and crypto: Thus far, BNPL has been focused on helping alleviate the financial burden consumers have when making large purchases at different merchants. With the rise of popularity of the product, there may be application to other channels such as buying high value stocks and even investing in cryptocurrency. This would allow people to invest in stocks and cryptocurrencies based on their research and not the size of their paycheck.
SMB: BNPL can most certainly help small-medium sized businesses provide the same payment flexibility to their consumers. This technology should be seen as a way to level the playing field between large merchants and SMBs. Consumers can now make their decision on where to buy a high-priced item on where they prefer to shop instead of worrying how they are going to be paying for the purchase.
How can a technology company like FIS help organizations with BNPL?
FIS focuses on providing options for everyone involved in the payments ecosystem. These options include post-purchase installment loans for big ticket items, an option at the actual point-of-sale, and an actual card that allows consumers to harness BNPL regardless of it the merchant offers it. These different options provide the omni-channel experience that is so critical to increasing consumer loyalty while also providing much needed flexibility to shoppers making large purchases.
For more information on FIS' Buy Now, Pay Later - Post Purchase solution and to see how it will develop new revenue streams and build sticky, long-term relationships for your institution, email getinfo@fisglobal.com or call 877.776.3706.

Hablemos
Juntos, podemos trabajar para resolver sus objetivos comerciales. Proporcione su dirección de correo electrónico a continuación y un representante se comunicará con usted pronto.