Fintech Insights
Real Time Payments – Value & Global Growth
Bernd Richter | SVP, Global Real Time Payments Network – Europe
May 09, 2022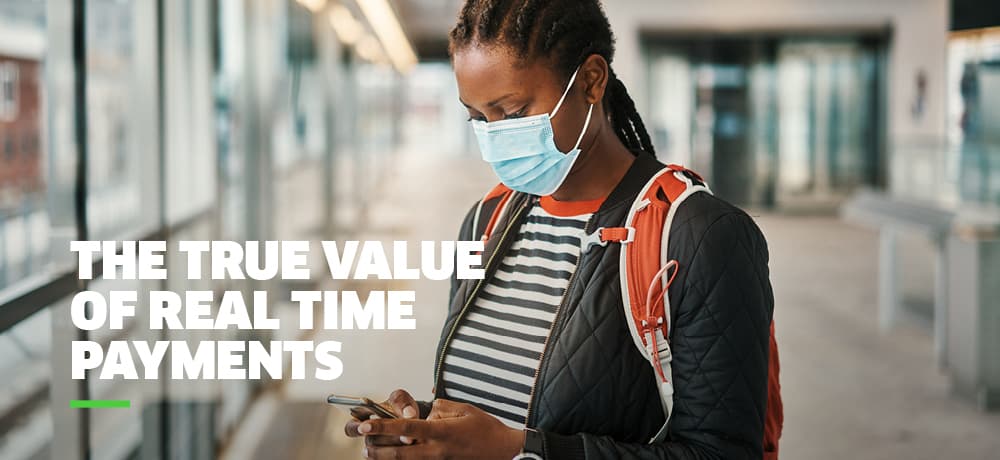 Demand for real time payments continues to grow exponentially, post-COVID, we expect real time payments to redefine value exchange and drive positive social and economic change.
When the global pandemic hit, people initially stopped, or severely reduced, their financial outgoings. But they quickly adapted to new situations with changed spending habits.
Although global payments revenue was estimated to be around $140 billion lower last year than in 2019 -- a decline of about 7 percent -- consumers spent 30% more with US retailers online in the first six months of 2020 compared to the same period in 2019.
Digital payment habits are continuing to evolve quickly across the board. The 'buy now, pay now, get now' expectations of habitual online consumers have been joined by urgent demands from government departments and agencies, who need to route financial support to hard-pressed businesses as rapidly as possible. Safety and distancing concerns have driven the uptake of contactless. And stay-at-home shoppers have compressed years of digital payments growth into months.
It's clear that the 'value extraction' the payments industry typically refers to – the capturing of value from players within the payments ecosystem – is now being redefined in every area of life, including the financial industry.
The single notion of value extraction must evolve towards a more positive, value building approach – one that is capable of rewarding all players and of stimulating economic activity.
This value building approach will adopt three clear and complementary perspectives: value identification, value amplification and value protection.
Real time payments value identification
Value identification is about pinpointing who can benefit from a more accessible, affordable and immediate payments network. Real time payments empower people to obtain the goods and services they need right now, without protracted payment clearance and thanks to the real possibility of real time account-to-account payments, without the need to hold a credit or debit card.
Post-COVID, businesses in recovery, individuals and households under financial pressure, and even NGOs and charities, will continue to have a growing need for secure real time payments.
Value amplification of real time payments
Real time payments enable new, value exchange-based relationships for parties who previously could only access limited markets. Even micro-businesses can sell globally, with the assurance of being paid immediately. Consumers from opposite sides of the world can source and pay for an infinity of products, with as much peace of mind as if they were in their local store.
Value creation partnerships can spring up along the innovation, manufacturing and retailing chain, with ideas much more quickly becoming products that can be brought to market faster than ever before. These partnerships, based on flexible and financial trust-driven relationships between makers, suppliers and consumers, will all be enabled by cheap, accessible and secure real time payments systems. And their global proliferation will amplify value.
Value protection from real time payments
The reliability of real time payments is hugely important. An end to anxieties around losing funds in transit, or not getting paid, has an emotional as well as an economic impact. Yet this value extends beyond money being disbursed within seconds, or not going missing.
Consider the insights that can be derived from real time payments data. Analytics reveal a whole universe of customer habits, preferences and needs. Entire new and highly individualized service offers can be configured and built on these insights, in turn driving newly developed customer experiences. Customer churn can be reduced, and loyalty nurtured. The value of business can thus be protected and increased.
The real case for real time payments
Real time payments represent nothing less than a shift to a true real time economy; instant, fluid and supporting the democratization of value creation and value exchange across societies, borders and cultures.
Whether it's business to business, peer to peer, business to consumer or vice versa, and domestically or cross-border, the use cases of real time payments are as diverse as the people and organizations who implement them.
Value identification, value amplification and value protection: this is the real value of real time.
Editorial Note: This article was originally published in March 2021. It has been updated for accuracy and comprehensiveness.

Hablemos
Juntos, podemos trabajar para resolver sus objetivos comerciales. Proporcione su dirección de correo electrónico a continuación y un representante se comunicará con usted pronto.