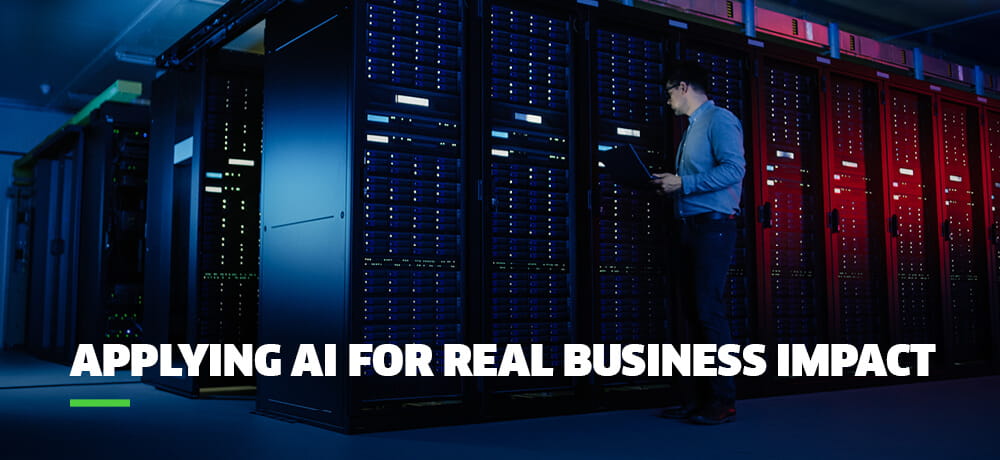 Have you set your resolution for 2021? No, not weight loss, travelling more or getting healthy. Let's talk strategic resolutions for your business – more specifically, how can you apply AI for real business impact? A recent EY-Parthenon survey of 1001 global executives found that nearly two-thirds (62%) agree they need to radically transform their operations over the next two years. In fact, 64% of respondents plan to invest heavily in AI to stay competitive, but they recognize the challenge is realizing financial benefits from the technology.
Too often our resolutions start strong and end up taking a backseat when bad habits creep in and other pressing issues grab our attention. This is also true for transformation programs that unless thoughtfully planned can go off the rails before achieving meaningful results. Starting is the first step, but a sustainable approach requires getting started on the right foot. Below are two simple steps you can take now to ensure you're able to realize your AI goals in 2021.
Connect with your "Why"
New Year's resolutions require us to make trade-offs and often that involves giving something up to get more in the future. People who determine why they are setting a resolution are more likely to be more successful. For example – saying you're willing to wake up early to exercise is easier when you remind yourself it's being done to spend more time later in life with your grand-kids. Similarly, by establishing your 'Why AI', you'll be able to weather change that can be scary for some and uncomfortable for many.
Defining your why also helps to focus resources and attention. Are you interested in applying AI to reduce your risk, expand margins (efficiency), improve operational speed, or deliver a market leading customer experience? Each are worthwhile areas of investment and have proven use cases to start from and often, the starting point looks less like science fiction and more like 'basic automation' running smoothly at scale.
Within FIS our 'why' is to deliver more value for our clients while advancing the way the world pays, banks and invests. We apply AI primarily across three dimensions: within our products (ML-based fraud detection in SecurLOCK), our operations (support Virtual Assistant), and within our data solutions group products (Ethos). We have thousands of automations running across the business that provide discrete value while enabling breakthrough performance when combined with machine learning.
Independent teams run quickly to tackle business problems and are aligned together ensuring maximum performance.
Be Realistic
Based on your 'why' you'll then be able to chart your course forward with a specific target to start. Lofty goals are often invigorating, and they can also be helpful once you've proven the foundation/basics but daydreaming of moonshots before you've proven your ability to deliver on the basics, is only setting yourself up for failure.
Many articles online may imply that it's AI or bust, but that's often not the whole story. Even advanced deep learning models can't solve problems if the data doesn't allow for the model performance you need. That said, you can often find incremental value in basic automation/RPA as you build a foundation capturing and cleansing data readying you for more advanced analytics and machine learning.
Setting a bold goal for 2021 is critical, but just as a novice runner would be mindful to start with a 5K before a marathon, the same is true for tackling enterprise AI. The successful path typically starts with solving for low hanging fruit with basic automation, shoring up your confidence in data, gaining momentum as teams get inspired and educated for what's possible, and then tackling high profile complex use cases.
Kickstart AI in 2021
If nothing else, 2020 proved to many people and organizations that in the face of a global pandemic, we're able to do impossibly more than many of us expected. The transformational change we all went through can serve as a catalyst for your future. If you can determine your driving force for this coming year (why) and be realistic about what's possible, you'll set yourself up for a high-impact and fulfilling year to come. Who knows, maybe you'll even run that 10K.
Hablemos
Juntos, podemos trabajar para resolver sus objetivos comerciales. Proporcione su dirección de correo electrónico a continuación y un representante se comunicará con usted pronto.