When was the last time you left a conference feeling both exhausted and excited?
The past week in Orlando, FL was a whirlwind of client meetings, breakout sessions, special speakers and events, and an overall great time at the Payments Summit at FIS Connect! Underscoring "Where Payments Meet Life", breakout sessions throughout the week focused on security, speed and convenience. Here are some highlights from our week at the WDW Swan and Dolphin Resorts in Orlando, FL including ways we incorporated those themes into our signature event – the Payments Summit:
Welcome and Opening Address – Empowering You: The Payments Summit was opened with

Jim Johnson's

keynote (President of Financial Institution Payments), which covered the current competitive landscape that FIS, our partners and others in the industry face. Following Jim, the other payments executives –

Serena Smith

(International Payments),

Dan Brames

(Retail and Corporate Payments) and

Bob Legters

(Payments Product Strategy) – shared their insights on a variety of topics, such as market expansion, international use cases, innovation, fraud/cybersecurity and loyalty.
Keynote conversation with Dale Earnhardt, Jr. and Bob Legters: Our keynote speaker, Dale Earnhardt, Jr. was interviewed by FIS' Bob Legters (Chief Product Officer) where he shared insights into his career, what it meant to be an Earnhardt and his history in the sport. The room was packed with attendees waiting to have their pictures taken with Dale.
Pit Row Experience: Clients also had the opportunity to move through four Pit Stops, or "zones," all featuring a different solution set. Clients even got to compete in races against each other, allowing them to fully understand how FIS' solutions can be integrated into their business in a seamless manner.
Zone 1: The Training Zone (The Next Machine Age)
Zone 2: The Garage (Modernizing Delivery Platforms)
Zone 3: The Pit Stop (The Customer Experience)
Zone 4: The Race (Disruptive Innovation)
Zone 5: The Winners Circle
Pit Row Simulation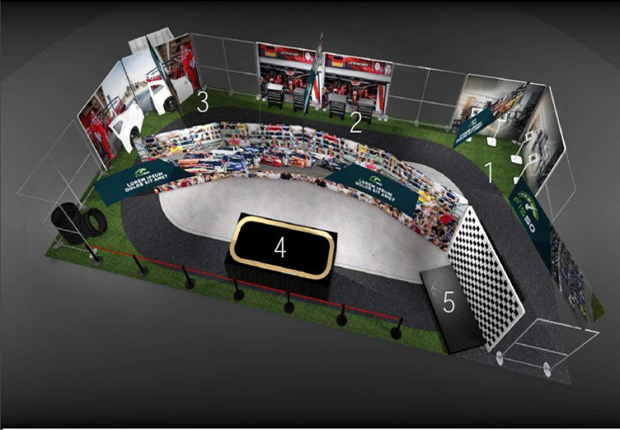 Attendees racing each other in Pit Row
•"Pit Crew" Polos and Green Shoes: Custom-colored green shoes emblazoned with the FIS logo did such a tremendous job at helping the Payments team stand out during the 2017 Payments Summit, that they made a comeback this year as well, with a twist. This year, all employees at the 2018 Payments Summit wore the FIS green Chuck Taylors again, but also specially designed "Pit Crew" polos! This combo was a major hit with clients and it added an air of fun to the whole event.

Our Payments 'Pit Crew" did a tremendous job of empowering our clients to imagine all the possibilities at our second annual Payments Summit. Plus, two lucky clients won all-expense-paid trips to next year's Daytona 500! If you didn't get a chance to attend this year, we hope to see you next year at the Payments Summit at the FIS Connect 2019 Conference! Imagine what you could win!
Let's Talk
Together, we can work to solve your business goals. Please provide your email address below and a representative will reach out to you soon.