Fintech Insights
Transforming cardholder experience with combined core and card processing
Kris Carrera | VP and General Manager, Payments, FIS
November 15, 2021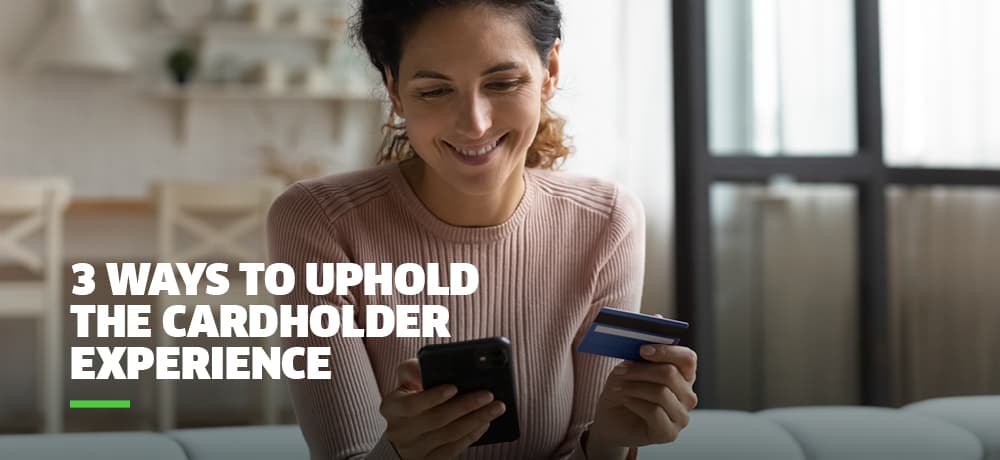 Your financial institution must be positioned to optimize revenue streams and efficiency, pivot to latest innovations, and manage regulatory burden, operational costs and security demands. When you focus on these three elements, you can use a unified core banking and card processing platform to transform cardholder experience and achieve your key business objectives:
Know how to identify customer needs
Implement new products and features for customers
Take action to adapt to the changing banking and payments landscape
Know how to serve all your customer needs
With the siloed business model many financial institutions have, employees only know how to use the legacy platform on which they were trained. By combining your core banking and card processing platforms, your staff have the access and holistic views they need to vastly improve customer experience. For example, if a customer calls to get help with IRA accounts and a debit card, they should be able to have all their questions and needs resolved by one staff member, in one interaction. With the core banking and payments platform in the same ecosystem, a team member at the financial institution can easily navigate and assist a customer without sending them to another department, creating a one-stop experience.
Implement new features for customers
When products are introduced into the broader market and become popular, your institution needs the agility to quickly implement them to differentiate from competitors, attract customers and retain current ones. When your core banking and card processing platform are in the same ecosystem, integrating these new products is simple to do with API connectivity. You achieve speed to market and ability to take advantage of connected systems that are inherently designed to accommodate APIs. You're able to use digital ecosystems to deliver more value to a wider customer base, in less time than ever before.
A great example of this comes in the form of the recent uptick of buy now, pay later (BNPL) technology. This allows your customers to pay for large ticket items in monthly installments from their bank account, using their debit or credit card. By adapting to the growing popularity of BNPL programs, your institution can implement this functionality through APIs to keep your current customer's business and give them the flexible repayment options they want.
Take action to adapt
Your customer expects their banking to be flexible, with 24/7 banking capability and the ability to access their funds at any time through various third-party applications. A legacy card processing platform leads to a siloed business, which greatly hinders your operating efficiency and ability to deliver a streamlined customer experience. By allowing your core banking and card processing platform to work in the same ecosystem, you remove operational blinders and blockers, give your staff a holistic view of the customer and gain the flexibility to easily change as payments evolve.
This can greatly improve both the customer experience as well as make life easier for your customer service employees. With a modern platform that combines card processing and core functions, financial institutions can easily integrate and offer self-service card controls so customers can complete the action in seconds through the mobile banking app.
Let's power next
FIS Payments One is the industry's only award-winning, unified platform that redefines multiple legacy servicing tools, giving you the flexibility to modernize on your terms and easily evolve with the changing payments landscape. As a global platform with the most functionally rich card offerings in the world, FIS provides local service and support with solutions that let you provide your cardholders all the functionality of a global financial institution, no matter your size.
To learn more about the benefits you'll see when you use Payments One to combine your core banking and card processing,
click here
or contact
getinfo@fisglobal.com.
Let's Talk
Together, we can work to solve your business goals. Please provide your email address below and a representative will reach out to you soon.