Fintech Insights
The Real Reasons Direct Banks Are Popping Up Everywhere

Andrew Beatty, Product Management Executive, FIS
October 01, 2018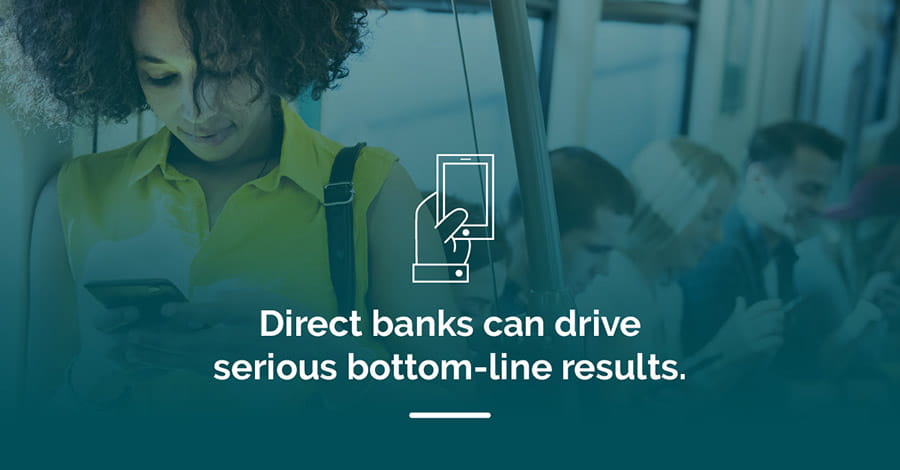 Direct banks (which only leverage online and mobile channels; no branches) aren't a new concept in financial services, but they've had a recent resurgence. Having helped several financial institutions around the globe launch direct banks, we can tell you there are some very real business reasons you're seeing so many of your competitors jump on the direct bank bandwagon. Here are just a few:
Direct banks fuel deposit growth. The potential to rapidly drive deposit growth and support improved deposit/loan ratios for the parent organization is a primary driver behind the surge in direct banks. By leveraging FIS' portfolio of 12 services including the FIS Core Processing Engine and our security and fraud prevention systems, one FIS client was able to launch its direct bank in a mere eight months. It will exceed $1B in deposits by the end of this month—less than four months after launch!
Direct banks don't have to cause channel conflict. Financial institutions with a well-defined strategy can ensure they don't cannibalize their traditional account models with their direct bank. From a technology infrastructure standpoint, banks can also determine whether to integrate the direct bank into their broader ecosystem, or keep it independent.
Direct banks support financial inclusion. Direct banks give financial institutions the ability to reach customers who are outside of the branch footprint—including the unbanked. In India, for example, FIS has helped Bandhan Bank, India's largest microfinance institution, connect customers in India's rural and urban areas, including deploying 14,000 handhelds to reach unbanked customers.
Direct banks can expedite speed to market. Some of our direct bank clients opt for a hosted solution to increase speed to market and reduce total cost of ownership, and others run on a licensed deployment. Both are empowered to leverage our core package, and the specific components and APIs that allow them to create a unique user interface, in front of those core components. This provides the flexibility to offer a unique direct bank customer experience, while maintaining the assurance that it's powered by a technology partner accustomed to adhering to all of the regulatory measures financial institutions must follow.
To learn more about what's driving the surge in direct banks, and how FIS can help your financial institution determine whether or how to launch one, read "The Five Facts Every Financial Institution Should Know About Direct Banks".
Jumpstart your day in a matter of seconds with quick snapshots of industry trends and leading perspectives delivered straight to you. Sign up for RISE here.
Tags: Digital, Innovation
Let's Talk
Together, we can work to solve your business goals. Please provide your email address below and a representative will reach out to you soon.