Fintech Insights
It's time to respond to the demands of real-time banking and payments
John Zazzera | Senior Vice President, Global Banking and Payments, FIS
November 09, 2020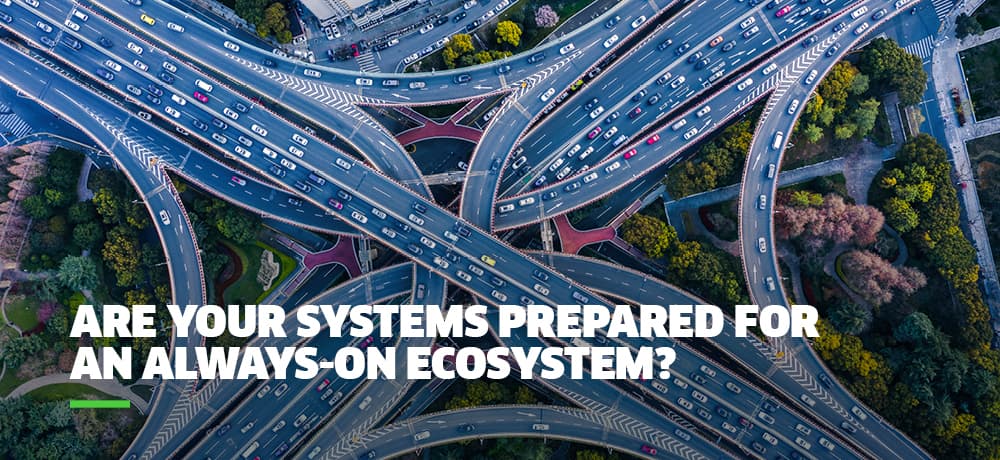 Gone are the days of siloed banking and payment functions, and up to two-day settlement cycles. Now that real-time automated clearing houses can clear and settle payments in ten seconds or less, all associated processes must interact seamlessly, end-to-end and include functions like real-time risk profiling, real-time liquidity management and real-time accounting. Banking and payments have converged, and all financial institutions must have a plan to address real-time banking and payments by moving towards a modernized architecture.
Here's why a swift response is critical, and how componentization makes it possible.
The urgent need to address a complex, always-on ecosystem
The payments industry as a whole has long acknowledged that the use of digital and real-time payments would increase in the coming years, but COVID-19 rapidly accelerated those predictions. In one FIS survey conducted in April 2020, 45 percent of respondents said they'd used a mobile wallet in the last 30 days, and 31 percent intended to use mobile wallets or contactless payments more moving forward. As businesses and consumers around the globe have adapted to a reality of limited in-person contact and unprecedented financial strain, the importance of real-time, transparent money movement has become abundantly clear.
A modern payments strategy must now address the retail consumer space (digital payments, P2P, bill pay, scheduled payments, deposit capture), and the business space (payroll, sweeps, positive pay, treasury, cash forecasting, liquidity, integrated payables). To do so, it must include an underlying platform that can accommodate application program interfaces (APIs) that expedite speed to market, support open banking, enable payments delivery, facilitate personalization in channels, leverage data analytics and artificial intelligence (AI), and be cloud-capable and built for newer standards like ISO 20022. As importantly, that modernized payments platform must operate in sync with the bank's core and channels.
Gaining control over change with componentization
Given the always-on nature of today's banking and payments coupled with the fact that financial providers no longer have the luxury of waiting several years to move away from legacy infrastructure, a componentized approach to modernization can simultaneously address a financial institution's top priorities while initiating the start of a journey toward a streamlined, flexible and modern infrastructure that's built for what banking and payments have become, and will be moving forward.
With a componentized approach to modernization, financial institutions can implement cost-effective change without full redeployment and testing. Incremental phases of core modernization preserve strategic IT investments, while allowing the financial institution's channels to consume new market products as they are created and deployed. Not only does this approach manage risk, it expedites speed to market and makes it possible to retire legacy applications that would otherwise be orphaned functionality. As necessary capabilities are targeted, banks can manage gray space and make use of newer components with similar functionality. In short, componentization puts banks in charge of their desired modernization journey, enables a swift response to the demands of real-time banking and payments, and delivers several "wins" along the way.
Let's Talk
Together, we can work to solve your business goals. Please provide your email address below and a representative will reach out to you soon.