Fintech Insights
Financial providers should plan for accelerated digital transformation amid COVID-19
June 22, 2020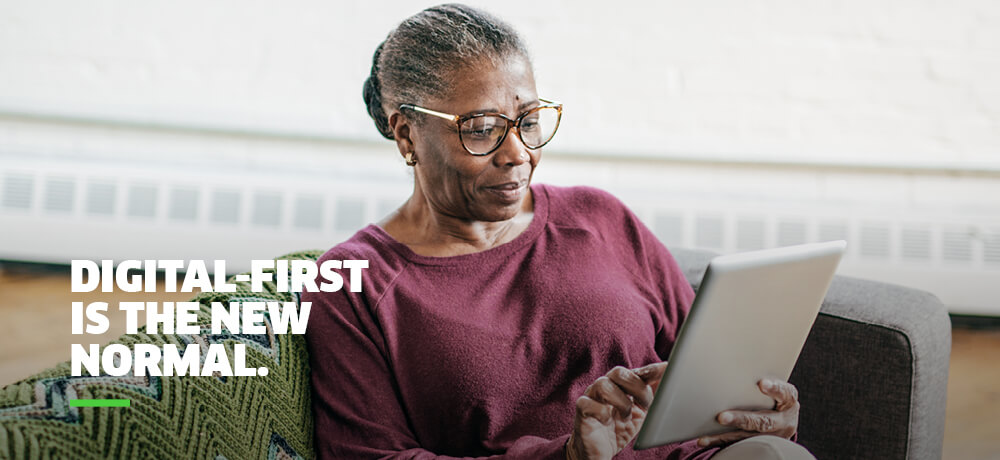 The COVID-19 pandemic is accelerating digital transformation, and some of its effect on consumers' banking behaviors may last long term, according to an online survey of 1,000 consumers conducted by FIS in early April 2020.
As consumers become habituated to a world where digital is the dominant means of interaction, financial institutions should prepare for seismic shifts in how their customers choose to access financial services, interact with banks and pay.
New habits born of necessity
Online instead of in-store shopping, restaurant takeout instead of dining in, streaming services for work, learning, and entertainment are just a few of the changes in consumers' behavior as a result of the COVID-19 pandemic.
Across all age groups, 16 percent of consumers surveyed report using cash or checks less often than usual. To fill the void, Gen X (ages 40-54) and Baby Boomer (ages 55-73) respondents are using online payments most often, while Senior Millennials (ages 29-39) are most likely to use a combination of online payments and mobile payments apps. The youngest viable banking customers, Gen Z (ages 18-23), are also turning to mobile payments apps most frequently, while Young Millennials (ages 24-28) report using online payments, swipe/insert cards, contactless and mobile wallets equally.
Across all age groups, 45 percent of respondents said that COVID-19 has changed how they interact when it comes to managing their money. While Silent Generation (ages 74+) and Baby Boomer respondents are most likely to say they now visit the branch drive-thru instead of going into the branch, more than 20 percent of Gen X and Senior Millennials said the same. Respondents ages 39 and younger are most likely to use mobile banking to handle needs they'd otherwise handle in the branch.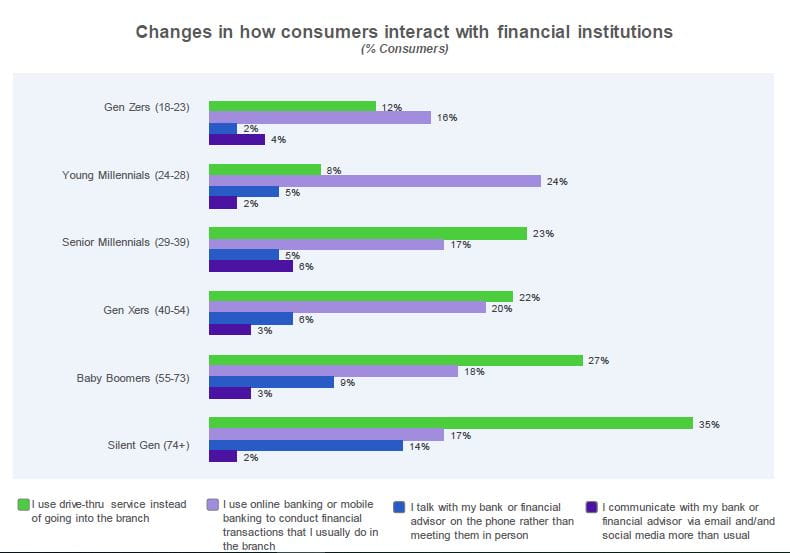 What habits consumers think will persist in the aftermath
Short term, consumers are sticking close to home, doing their shopping online, using takeout and delivery services, and 15 percent anticipate longer term changes to how they use the branch and pay. Financial institutions should anticipate and plan for changes to how customers across age groups will use various channels--including the branch, drive-thru, mobile and online banking--and payment methods like checks, cash, contactless and digital payments moving forward.
What actions financial institutions need to take
In this era of accelerated digital transformation, banks and credit unions should revisit their strategies to ensure a full understanding of customers' digital needs, experiences and expectations. Consider adopting a "digital-first" mindset for communications, products, and services with the following actions:
Prioritize secure digital banking solutions like mobile wallets that employ tokenization and support changing payment behaviors
Strengthen fraud controls with a layered approach to identification and authentication to combat increasing identity fraud, particularly as a greater number of banking needs like account opening and credit applications move to online and mobile channels
Encourage customers to take advantage of account controls, notifications and alerts for added security
Educate customers about the importance of card-on-file behaviors that store payment credentials in a tokenized digital wallet as they shift spending online
Secure drive-thru ATMs and educate customers on best practices for avoiding ATM-related fraud attempts
Prepare for contactless payments and anticipate an increase in the use of them
Let's Talk
Together, we can work to solve your business goals. Please provide your email address below and a representative will reach out to you soon.