Payments Leader
An Rx for Healthy Payments Processing – by Dan Brames
January 2, 2018
Dan Brames, FIS | Head of Retail and Corporate Payments
The soaring cost of healthcare in the United States has led to an increasing amount of bad debt faced by medical practices. To help stem this, healthcare providers should turn to an example from the retail space and streamline their payment processes.
Here's how.
Follow the retail leader
Just as in the retail environment, technology can eliminate wasted time and money by cutting down manual processes, improve patient experiences and increase the likelihood that payments are made on time.
Automated, real-time systems can verify insurance eligibility, confirm authorization for care and determine patient co-pay and deductible responsibility.
Point-of-service (POS) collections can accept co-pays upfront and are increasingly employed to reduce bad debt. POS collections, as a percentage of net patient revenues, more than doubled between 2010 and 2014.
Payment software applications can set up recurring monthly payments billed to patients' credit cards.
The good news is that surveys show that patients like self-service options. Check-in kiosks provide a more seamless consumer experience by eliminating paper forms, which often require patients to enter their information multiple times. They also offer additional benefits such as:
Reducing error in registration information
Collecting co-pays upfront
Collecting outstanding payments prior to the patient's current visit
Freeing up front-line staff to focus on patient care vs. paperwork
Maximize your potential
Ask yourself these questions about your current payments process:
Does it provide a seamless experience for consumers and employees?
Is it effective in collecting payments?
If not, where are the gaps?
What can you do to fill the gaps?
Adopting new software or using your current software more effectively can significantly improve the health of your medical practice. If your medical practice management software is up-to-date, make sure that its payment mechanism is activated. It also should connect to your general ledger to eliminate inefficiencies and mistakes associated with manual keying-in of information.
Advancements in medical practice management software and other technologies such as patient check-in kiosks provide opportunities for additional boosts to the bottom line, plus better patient and employee experiences. Check in regularly with your software or payments provider to make sure that you have the tools you need and are fully leveraging their benefits.
SIDEBAR
Most medical payment processes can be broken into four stages. Make sure your processes are maximizing payments by asking these questions about each stage: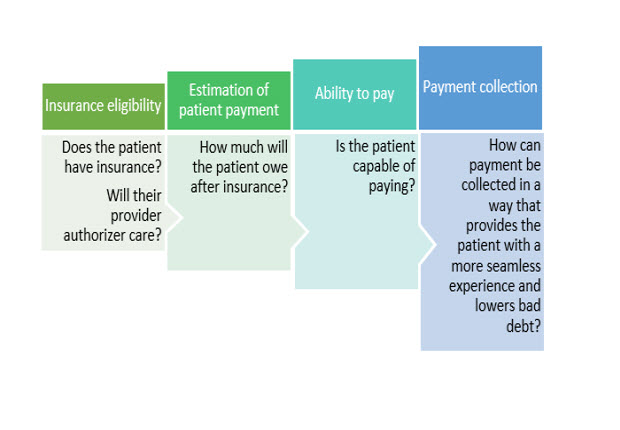 Let's Talk
Together, we can work to solve your business goals. Please provide your email address below and a representative will reach out to you soon.