Director Access
Secure and convenient access to important
documents for your board anytime, anywhere.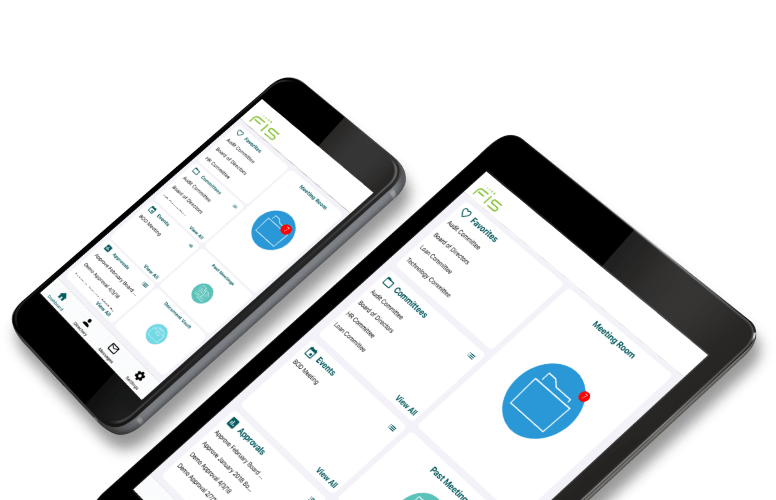 ABOUT
A SECURE AND CONVENIENT MEETING MANAGEMENT PORTAL FOR BOARD MEMBERS
Director Access from FIS® is the fast, secure and convenient portal for your board to access important documents online anytime, anywhere.
Developed in 2006, Director Access today has more than 300 clients and 10,000 users. It is an online platform that connects you and your board to agendas, minutes, approvals, calendar, policies and procedures.
With Director Access, you can also track and archive user information, providing an audit trail for accountability and documentation in accordance with regulatory compliance requirements.
Director Access is also a great solution for healthcare, education, energy companies and nonprofit organizations.
See Director Access in Action
Learn more about our cost-effective, efficient and east-to-navigate board portal.
Director Access Play Video
FULLY SECURE SYSTEM
Track and archive user information, providing an audit trail for accountability and documentation.
CONVENIENT MOBILE ACCESS
Marry mobile devices with Director Access to enable you to access your board packages with a single touch.
24/7 SUPPORT
Access timely and confidential documents anytime, anywhere with 24/7 support.
FEATURES
MEETING MANAGEMENT TOOLS BOARD MEMBERS VALUE
Director Access is the meeting management portal that connects organizations and their board members to documents, contacts, calendars and more. Users can access timely and confidential documents anytime, anywhere and have access to 24/7 support.
Director Access also features true offline access with our iOS and Android apps. Director Access can benefit any organization that needs to conduct efficient meetings in a secure manner.
KEY FEATURES INCLUDE:
Annotate on any device
Voting and Approval
Secure Messaging
Unlimited Storage
Full Archive
Interactive Calendar and Email
PDF Conversion
Audit Trail
Private Notes
8,430 Number of U.S. banks
101,160 Meetings per year
3,034,800 Board and committee books printed
606,960,000 Sheets of paper used
120,000 Trees harvested each year
SUSTAINABILITY
HELP YOUR BANK GO GREEN
The banking industry has a great opportunity to reduce waste and help the environment.
These figures are just for the banking industry, and doesn't include the saved printer cartridges, collating and stapling, delivery costs, etc. This can be a very costly and non-environmentally friendly process, but with Director Access, it doesn't have to be.
Our Clients
BANK FIVE DELIVERS BOARD MEETING EFFICIENCIES WITH DIRECTOR ACCESS
One of the first items on the Bank Five's new president's agenda was to make his bank's board meetings more efficient. He wanted the board process reviewed; and the packaging, delivery, and overall meeting experience changed.
Learn more
When researching various board portals, Director Access gave us a comfort level of security and easiness of both teaching and learning. Kelly Ann CabralAVP, assistant to the President, Bank Five
Our Clients
MECHANICS COOPERATIVE BANK WELCOMES DIRECTOR ACCESS TO ITS BOARDROOM
The Director Access Board portal eliminates paper waste and delivers all Board correspondence and reporting in a simple digital format.
Learn more
Rather than a stack of papers, the Board members simply bring their device to the meeting where they access everything over a secure Wi-Fi connection. Joseph T. Baptista Jr.President and CEO, Mechanics Cooperative Bank
FAQs
YOUR QUESTIONS ANSWERED
Director Access is a convenient online meeting management tool that centralizes all the information and processes that your board members need to do their jobs.

What authentication and access safeguards do you have in place?

Director Access features true multilevel authentication. In addition, access to specific areas of Director Access can be controlled at the user level.

Is Director Access secure?

Your company's Director Access site is hosted at a secure facility that undergoes annual SSAE 18 SOC 2-level audits. All incoming and outgoing data is encrypted.

How do I get my directors trained?

FIS provides web-based training to administrators along with documents containing detailed instructions and screenshots to be used as reference. In addition, a customized procedures document is created for the users to assist them in navigating the site.

How much computer knowledge do they need?

Director Access was designed for easy use by people of all levels of computer knowledge, while also incorporating a variety of features for the computer-savvy.

How do my directors access it?

A director needs only an internet connection. There's no software to install, no device to attach. No matter where your directors are – at home, at work, on the road or on vacation – Director Access is instantly available. There are also mobile applications available for iOS and Android (see below).

The idea of making board packages available online is a relatively new concept. Boards across different industries have slowly adopted this idea as security, privacy and speed of delivery have become a growing concern. Convincing a company president or chief operations officer may not be as difficult as convincing the people who will use the portal: the board members. Going from a paper board book to a digital format can be a big jump for board members.

Does Director Access have any other features the board may find useful?

Director Access features a calendar where you can list upcoming meetings and events, fully functional secure email for notifications and alerts, and a directory containing phone lists and addresses.

How does the board secretary update it with new information?

Through a simple two-step procedure, new agendas can be quickly uploaded and board members notified at the same time. The range of other documents the board can use with Director Access is unlimited. You can upload company policies, company procedures, financial statements, newsletters and reports to your board's secure site instantly.

Does it replace the board book?

Most certainly! With Director Access, each board member has 24/7 access to the most updated version of his board book, including the past meeting minutes, the next meeting's agenda and much more.

Does Director Access have an audit trail?

Director Access features a full audit trail of document access and comments, satisfying Sarbanes-Oxley requirements.
MORE PRODUCTS FOR YOU
FIS Modern Banking Platform
Banking
Modernize your bank or launch and scale a new bank with a next generation digital core banking platform designed to meet the unique challenges and opportunities of the digital age.
Ethos Data Solutions
Banking
Find solutions for whatever you want to do with your data: explore data insights, optimize your business with unified data and advanced data science, or get creative with new data integrations.
Payments One Credit Suite
Banking
Streamlined credit card processing for financial institutions on a flexible, end-to-end platform where separate loyalty, fraud protection, card production and network service systems are a thing of the past.