Fintech Insights
"New normal" increases demand for digital engagement solutions for retirement providers
Bill Byerly | General Manager, Retirement Solutions, FIS
June 01, 2020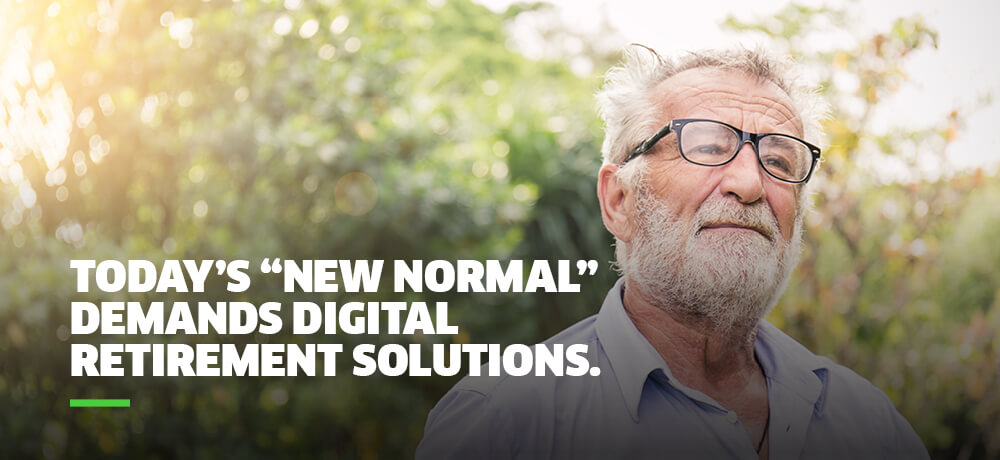 Amid the COVID-19 pandemic, the recently passed Coronavirus Aid, Relief, and Economic Security (CARES) Act includes provisions that give participants easier access to their retirement assets to help Americans deal with the economic impacts of the pandemic.
The CARES Act provides four key advantages for defined contribution plans:
Eliminates the 10% premature distribution penalty tax, which would typically apply to participants who have not yet reach 59½ years old, on certain qualifying distributions
Provides for an increase to the qualified plan participant loan limits for qualified individuals
Allows for an extended time period to repay existing or new loans for qualified individuals
Waives RMDs for the 2020 calendar year
As the impact of the pandemic continues to grow, retirement plan providers are focused on maintaining business continuity and helping plan sponsors and participants navigate the economic impact of the crisis. Many plan providers are looking at digital engagement solutions as an avenue to help educate and communicate with plan sponsors and participants about the new CARES Act rules for hardship withdrawals and loans.
Demand for digital engagement solutions
Digital engagement solutions are becoming increasingly valuable in today's environment of limited face-to-face contact and virtual work. With financial markets exhibiting volatility and plan sponsors and participants growing concerned about the impact to retirement plan accounts, developing a strategy to leverage digital engagement tools can be a game changer. The ability to communicate directly with participants on the impact of taking distributions on long-term savings and provide personalized, targeted enrollment and retirement readiness solutions is a true value add for plan providers.
From mobile apps that manage and track accounts in real-time to enrollment and savings tools that focus on client engagement and education, digital engagement solutions help provide an enriched and secure participant experience. Additionally, taking advantage of solutions that leverage data can help plan providers stay abreast of market trends and the impact that market volatility and changing legislation has on the services they provide.
FIS' suite of retirement solutions offer services that link across the entire retirement lifecycle, from recordkeeping technology and plan administration and compliance solutions, to financial wellness and participant engagement tools. Our solutions have been adapted to meet the distribution and loan processing requirements the CARES Act set forth in a safe, secure manner and offer integration to additional solutions that open new channels of communication with participants.
Preparing for a "new normal"
As retirement plan providers strategize on where to focus growth investments amid the pandemic and beyond, FIS is experiencing an increase in inquiries for outsourcing solutions. The ability to outsource some or all non-strategic operational business functions can be a key driver in helping plan providers redirect focus and resources to drive new business growth. Having a technology partner that provides a flexible, scalable way to operate in this new environment is critical to improve operational efficiency, reduce key person or talent risk, maintain agility and, most importantly, improve the bottom line.
The retirement marketplace is increasingly placing value on participant advice, communications and education as ways to stay connected with users. Plan providers focused on a digital engagement strategy across plan sponsors and participants will be better positioned in this new normal. Want to explore these areas further? Talk to one of our experts and see how we're helping our clients navigate this new virtual work environment.
Hablemos
Juntos, podemos trabajar para resolver sus objetivos comerciales. Proporcione su dirección de correo electrónico a continuación y un representante se comunicará con usted pronto.