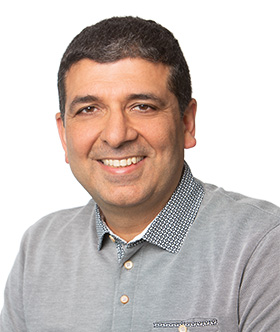 Firdaus Bhathena
Chief Technology Officer
Firdaus Bhathena serves as FIS' chief technology officer. In this role, Firdaus is responsible for driving the company's technology and infrastructure initiatives across the enterprise, ensuring that FIS' technology strategy is focused on achieving its business goals. He is also responsible for leading the company's digital transformation efforts with a focus on innovation, governance, risk-based security and standardization to advance FIS' global solutions portfolio while also leveraging technology investments to drive profitability.

To this role he brings a client-centric, data-driven and metrics-based approach with a focus on delivering greater client value and driving satisfaction and long-term loyalty among FIS' worldwide client base.

Prior to joining FIS in April 2023, Firdaus spent more than 25 years driving innovation and very large-scale digital, business and cultural transformations across technology startups as well as Fortune 50 and Fortune 5 corporations. Three of his most recent roles included serving as general manager at Noom, the fastest-growing pre-IPO consumer digital health company; enterprise chief digital officer at CVS Health; and chief digital officer at Aetna. At CVS Health, Firdaus led the newly combined Aetna and CVS Health Enterprise Digital organization with responsibility for digital transformation and digital health product development and innovation. Firdaus also currently serves on the Board of Trustees of Tufts Medicine, where he is the chair of the Digital Transformation Committee.

Firdaus holds bachelor's and master's degrees in electrical engineering and computer science from the Massachusetts Institute of Technology (MIT) and has been granted eight patents for software and distributed systems.
Hablemos
Juntos, podemos trabajar para resolver sus objetivos comerciales. Proporcione su dirección de correo electrónico a continuación y un representante se comunicará con usted pronto.