Fintech Insights
2020 Javelin ID Fraud Study points to dramatic rise in real-time P2P fraud
Eric Kraus | VP, Fraud Risk and Compliance Solutions, FIS
April 27, 2020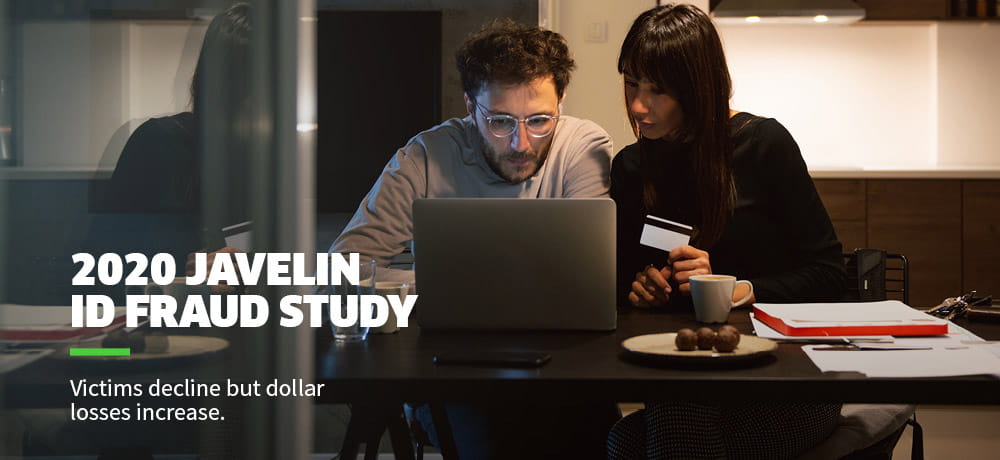 As a sponsor of the recently-released 2020 Javelin ID Fraud Study, FIS shares key findings and takeaways from 5,000 United States consumers about their experiences with financial fraud in 2019.
P2P Fraud as a "Getaway Vehicle" in Account Takeover
Since 2016, the number of fraud victims associated with person-to-person (P2P) payments has accelerated by 733 percent, driven by P2P's rapid adoption and the ability of fraudsters to exploit weaknesses in real-time person-to-person (P2P) payments.
In 2019, increasingly sophisticated and organized criminals shifted focus from counterfeiting credit cards to taking over accounts, often by employing real-time P2P as the "getaway vehicle."
How does this particular scheme work? Perpetrators of account takeover and new-account fraud can quickly drain accounts by using real-time P2P payments. With stolen credentials in hand, fraudsters fund transfers with a compromised card loaded into a mobile app and send P2P payments to a mule account created to receive their proceeds. Lastly, they move their ill-gotten gains quickly out of the mule account.
The Bright Spot of Fewer Victims Overshadowed
Although incidents of fraud continued to drop and resulted in 1.4 million fewer victims in 2019 than 2018, the total cost of ID fraud rose by $2.2 billion during the period to reach $16.9 billion. When criminals encountered resistance to card fraud at point-of-sale, they found new paths to exploit.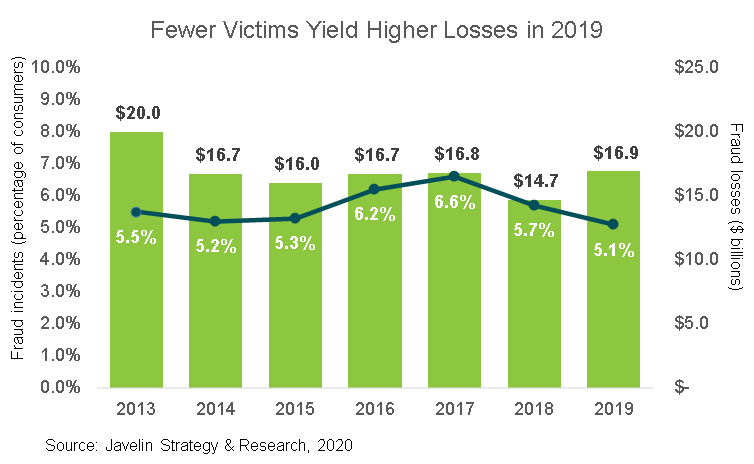 Especially alarming is the 72 percent rise in account takeover during 2019 with fraudsters taking full control of accounts 53 percent of the time – a sharp rise from 35 percent in 2018. Instead of stealing one transaction at a time, criminals are now pursuing a more lucrative path of draining accounts, including checking, savings, and investments.
Another driver of new account fraud is fast-growing synthetic identity fraud in the United States, which has benefitted from the explosion of easily-available personally identifiable information (PII), loosening credit standards, and gaps in traditional ID verification processes.
What actions institutions can take
In the absence of sound strategies to adequately secure information, the incidence of identity fraud could return to pre-EMV levels. Adding fuel to the fire is the current state of economic hardship among consumers and businesses due to the COVID-19 pandemic, which has created circumstances ripe for fraudsters to exploit systemic weaknesses.
Without the benefit of strong authentication, new technologies that provide consumers with more convenience – online account opening and voice-based payments, for example – unfortunately open new doors for fraud. Detecting account takeover early in the cycle of criminal activity is the best way to combat ID fraud but requires a layered approach to identification and authentication that provides identity proofing. A person's identity should be validated by authenticating their information at all points of interaction.
The current state of poor identity proofing and authentication of account holders along with challenges associated with new technologies underscore the need for a socialized fraud scoring method to slow the rate of new-account fraud growth. Because patterns of criminal behavior are predictable, criminal activity can be translated into a socialized fraud score that, in turn, can be applied to every exchange between an account holder and service provider at key interaction points. Additional information, such as transaction device profiles, can add robustness to scoring.
Institutions also need to empower consumers to become proactive in reducing risk by adopting:
Device locking
Safer authentication methods, such as two-factor authentication for voice assistants and biometrics for mobile devices
Mobile banking
Digital payment methods that employ tokenization
Contactless payments
Card-on-file behaviors that reduce the threat of storing payment and personal information across sites by storing payment credentials in a tokenized digital wallet
Push notifications to enable real-time account monitoring
Sponsorship of the 2020 Javelin ID Fraud Study demonstrates FIS' commitment to continuously seek information that helps prevent, detect and resolve fraud and risk across the financial services ecosystem. We recognize that the ability to compete, grow and drive efficiency requires anticipating where fraudsters are migrating and how to mitigate damage from wasted time, financial burden and emotional distress on victims.
Let's Talk
Together, we can work to solve your business goals. Please provide your email address below and a representative will reach out to you soon.