Fintech Insights
Three routes to modernization
Steve McLaughlin | SVP Product Management, FIS
January 06, 2020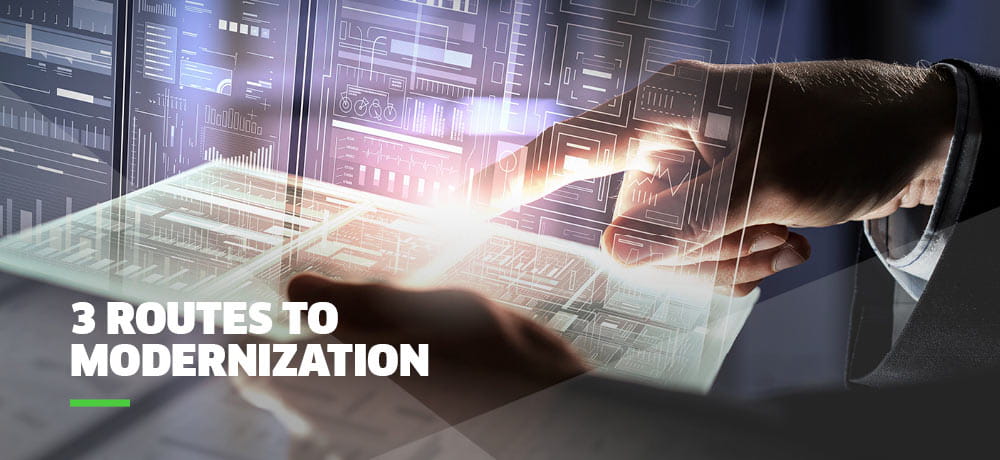 From trading to data management to settlement and accounting, the executives that I speak to recognize that they need to do more with less and still deliver a customer experience that is consistently ahead of the competition.
That means one thing: modernization. But what does that mean, and how do you achieve it?
Our clients are investing in three key areas:
1. The cloud
As my colleagues have explored in other articles, the cloud offers huge benefits, particularly if you have fluctuating volumes or processing requirements. You can pull computing power from the cloud and scale it up and down as you need it, paying only for what you need. This is not only cost-effective; it creates a more predictable pattern of costs and gives you access to the latest powerful computing resources that would be extremely expensive to keep in-house.
In fact, some of our clients have decided that all new development must be done in the cloud to generate additional benefits, such as access to cloud-based development and management tools.
2. Machine learning, artificial intelligence and robotics
There are several reasons why advanced technologies like machine learning, AI and robotics are quickly starting to move into the mainstream.
First is to sort through data quickly to identify patterns. For example, if a customer has a long-running, consistent pattern of transactions and everything looks normal with no issues, then you don't focus on them. But if a new customer is trading high volume trading, or an existing client is transacting new or different products or markets, then these technologies can flag them for closer risk profiling and monitoring.
What's less commonly talked about is using these technologies to do things right the first time. That is, rather than automating the resolution of breaks, the best practice is to correct pre-trade information in order to eliminate the breaks before they can happen.
A third benefit is the ability to do more with the same or fewer resources. Instead of dedicating staff to reading through stacks of reports every day, machine learning can identify, organize and communicate the exceptions to you in an efficient manner for timely resolution.
Better yet, the most advanced firms have fewer exceptions because they use workflow automations tools that avoid or remediate exceptions before they get to you. Now staff can focus on highly skilled areas that deliver real value to the end client or the line of business.
3. Digital
One of their big objectives for every institution is to deliver more value to their customers in a scalable way. After all, you can only make so many phone calls in one day. Digital allows you to deliver a world class experience to a lot of customers – sustainably.
And when you add in the microservices model – which lets you launch services via tiny technology components that can be switched in and out – you can slash your time to market for new offerings and change existing products very quickly without the big bang migrations of the past.
So the benefits of modernization are clear, and even conservative firms understand the need to invest in technology to modernize. Just look at the 2019 Readiness Report, which revealed that the fastest growing firms have something in common: they're modernizing by investing in six key areas.
And not only are these firms growing faster now; they've got operations that are more cost-effective and more agile to grow in the future.
Let's Talk
Together, we can work to solve your business goals. Please provide your email address below and a representative will reach out to you soon.