RISE WITH FIS
What is embedded finance? Learn how can it accelerate small business
Matt Collicoat | VP, Strategy and Business Development, B2B Division, FIS
June 21, 2021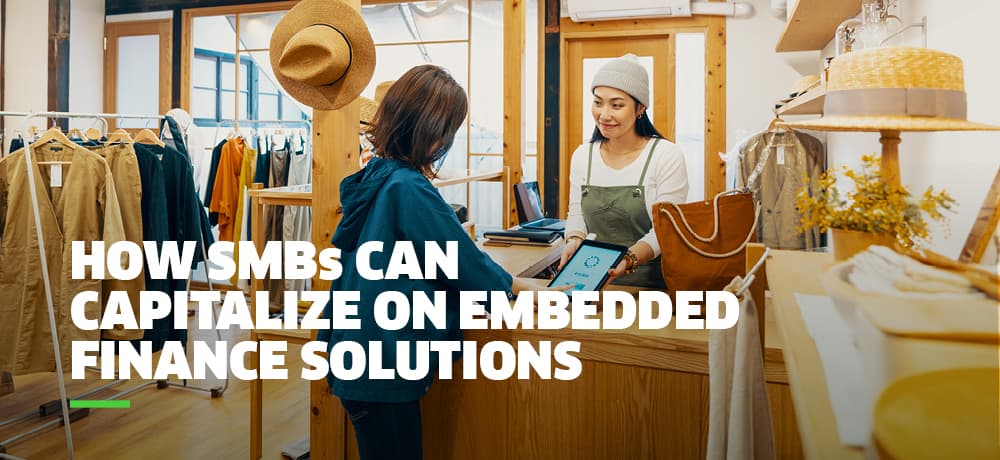 It can be quite inspiring to think about all the innovation that took place over the past year. With the global pandemic, organizations in every industry, regardless of size, found themselves in a position where they needed to completely redesign their business model to simply survive. A lot of this innovation took the form of rapidly implementing new technology that originally seemed out of reach.
One of these innovations includes the rise of embedded finance.
What is embedded finance?
Embedded finance involves the merging of a non-financial service provider, such as a retailer or ride-sharing company, with a financial service, such as payment processing, lending, or insurance. Embedded finance allows organizations to pay people remotely, get paid remotely, and avoid having to handle actual paper checks or go into a physical location to cash a check. This concept is not necessarily a new one, with payment providers such as FIS having a long history of delivering these technology services for large corporations. However, with the pandemic hitting the world, many small to medium businesses (SMBs) failed to keep afloat because they did not have the ability or resources to quickly pivot to this kind of digital solution.
How do SMBs capitalize on embedded finance solutions?
Traditionally, small business owners do not wake up thinking about how to best deal with their accounts receivable/accounts payable. They are thinking about keeping their product or service relevant as well as focusing on expanding their customer base. This is where embedded financial solutions can make all the difference. By integrating this technology into what SMBs currently use for their banking or accounting platform, SMB owners can stop worrying about the headache that comes with the financial aspects of their business. Aspects such as understanding the regulatory and financial requirements and where to find credit in desperate times, instead focusing their time on their business.
Want to learn more about embedded finance? Listen to Matt Collicoat and Taira Hall discuss embedded finance with Brett King
This is where a technology provider such as FIS comes in. We are the experts that can help a business of any size with their financial product needs since we have a complete understanding of the regulatory and financial requirements of your business. Not only can we take out the financial jargon, but we can commoditize this complex technology to become a simple "click and sign up" approach. We focus on the financial and technological needs of the business while the SMB can pursue their passion.
Why choose FIS for your embedded financial solutions?
As mentioned before, FIS has been working for years with companies to provide embedded finance solutions and have seen the challenges SMBs are facing; including a rapidly changing marketplace with a lot of options and confusion. We have allowed large organizations to pick and choose what they want that best fits the needs of their organization. For large and small organizations, we bring not only the technical functionality to provide embedded finance, but we also bring along all our customers globally that can provide the right financial service to the business. FIS helps organizations send money across the world and does so at a pace and scale that cannot be matched by smaller fintech's. We are the secure and 24/7 financial services provider that can deliver for organizations of all sizes.
Let's Talk
Together, we can work to solve your business goals. Feel free to call +1 877.776.3706 now or provide your email address below and a representative will reach out to you soon.