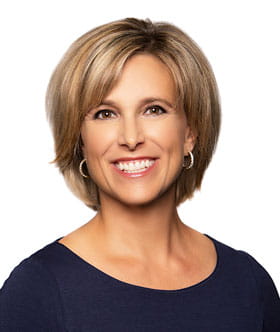 Stephanie Ferris was announced as FIS president in February 2022 and became a member of FIS' Board of Directors in October of 2022. Prior to her current role, Stephanie served as chief operating officer and chief administrative officer of FIS, responsible for leading our global strategy, technology transformation and the global integration of FIS and Worldpay, driving cost, revenue synergies and long-range strategic planning.

She came to FIS as the chief financial officer of Worldpay, Inc., which was acquired by FIS in July 2019. Worldpay, Inc. was formed in 2018 when Cincinnati-based Vantiv, Inc. acquired Worldpay Group plc, a London-based leader in global e-commerce and technology-led payment solutions.

She is an experienced global business executive with expertise leading payments and technology platform businesses, driving digital transformation, front-line customer engagement and inclusive growth. Stephanie is also a multiple award-winning finance leader who has also held a general manager role that transformed an underperforming business unit into the highest growth portfolio within the company. She was the chief financial officer of the payments processing division of Fifth Third Bancorp, which was later spun out and became Vantiv, and held multiple progressive financial leadership roles at Fifth Third. Stephanie began her career in public accounting at PricewaterhouseCoopers. She is also a certified public accountant and graduate of Miami University.

She is a 2019 YWCA Career Women of Achievement honoree, a 2018 PaymentsSource Most Influential Women in Payments winner, and a 2016 Stevie Awards for Women in Business silver honoree (Female Executive of the Year – Business Services – More Than 2,500 Employees – Services Industries).
Let's Talk
Together, we can work to solve your business goals. Please provide your email address below and a representative will reach out to you soon.